Narita is a small, relaxed city located just a short distance away from Tokyo, the capital of Japan. Although Narita is often used as a jumping off point to Tokyo, the city has plenty to offer in its own right. Rent a car to access the city's many tourist spots quickly and easily.
Naritasan Omotesando is a must-visit, a quaint street located only a short car ride from Narita International Airport. The curved street is lined with a wealth of old-world Japanese style buildings housing shops with souvenirs and restaurants serving up the city's famous dish, unagi.
Enjoy the city's stunning architecture before heading off to experience more of Japan in your rental car.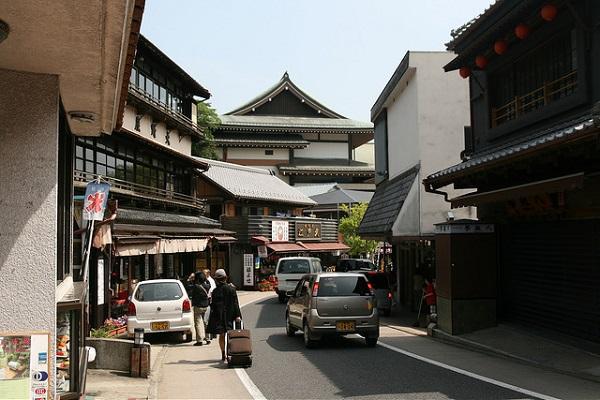 Image: sodai gomi
Hiring a cheap car rental in Narita
Hiring a cheap car rental in Narita is made easy with AirportRentals.com. After providing your destination and itinerary details, Airport Rentals will generate an impressive list of car rentals to choose from.
If you wish to narrow down your search results, use the preference filters located on the left-hand side of the page. Select from options like pick-up location, car type, or the number of people travelling with you. With trusted names like Hertz and Nissan Rent A Car, you can travel with ease knowing your rental experience will be seamless.
Once you've found the ideal vehicle, book securely online with instant confirmation. Airport Rentals provides 24/7 customer service should you need it and there are no hidden fees. For added convenience, download our handy app and book from anywhere in the world.
Narita International Airport (NRT)
Narita International Airport is the primary airport serving the Greater Tokyo Area. Free shuttle buses operate between the airport's three terminals. Domestic flights arrive daily from cities including Sapporo, Osaka, and Okinawa. International flights arrive daily from cities including Los Angeles, Mexico City, and Istanbul. The airport is equipped with an abundance of restaurants offering food choices from around the globe, and shops selling souvenirs at affordable prices.
Car rental kiosks are conveniently located on the first floor of the arrivals hall of both terminals 1 and 2 (note - there are no rental kiosks located in Terminal 3, the Low Cost Carrier). The rental agent will shuttle you and your luggage to the appropriate car rental office located only minutes away in Narita. If arrangements are made in advance, some rental agencies offer the option of picking up your hired car directly from the airport.
Guide to driving your car hire in Narita
Use the guide provided below for directions and driving and parking tips in Narita, and at Narita International Airport.
Driving from Narita International Airport
If driving your rental car from Narita Airport to Narita city, exit onto Route 295 and turn left at the junction onto Route 51 to arrive in Narita city. The ride is approximately 8 km long.
If heading to Tokyo, the 80 km drive takes roughly an hour and a half, depending on traffic.
Driving tips for your Narita Rental Car
It's always a good idea to hire a GPS for your hired car when driving in a foreign country. If possible, purchase a paper road map of the area to use in the event your GPS fails.
Tips for driving in Narita
● Drive on the left side of the road, pass on the right. Do not pass in no overtaking zones.
● Carry money for road tolls.
● Slow down if roads become wet or snow covered.
● Account for weather and traffic and plan extra time for driving Japan's busy roads.
Parking in Narita and at Narita International Airport
There are long- and short-term parking options at Narita International Airport. Short term parking is quite affordable starting at roughly US$3.80 per hour and then roughly US$2 per 30 minutes after that to a maximum of 6 hours, but long term can get pricey. It is recommended to park off-site and catch a shuttle to the airport if you plan on parking for several days.
Delivering your rental to a car hire agency in Narita - some rental agencies require you deliver your car to their office located in Narita. A shuttle service will deliver you and your luggage to the airport. It is advisable to drop your rental off at the agency early enough to catch your flight out of Narita.
There are many paid parking lots within the city of Narita and most are conveniently located around tourist spots. Do not park in no-parking zones and pay attention to parking hours to avoid costly fines.
Tokyo Narita Airport Terminal Maps