Fukuoka is a lively and growing city located on Kyushu island in Hakata Bay. Well known for its abundance of shopping districts including Canal City Hakata and Marinoa City, Fukuoka has a diverse selection of memorable spots to experience during your stay. Rent a car to see them all.
Spend a day sunbathing on Momochihama Beach and in the evening show off your tan to the youngsters bar hopping and listening to music on Oyafuko Street in Tenjin. For a relaxing day, you can visit the city's many parks, peaceful temples and historic museums. Or, take the family for a fun-filled trip at Marine World Umino-Nakamichi and finish off at the Fukuoka Castle Ruins in Maizuru Park.
It won't be a complete Fukuoka trip if you don't experience Hakata style ramen noodles at one of the city's famous yatai (food stalls). The outdoor food stalls seat 7-8 guests and are frequented by both locals and tourists from around the world. Hire a car to leave no stone unturned in the metropolitan city of Fukuoka.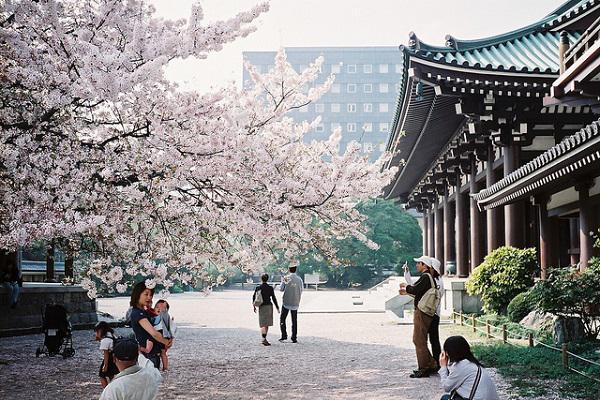 Image: Peter Enyeart
Hiring a cheap car rental in Fukuoka
Get the best car rental deals with AirportRentals.com. In just a few clicks you'll be on your way to securing a rental car for your Japanese holiday.
We provide options from economical to high-end and everything in between. Search results are listed with the most affordable option first and you can filter results by location and car type, rental company, number of people and more. Need a GPS or booster seat for your foreign road trip? Be sure to check off any extra items you may need before entering your payment information.
Confirm your rental instantly online and feel secure knowing you reserved with one of the world's leading and most trusted car rental brokers.
Fukuoka Airport (FUK)
Fukuoka Airport is centrally located in Fukuoka approximately 3 kilometres from Hakata Station. Its single runway divides a domestic terminal (serving flights from cities such as Narita, Tokyo, and Okinawa) from an international terminal (serving flights from Shanghai, Hong Kong and Seoul to name a few), both accessible via shuttle bus. Each terminal is equipped with all the innovations you would find at a modern airport including relaxation rooms, Fukuoka Duty Free Tenjin store and plenty of shopping and restaurant options. Due to Fukuoka residential requirements, the airport operates only from the hours of 7AM to 10PM.
You will find car rental information desks located on the first floor of the domestic terminal, and in the arrivals lobby on the first floor of the international terminal. There is also a phone service located in departures on the 3rd floor. Provide your car hire agent with your rental details and they will shuttle you to their office located only minutes away in Fukuoka.
Guide to driving your car hire in Fukuoka
Please use the guide provided below for directions and some handy parking and driving tips.
Driving from Fukuoka Airport
There are many routes to access the city's most popular areas. A GPS is your best tool to get around in Fukuoka.
Driving tips for your Fukuoka rental car
● Drive on the left side of the road and overtake on the right. Do not pass in no-overtaking zones.
● Always carry money for road tolls.
● Do not leave items of value in your hired car.
● Traffic can be heavy in Fukuoka; plan ahead with extra time.
Parking in Fukuoka and Fukuoka Airport
Parking lots at the airport are located in front of both the domestic and international terminals. At the end of your Fukuoka holiday, return your hired car to the appropriate car rental office in Fukuoka. From the rental office, a shuttle bus will deliver you and your luggage to the airport terminal.
It is advisable to avoid parking on the street in Fukuoka. However, there are many paid parking lots within the city and you may even come upon free parking in the Tenjin area. Do not park in no-parking zones and read parking signs carefully to avoid costly fines.