Naha is located on Okinawa Island and is the largest city of the southernmost prefecture of Japan. From white sandy beaches to historical museums and parks, there is something for everyone in this colourful city. Rent a car to take advantage of all Naha has to offer.
Visit Shuri Castle for breathtaking views and a taste of history infused with Ryukyu culture and Chinese influence. Head to Naha's main and most popular street, Kokusaidori for an explorative shopping experience.
There is no shortage of things to do in this vibrant city.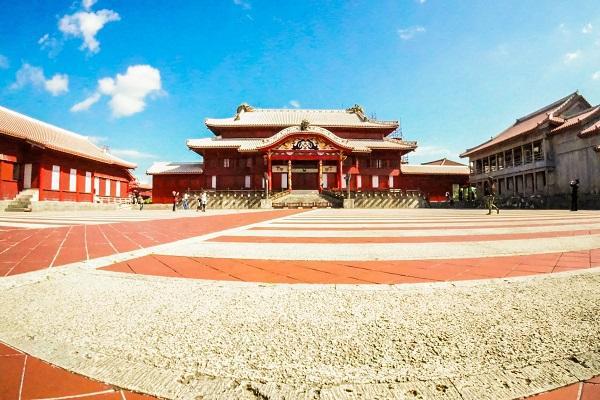 Image: Kazuhiro Tsugita
Hiring a cheap car rental in Naha
Securing a cheap rental car from Naha Airport is easy with AirportRentals.com. Entering your travel details into our powerful search engine will provide you with a wide variety of rental cars to choose from. From economy (try out the small yet spacious Nissan Micra) to luxury cars, you can target your search results to suit your travel needs.
Once you've found the ideal vehicle, reserve your rental and proceed to the extra items page to add things such as a GPS or booster seat. You also have the option to provide your flight information to ensure your vehicle is ready upon arrival in the event your flight is delayed.
Get instant confirmation on your booking and rest assured there will be no hidden fees and all details will be looked after. Rated No. 1 for car rentals by Trustpilot, Airport Rentals is the most trusted option for renting a car.
Naha Airport (OKA)
Naha Airport is located approximately 4 km west of Naha city and is set on the shore of the East China Sea. It serves over 18 million passengers each year and is the primary domestic air terminal for passengers and cargo to and from the Okinawa Prefecture of Japan. Domestic routes include cities such as Tokyo, Kobe, and Osaka. Naha airport also receives International flights in a separate smaller terminal, from Asian cities such as Hong Kong, Seoul, and Shanghai.
Guide to driving your car hire in Naha
For directions, parking information and tips for driving in Naha, please use the guide provided below.
Driving from Naha Airport
Sit back and relax as you transfer on the shuttle bus from the airport to your car rental office located only minutes away in Naha.
Driving tips for your Naha rental car
It is wise to hire a GPS for your hired car and bring along a paper road map of the city in the event your GPS fails.
Tips for driving in Naha, Japan
● Drive on the left side of the road, overtake on the right side. Do not overtake in no-overtaking zones.
● Be prepared and carry money for road tolls.
● Traffic is heavy in Naha, particularly during rush hour. Plan extra time to arrive at your destination.
Parking at Naha Airport and in Naha
There is parking available at both the domestic and international terminals at Naha Airport, but if you can plan ahead it will be much cheaper to park offsite and reserve a shuttle service. The further ahead you reserve, the more money you will save.
Street parking fills up quickly in Naha but there are many paid parking lots available throughout the city. Do not park in No Parking zones as the price of a ticket is very costly.
Read through our tips for driving in a foreign country for more ideas.