Europe is a continent of huge diversity, with many different countries packed into an area not much bigger than the United States. This is good news for road trippers - the sights that can be seen in just a few days on the road are mind-blowingly varied, and with a
car rental
and a few weeks to spare you can tick multiple nations off your bucket list. However, putting together an itinerary can be a little confusing, especially when it comes to estimating driving times. In a place where you can easily cross three borders in less than two hours, you might need a little planning help. That's why we have put together a quick reference guide to driving times across Europe, including some of the most common journeys from the main travel hubs.
Driving distances from Paris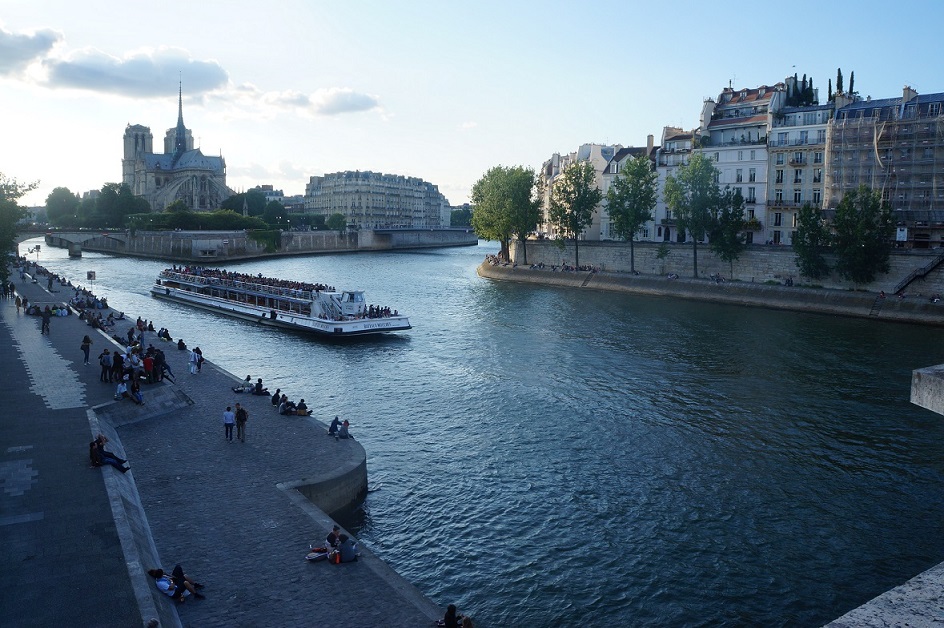 Paris
, the City of Light and capital of France, is not only a hugely popular destination for visitors to Europe but also a travel hub. From there, not only can drivers reach myriad other wonderful French towns and cities but also parts of Belgium, Luxembourg, Germany, the Netherlands, Switzerland and Spain in less than 12 hours of driving. Of course, driving non-stop is no way to see the French countryside. Here are a few tips for the paths well-travelled from Paris, and generous time allowances for leisurely travelling:
Paris to Calais: 300 kilometres (186 miles), 4 hours
Calais is where ferries cross the English channel, a common destination for many motorists. The drive can be completed in half a day, less if you are starting from the Charles de Gaulle Airport rather than central Paris. If you have the time, Arras is a nice place to break up the journey, with its wonderful architecture and abundant WW1 history.
Paris to Brussels: 350 kilometres (217 miles), 4 hours
Four hours should allow plenty of time for the international journey from Paris to
Brussels
- so leave early and you'll arrive in time for a belgian waffle lunch. Again, if you leave from Charles de Gaulle it shortens the distance a little and avoids most of the Paris traffic. Be sure to have your papers in order for the border crossing.
Paris to Frankfurt: 600 kilometres (372 miles), 6.5 hours
This is a long one, but you can easily reach Frankfurt from Paris with a day of driving. Adjust the route a little and you'll pass through Belgium and Luxembourg too. Be sure to pick up a bottle of local tipple as you pass through the Champagne region to enjoy once your driving is done for the day! If Frankfurt isn't your goal, a 4.5 hour journey will have you across the border into Germany's western reaches.
Paris to Zurich/Bern: Approx. 650 kilometres (403 miles), 7.5 hours
If you're making the trip from Paris to
Switzerland
, you'll want to leave a whole day - and get on the road early, too! To break the journey, you can stop in Troyes to visit the many Gothic churches, as well as enjoying the pretty countryside of the Champagne-Ardenne region. Switzerland is part of the Schengen Zone, so there should be no difficulties at the border - but remember to switch currencies from Euros to Swiss Francs.
Paris to Lyon: 500 kilometres (310 miles), 5.5 hours
Lyon
is France's third biggest city, a gastronomic capital and a only a long morning's drive away from Paris. You can take the A6 the entire way, stopping in Chalon-sur-Saône, Beaune (a key Burgundy wine centre) or even Dijon with a short detour.
Paris to Marseilles and the French Riviera: Approx 800 kilometres (500 miles), 8.5 hours
The seaside and sunny cities of the French Riviera (
Marseilles
, Saint-Tropez, Cannes,
Nice
) are a full day's drive from Paris - you may want to break it into two with a stopover in Lyon or somewhere in Provence. If the big "A" highways are not your thing, you can take a route past Orleans, Bourges and Saint-Etienne which is not too much longer.
Paris to Barcelona: 1,100 kilometres (683 miles), 11 hours
Driving from Paris to
Barcelona
in one day is possible, but it would be a very long day on the road. It would be a good idea to break up the journey with a stop - that could be in Vichy, Clermont, Limoges, Toulouse or any number of different French cities and towns along the two routes you can take on your way south. Whichever way you go, we recommend stopping in
Carcassonne
, a spectacular fortified city.
Driving distances from Frankfurt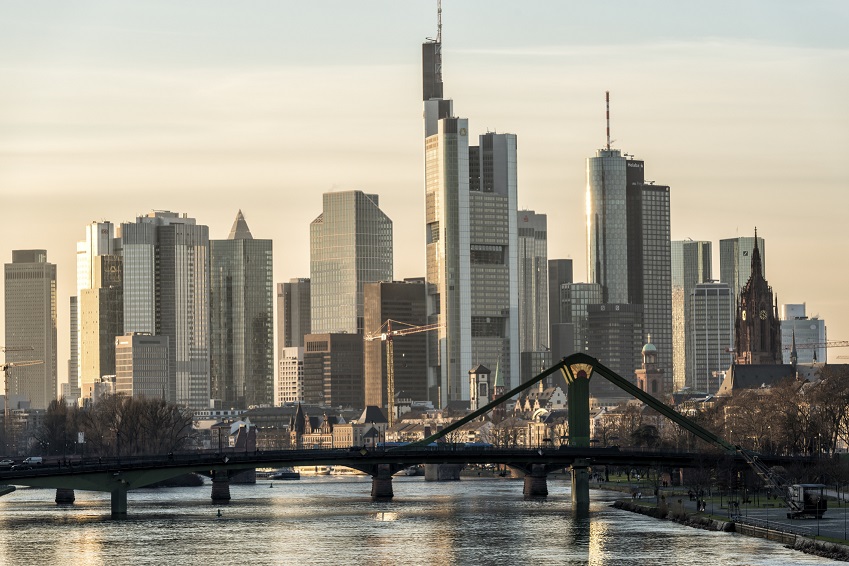 Although not the largest city in Germany,
Frankfurt
has the busiest airport, so you might find yourself flying in here to hit the autobahns. It's quite central to many other major German centres, and just a short trip from the Benelux region (Belgium, Netherlands and Luxembourg) and France. We've left plenty of time for travelling with these approximate time estimates, taking into account rest stops and a little sightseeing.
Frankfurt to Berlin: 600 kilometres (372 miles), 7 hours
To get to Berlin from Frankfurt you will need most of an entire day - and if you want to stop and enjoy the sights, you had better leave early or plan an overnight stay somewhere! If you are visiting in winter, make sure to call in at a
Christmas market
or two along the way.
Frankfurt to Munich: 420 kilometres (260 miles), 5 hours
Getting to Germany's big southerly city can be done in half a day on the shortest route, but there are so many things to see along the way that you might want to allot more time. The fastest route, via the A3 and A9, goes past the beautiful Nuremberg and other Bavarian gems, while if you take a longer journey into the southwest you can visit Stuttgart, Hohenzollern Castle and the Black Forest.
Frankfurt to Paris: 600 kilometres (372 miles), 6.5 hours
See above, Paris to Frankfurt
Frankfurt to Prague: 550 kilometres (341 miles), 6.5 hours
Head east from Frankfurt and you'll soon cross into the Czech Republic. To get to the lovely city of
Prague
takes most of the day, but there are many things to see along the way, including Wurzburg, Nuremberg and Pilsen, famous for its Pilsner beer.
Frankfurt to Amsterdam: 500 kilometres (310 miles), 5 hours
The direct route between Frankfurt and Amsterdam will take you through Cologne, where the stunning cathedral is just one of many attractions. Plan an hour or two there if you can! Once over the border, enjoy some easy and flat driving through the Netherlands until Amsterdam appears on the horizon.
Frankfurt to Zurich: 460 kilometres (285 miles), 5 hours
The fastest way to get between these two cities is on the E52 and E35 which skirt the magical Black Forest, so we recommend taking your time on this particular journey and exploring a little. Remember to switch from Euro to Swiss Francs after you cross the border!
Driving distances from Amsterdam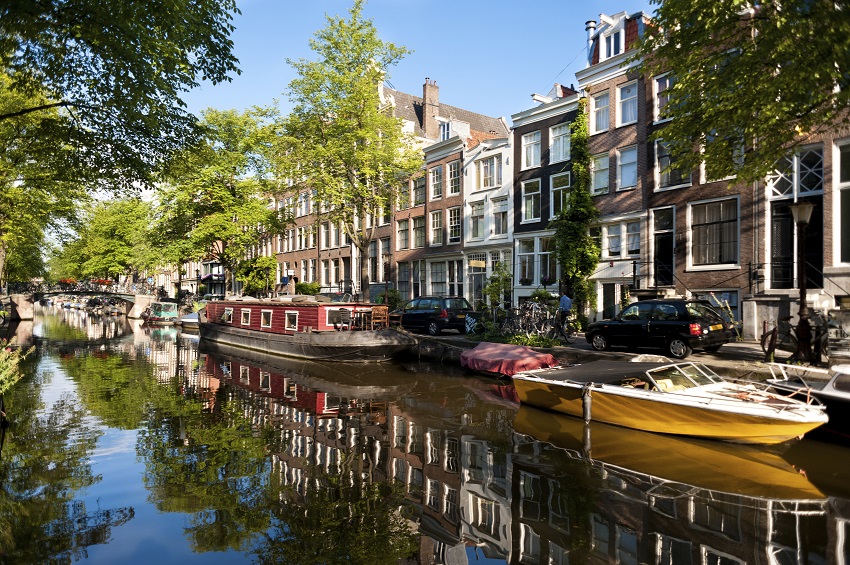 Amsterdam-Schiphol
is the fourth busiest airport in continental Europe, making it the birthplace of many a road trip, especially those focusing on the more northerly nations. It's smooth sailing on the flat Dutch roads to anywhere else in the Netherlands, and Belgium and Germany are very close by. Here are some approximate and generous driving times to some common destinations - you'll need time to stop and admire the scenery along the way!
Amsterdam to The Hague/Rotterdam: 70 kilometres (43 miles), 1-1.5 hours
The big cities of the Netherlands are grouped on the North Sea coast, so it's a very short journey from Amsterdam to either the Hague or
Rotterdam
. Though brief, the trip will take you past some prime tulip country - so be prepared to pull over and have your camera ready, especially if you're driving in springtime.
Amsterdam to Brussels: 230 kilometres (142 miles), 3 hours
Neighbouring Belgium and its hip, historic capital of Brussels are within a few hours drive of Amsterdam. The most direct route between cities passes by Utrecht and Antwerp, so if you have all day to complete the journey there are plenty of things to see and do.
Amsterdam to Copenhagen: 850 kilometres (528 miles), 10-11 hours
Although you can complete the distance between Amsterdam and
Copenhagen
within a day, it would be a long one - especially if you are jetlagged. We recommend breaking it up with a stop in Hamburg which is close to half-way along the route, or detour a little to spend the night in Hanover. The direct route includes a car ferry from Puttgarden in Germany to Rodbyhavn in Denmark, so you would need to time your trip around that - but if you would rather keep your wheels on solid ground you can cross the border near Flensburg and take the impressive Great Belt Bridge across to the island of Zealand.
Amsterdam to Berlin: 720 kilometres (447 miles), 7.5 hours
The drive from Amsterdam to Berlin is almost a beeline, a straight shot along the E30 which will take you through Hanover and a range of other German cities. Once you hit the autobahn, there's no speed limit so you can complete this journey in a hurry if you need to - but remember to stay safe!
Amsterdam to Paris: 560 kilometres (347 miles), 6 hours
It's a good idea to take a full day for the trip between Amsterdam and Paris, because there are some great places to visit along the way - Antwerp, Lille and Arras at the top of the list. History buffs especially will appreciate the many important sites from both world wars.
Driving distances from Madrid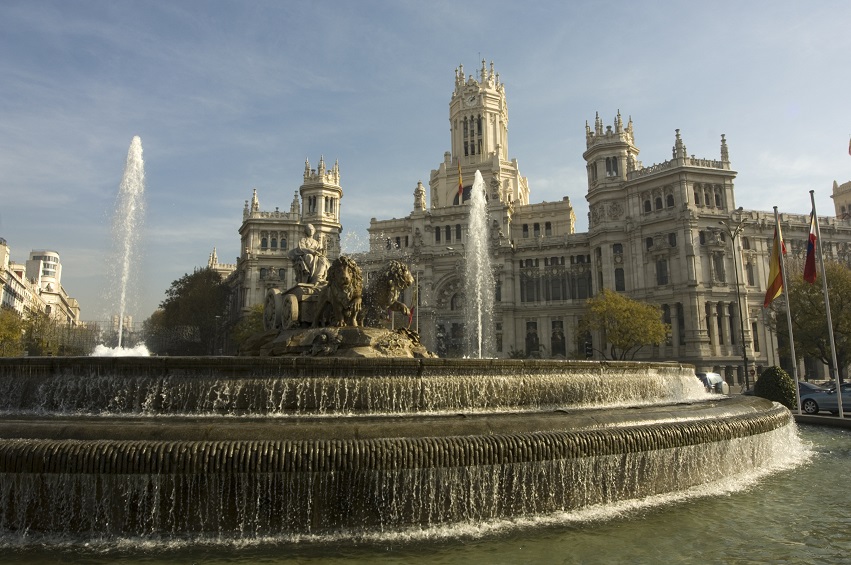 Smack bang in the middle of Spain,
Madrid
has a busy airport and is a gateway to southern Europe for many travellers. It makes a great starting point for a road trip in Spain, Portugal or the south of France, although not so central to the other European countries. The following are rough estimates of driving times for some of the most well-travelled paths from Madrid.
Madrid to Barcelona: 680 kilometres (422 miles), 7 hours
Driving between Spain's two biggest cities is a long journey on the E90, heading past Guadalajara and Zaragoza and over several hilly areas including the Sierra de Vicort range before finishing on the Mediterranean coast in big, bustling and vibrant Barcelona. Take a day or two to do it justice - there are many lovely places to visit along the route.
Madrid to Valencia: 420 kilometres (260 miles), 4 hours
Head straight towards the closest Mediterranean coast from Madrid and you'll be in
Valencia
within half a day. The E-901 is the fastest route, and you must stop for a photo op at the stunning Contreras Reservoir.
Madrid to Lisbon: 680 kilometres (422 miles), 7 hours
Lisbon
in Portugal can be reached in a day's drive from Madrid, albeit a long one along the E90. Taking an alternative route out of Madrid will allow you to stop in Toledo, and other spots to visit along the way include Merida in Spain's historic Extremadura region and Estremoz and Evora in Portugal.
Madrid to Toulouse: 850 kilometres (528 miles), 9 hours
Take a whole day to make your way from Madrid to Toulouse, or two - there are plenty of things to see. The fastest route passes by San Sebastian on the Atlantic coast, through the mountainous northern regions and past the glitzy French seaside city of Biarritz.
Driving distances from Rome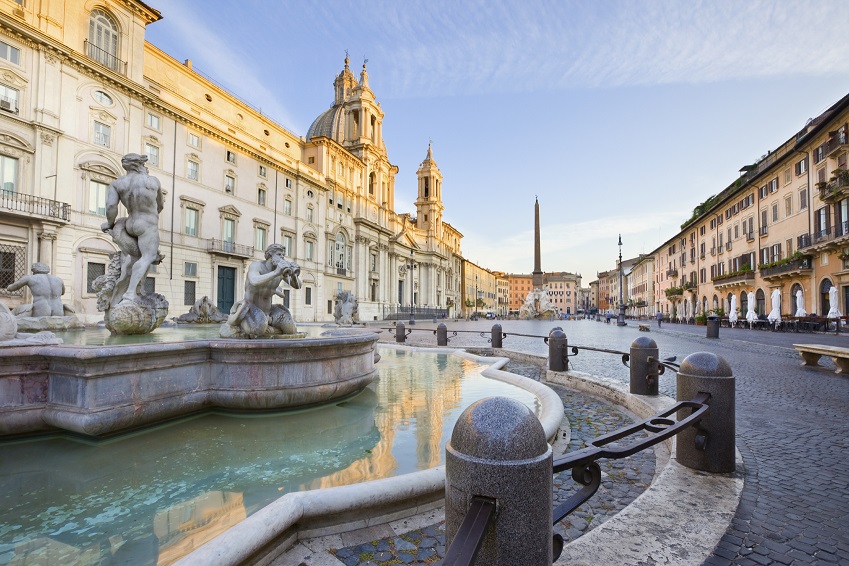 Italy's capital
is another busy air travel hub, and could well serve as the starting point for your car rental adventure. It's not as centrally located in Europe as some of the previously mentioned cities, but if Italy , Switzerland, Austria or the South of France are part of your plans, it's a good place to begin.
Rome to Florence: 300 kilometres (186 miles), 3.5 hours
A morning or afternoon is plenty of time to get you between Rome and
Florence
, unless you hit some major traffic jams in either city. The first part of the journey is along the pretty Tiber River valley and then it's into the Tuscan countryside - stop at the lovely hilltop medieval town of Montepulciano, or take a slight detour to equally lovely San Gimignano.
Rome to Naples: 250 kilometres (155 miles), 2.5-3 hours
It's a straight drive along the A1 from Rome to
Naples
. A point of interest for history lovers is Cassino, the site of the battle of Monte Cassino. If you have all day for the driving, take a longer route along the Tyrrhenian coast and through some pretty seaside towns and cities.
Rome to Venice: 600 kilometres (372 miles), 6.5-7 hours
The day's drive from Rome to
Venice
has plenty of high-profile stops along the way, so you could easily stretch it over a few days. The Tuscan countryside, Florence and Bologna are almost compulsory places to stop, and a short detour will see you in Maranello, the birthplace of Ferrari and home to a Ferrari Museum. You can't take cars into Venice, however, so will have to stay outside the city and make the last leg via public transport.
Rome to Monaco and the French Riviera: 700 kilometres (435 miles), 8 hours
It's a day (or more) journey around some spectacular parts of Italian coast to Monaco and the French Riviera beyond. The fastest route is also one which hits many of the highlights: inland through Tuscany to Florence, then towards the coast where you can take a quick detour to Pisa and then continue on to La Spezia and Cinque Terre. If you are planning on spreading the trip over two days, these five jawdropping seaside villages are the place to stop for the night before continuing past Genoa to Monaco.
Rome to Milan: 600 kilometres (372 miles), 6.5 hours
This straightforward drive along the A1 passes through Florence and Tuscany, Bologna, Modena, Parma and Piacenza. There are plenty of places to see on this trip!
Rome to Geneva: 950 kilometres (590 miles), 10-10.5 hours
This is a very long drive, best done over two days with an overnight stop somewhere along the way. The choices are numerous: Florence, Bologna and Milan are on the direct route, and if you want some amazing scenery you could spend the night in Como just a few miles off the track to the north of Milan.