Arrive in sunny Nice for the ultimate relaxation holiday on the French Riviera. Reserve a cheap car rental and hit the coast for an unforgettable adventure.
Nice is a romantic and artistic city, rich with spectacular paintings and a major drawcard for elite artists and tourists from all over the world. Don't miss Musée Matisse and Musée Marc Chagall, both famous for major features. Dabble in high-end restaurants, get lost in old town and stroll along the Promenade des Anglais on the waterfront. Nice is a city worth exploring in a rental car.
Cruise along the Mediterranean Coast to Cannes, Marseille or head inland to the city of love: Paris.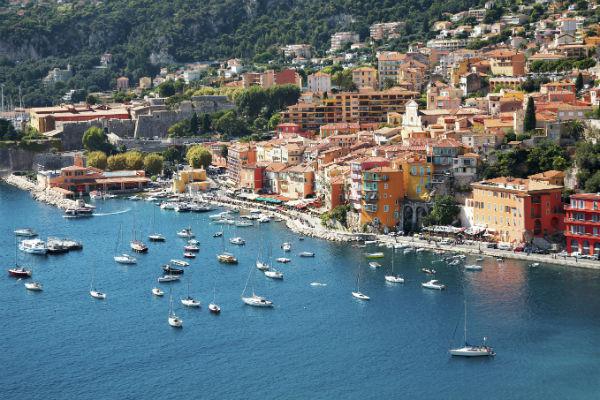 Booking a rental car in Nice
Finding the right Nice Airport car hire at the right price is not a problem with Airport Rentals. All of the major rental brands operating in Europe are found here, so you don't have to spend hours online. Just enter your travel details to be presented with a wide range of available vehicles, formatted into a list for easy comparisons.
All the information you need to make an informed decision is right there on the results page - vehicle features, pictures and even reviews. Want an automatic transmission for your Nice Airport car hire? A minivan? Something a touch more luxurious? Filters allow you to narrow down the results to pinpoint the car that fits you best. Airport Rentals has some of the best rates on the web, so you don't have to sacrifice affordability for convenience. Take a look on the homepage for special offers and mystery deals.
Nice Côte d'Azur Airport (NCE)
Nice Côte d'Azur Airport is France's third busiest airport, serving over 11 million passengers each year and the main gateway to the French Riviera. Shop the promenade for high-end brands in duty-free, find French cafes and artisanal ice cream, as well as chic sit-down restaurants. Kill time in one of the relaxation lounges and snag free WiFi from any terminal.
There are rental car counters in both Terminal 1 and Terminal 2, and for vehicle collection and drop-off there is a dedicated Car Rental Centre. If you have booked with an off-airport rental company, instructions for shuttles or pick-ups will be in your email confirmation – check with our friendly Airport Rentals customer service team, available to take your call 24/7.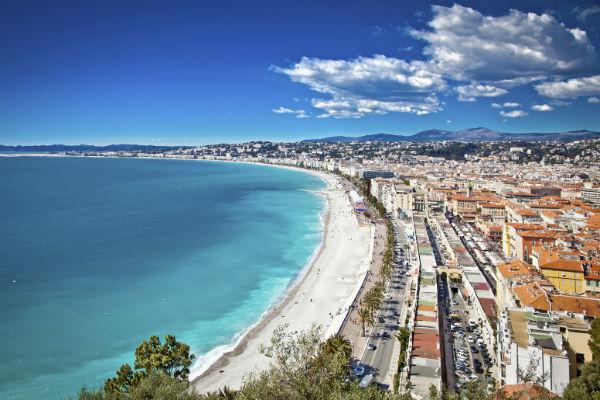 Guide to driving in Nice
For useful driving tips, navigation and parking locations for Nice, read our driving guide.
Driving from the airport to downtown Nice
Drive to Nice from the airport in under 20 minutes with these easy to follow directions: exit the airport turning right onto Boulevard Rene Cassin and stay in the left lanes to turn left onto Rue Jules Bessi which continues as Avenue Saint-Augustin. Drive along the coast, following signs to Nice-Centre and take the ramp onto Voie Pierre Mathis to arrive in the city centre.
Driving tips in your Nice rental car
Driving in Nice will see you enjoying one of the most stunning coastal strips in the world. Keep your mobile out of sight and pull over for the photo-worthy spots. Read on for more Nice driving tips:
● Drive on the right side of the road, overtake on the left side.
● Stoplights are low on the sidewalk and easy to miss.
● Beware of locals who rarely use turn signals and disobey traffic signs.
● Keep cash in the car for tollways.
● Use a GPS system, this city is full of confusing one-ways.
● Watch out for bus and bicycle lanes.
Parking options at the Airport and in Nice
At Nice Airport, choose from five parking options: contact, an indoor car park connected to the terminal, low cost with a free shuttle, long term, secure covered car park or valet service. Pay online using Click&Park to save time and money, or pay around €4 per hour and €21 for the day.
Double parking in the south of France happens often. Either park at your accommodation or in a garage to avoid your rental car from being blocked in. If you do decide to park on-street, carry coins for the €1.30 per hour charge. It's free after 8pm and on Sundays.
Thinking about touring Europe? Use our helpful driving distance guide to plan your road trip!
Hit the road from Nice
Once you have picked up your Nice Airport car rental, the next task will be to decide where to go. Nice is a fabulous place to spend a few days, while the glitz and glamour steps up a notch in Monaco, just half an hour away.
Head west to experience more French Riviera cities. On the coast are Cannes, Saint Tropez, Toulon and Marseille, where chic French urbanity meets sun, sand and surf. A road trip along the Riviera is an unforgettable way to holiday!
If sunbathing and celebrity spotting aren't your thing, there are still plenty of places your car hire from Nice Airport can take you. The French Alps and the France/Switzerland border are close by, along with the amazing and underrated city of Lyon. In nearby northern Italy, there are a few destinations that should be on everyone's wish-list - Lake Como near Lugano, at the Swiss border, and Cinque Terre on the Ligurian coast are particular highlights.
So many options in your Nice Airport car hire!