Amsterdam welcomes visitors with a charm like no other, delivering on all of its promises as a European jewel of a city. Explore the history of Holland's capital through world-class museums and galleries as you wander down cobblestone streets and admire stunning architecture. Weave through the gorgeous canals by boat or simply admire them from a rented bicycle, the favoured transportation method of many residents in this Dutch city. Visiting in spring? Tulips abound in the Netherlands, especially outside of the bustling centre. Experience it all by renting a car in Amsterdam.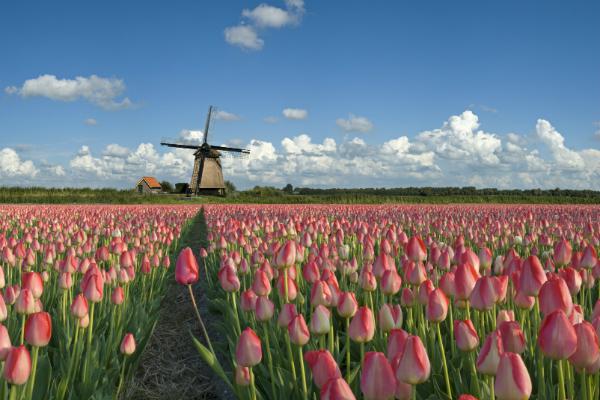 Hiring a cheap rental car with Airport Rentals
Pick up your rental car at Amsterdam Airport as soon as you touch down by pre-booking a hired vehicle with Airport Rentals.
Find and compare the best vehicles by selecting your travel dates and clicking 'search'. View family-friendly minivans, sleek SUVs, or economy cars, and filter your choices down further by personal preferences such as group size or rental company. Book an Amsterdam Airport rental car in just a few minutes, enjoying zero booking fees, instant confirmation and 24/7 customer service.
A quick overview of Amsterdam Airport
Officially called Amsterdam Airport Schiphol, Amsterdam Airport is a major European hub, with thousands of passengers passing through each year. Duty free shops and excellent dining options are all available at Amsterdam Airport, as well as the world's first permanent airport library. When you're ready to head off on your Netherlands adventure, pick up your rental car keys from the kiosks located by Arrival lounge 3.
Fly in from major European cities such as London and Barcelona, and further afield from international cities such as Tokyo and Moscow, to name but a few.
Driving your car hire in Amsterdam
The biggest challenges around driving in Amsterdam are parking and cyclists. It's difficult to find parking in the CBD so many people use public transportation and park on the outskirts of the city. Many residents get around on bikes, especially in the city centre; always double check your mirrors and keep your eyes open.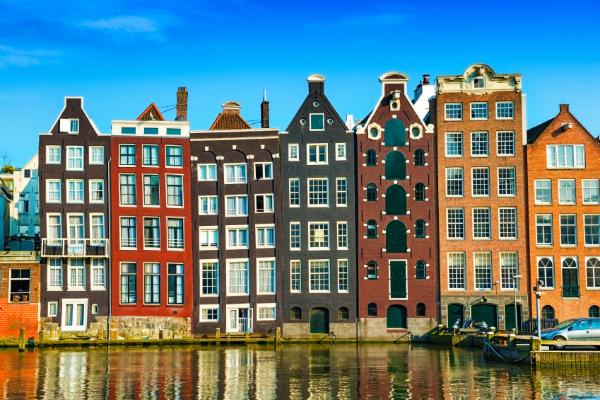 Getting to and from Amsterdam Airport
Amsterdam Airport Schiphol is located 22 kilometers southwest of the city centre. From the airport, head out onto the A4 and continue onto the A10. Take the exit for s112 towards Amsterdam; the trip to the CBD will take around 20 minutes.
Trains, shuttles, public busses and taxis are all available at the airport, should you prefer to pick up your rental car from the city.
Tips for driving around Amsterdam
● Remember to keep right while driving in the Netherlands.
● The maximum speed in urban areas is 50km/h, and up to 100km/h on highways.
● It is illegal to use your phone while driving. Fines apply.
● Trams have the right of way in all circumstances.
● The emergency number, should you need it, is 112.
Read up on our European driving distances guide to get a feel for how long a cross-country or cross-border road trip might take you.
Where to park your rental car in Amsterdam
Close to the Amsterdam Airport Schiphol terminals, parking zones P1 and P2 begin at a rate of €1 per 11 minutes, or a daily rate of €33.50. Park your car in the Smart Parking zone for just €65 for 1 - 3 days; a shuttle bus will take you to the airport, which is a 15-minute drive away.
While there are a few parking buildings/lots, on-street parking in Amsterdam city is difficult to come by. Your best option is to drive your hired car to one of the Park and Rides on the edges of the city, and catch the public transport into town. Park your car there for roughly €8 per 24 hours.
Amsterdam Airport Terminal Map
Amsterdam Schiphol Airport (Netherlands) is ranked Europes 4th busiest airport and the world's 14th busiest. The airport has been built as one large terminal, split into three large departure halls.

The airport is serviced by 106 carriers (91 of these being passenger airlines) who provide flights to 301 destinations on a regular basis.