The Tuscan countryside is what many dream of when they plan a trip to Italy. Best accessed by hired car, Florence is a great starting point to explore the region's rolling hills, delicious eats, and scenic beauty. Drive amongst art galleries and palaces and get inspired by the incredible art, history, and architecture that characterise the region.
Once you've seen all there is to see in Florence, head out to discover other Italian hot spots such as Rome, Milan and Pisa, to name a few.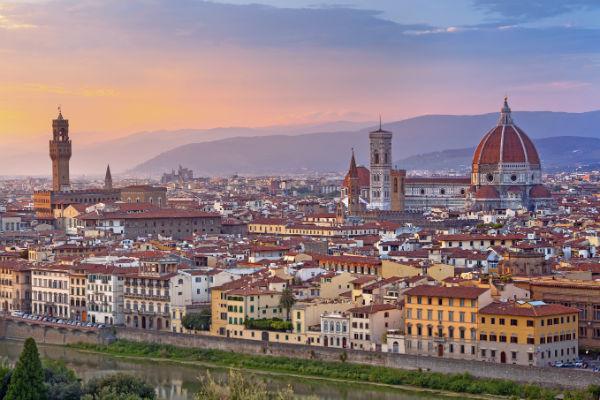 AirportRentals.com - the best way to find a great car rental deal in Florence
Arrive at Florence Airport, Peretola (FLR) with no worries about car rental, having pre-arranged with Airport Rentals well in advance. The smooth booking process will get you from airport to car in no time.
Simply type in your travel dates to generate an array of car hire options from Florence Airport. Rental vehicles will be displayed from least expensive to most expensive. You can easily compare multiple car companies (Alamo, Budget, Sixt and Hertz, to name a few) and filter your search by any preferences you may have, such as transmission type or group size. After you have selected your Florence car rental, you can book securely online and get access to additional rental perks. Never worry about hidden fees and enjoy a 24/7 customer service line, should you need it.
A quick guide to Florence Airport (Toscana Aeroporti)
Florence Airport, formally known as Amerigo Vespucci Airport, is a busy Italian transport facility with service to both international and domestic cities. Upon arrival, you will be welcomed by a wide range of amenities including extensive retail and dining options.
Car Rentals are located at "Palagio degli Spini", connected to the airport by a free shuttle bus that runs every 20 minutes and stops inside the short-term car park, just outside the terminal.
Driving your car hire in Florence
When driving in Florence, be mindful of the limited traffic area zones (ZTL). Most rental cars are not able to drive in these areas as this requires a special permit. The ZTL covers the historic city centre and if you are caught in this area, you will pay a hefty fine.
Getting from Florence Airport to the city
The time it takes to drive from the Florence Airport to the city depends on traffic but usually ranges between 20 and 40 minutes. Due to its historic centre, the average car renter will not be able to drive in the city area, making it a much better idea to park outside of the main centre and walk around instead. Try to find accommodation that includes parking outside of the ZTL.
Florence car hire driving tips
● Respect all traffic laws even though the locals may not.
● Do not drive in the ZTL or you will be fined.
● Be mindful of the many one-way streets.
● When pumping gas into your car, the Italian words for gasoline/petrol are "carburante" and "benzina," so be aware of these and know that diesel is the same in English and Italian. Know that this will not be able to go into your car if your car requires gasoline.
Parking in Florence and at the airport
Florence Airport has a variety of parking options. Short-term parking (P1) is free for the first 15 minutes and then €3 per hour after that, with a maximum of €30 a day. Long-term parking (P2) is also free for the first 15 minutes and €3 per hour but offers discount prices for longer stays.
Do not enter the ZTL as you will be fined heavily. Instead, find a paid parking lot just outside of it and walk instead. There is one under the train station of Santa Maria Novella, and you can also park under the Fortezza da Basso and Porta al Prato and by the Fortezza. In the east, you will also find parking under Piazza Ghiberti (called San Ambrogio) and Piazza Beccaria; to the north. There are a few more in central locations; all will save you money.