Touch down in Knoxville, Tennessee and you are in for a treat! Home to the University of Tennessee (Go Volunteers), this town has more to offer than college football. Grab a rental car and cruise around town with the convenience of your own wheels.
Located on the banks of the Tennessee River, Knoxville offers its visitors a plethora of activities. Take a riverboat cruise at sundown, head up to the top of the Sunsphere for the best view in town, or visit the local zoo for an after dark safari. If you're in town during football season, the city turns into a sea of orange. Make sure to catch a game at Neyland Stadium to experience the team spirit for yourself. Book a chef's table culinary tour to sample some of the most delicious food in town and interact with chefs and owners. Relax in World's Fair Park, a large green space with interactive fountains and lakes where performers delight the public.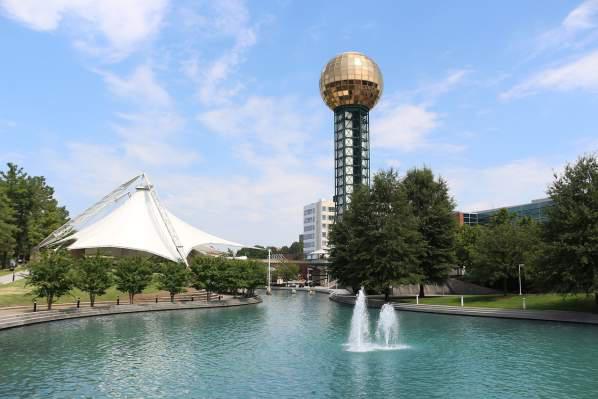 Image: pixabay
Planning a longer stay? Hop in your rental car and head to the Great Smoky Mountains National Park or visit the country music capital of the world, Nashville. Create a road trip route visiting other nearby cities such as Atlanta, Charlotte and Memphis.
Hiring a cheap rental car in Knoxville
For hassle-free car rental in Knoxville, use Airport Rentals. Simply type in your preferred pick-up location and travel dates then click 'search.' In seconds, we present the best car hire rates from multiple highly-rated rental brands such as Alamo, Avis, Budget and Hertz. Compare different types of vehicles that suit your holiday needs. Ride comfortably in a full size SUV, save on petrol with an economy car, or hire a convertible for some summer fun.
Once you've found the perfect vehicle for your trip, book securely online, paying no additional fees for the service. Plus, access free benefits such as unlimited mileage, theft protection and breakdown assistance.
McGhee Tyson Airport (TYS)
Each year, over 1.7 million passengers travel through McGhee Tyson Airport. Upon landing, grab a bite at Quizno's, Ruby Tuesday or Uno Chicago Grill. Terminal shops are available for last minute gifts, forgotten necessities or travel accessories, and Starbucks is there for all your coffee needs. Use the free WiFi to look up reservations or directions before exiting the airport.
If you are heading straight to town to pick up a city rental, hail a taxi or use your Uber or Lyft app, otherwise grab your rental car keys from the counters on the bottom level near baggage claim.
Driving from the McGhee Tyson Airport to Knoxville
McGhee Tyson Airport is located 22 kilometres south of downtown Knoxville in Alcoa. For the quickest route to town, merge onto US-129 N from Terminal Loop Drive and stay on the highway for 20 kilometres. You'll cross the river to arrive in the downtown area.
Driving your rental car in Knoxville
Knoxville is a navigable city with multiple surrounding highways. Always use a hands-free device for directions help or hire a GPS with your rental. Here are a few more driving tips for Tennessee:
● Drive on the right side of the road and overtake using the left lane.
● Speed limits are 60-70 mph on highways and 30-40 mph in urban areas. Follow posted signs.
● Highways are often multi-laned; make sure to stay in the right lane if your exit is near.
● The driver and front-seat passengers must wear a seatbelt.
● If driving during winter conditions, be cautious of ice and only drive if necessary.
● For more tips check out our USA driving guide.
Parking at McGhee Tyson Airport and downtown Knoxville
Parking is easy at McGhee Tyson Airport. Choose short-term for $18 per day, long-term for $12 per day or economy for $10 per day; or pay $1 per 1/2 hour at each lot. Walking distance time to the terminal from the lots is 5, 10 and 15 minutes respectively. For a quick pick up, use the Phone & Wait Lot for free temporary parking.
Multiple garages are available throughout downtown Knoxville for all-day or overnight parking. Parking in residential streets is commonly free, although be sure to adhere to restricted signs. Metered on-street parking is in effect from Monday to Saturday from 8am to 10pm depending on the area and charge between $.30 to $1.50 per hour.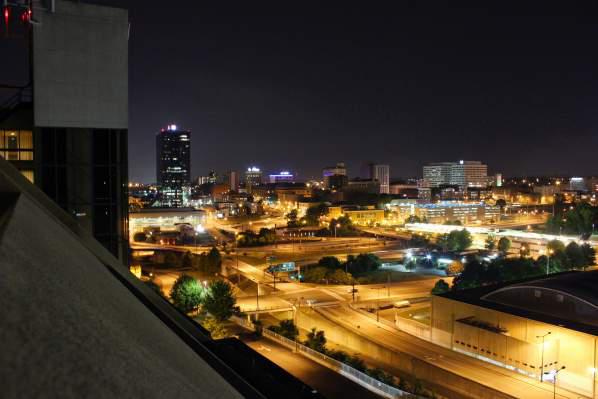 Image: Will Fisher