Knoxville Tennessee is a small city of roughly 200,000 people, but it boasts the nightlife, culture, history, and events calendar of a much larger metropolis. One of its major points of pride is its music, and whether you simply listen to WNOX radio (one of the oldest stations in the United States), check out any of the countless live performances around the city, or attend that major annual Big Ears Music Festival, you'll quickly appreciate why the city is known for its rhythms. You can discover the city's music, as well as its museums, arts, cuisine and history, when you pick up a car rental at Mcghee Tyson Airport.
Additionally, once you've got your hands on a Knoxville car hire, you can use it to explore nearby destinations such as Tennessee's capital, Memphis, or Chattanooga, a city set at the base of the Appalachian Mountains. Or, consider crossing a state line or two to visit Louisville in Kentucky, Charlotte in North Carolina, or Atlanta in Georgia.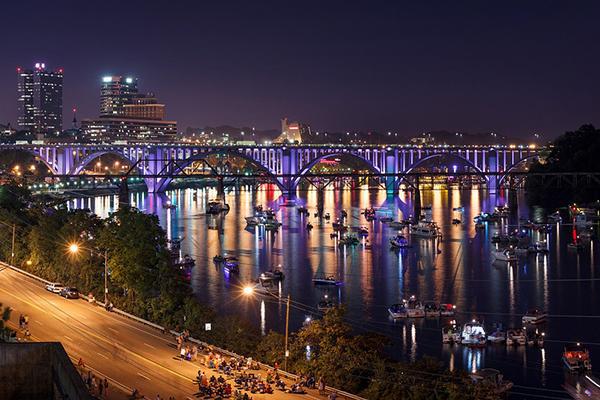 Find the best deal on car hire in Knoxville with AirportRentals.com
Whether you're looking for a small compact car to get you from A to B, or something larger and more luxurious, you will always find a great deal with Airport Rentals. Start your search by typing in your travel dates, then hit 'search cars' to generate a list of all available vehicles from leading car rental companies at Knoxville Airport.
Narrow down your search using the filter options to browse vehicles based on brand, capacity, car size, and more. Or simply peruse the full list and make your decision based on cost (most affordable appear at the top), or any of the features or benefits listed next to each vehicle.
Once you've found your perfect rental, book immediately online through Airport Rentals to take advantage of free additional benefits.
Introducing Knoxville Airport
Knoxville Airport is officially known as the Mcghee Tyson Airport, and uses the international airport code TYS. Almost two million passengers pass through this terminal every year, taking some 130 flights per day to destinations such as Denver, Dallas, Las Vegas, and Newark.
The terminal is laid out across two levels. The upper level is where you will find ticket counters and gates, as well as an array of food and beverage options. Take the escalator downstairs to the lower level to visit the information desk, or to pick up the keys for your car rental at Knoxville Airport.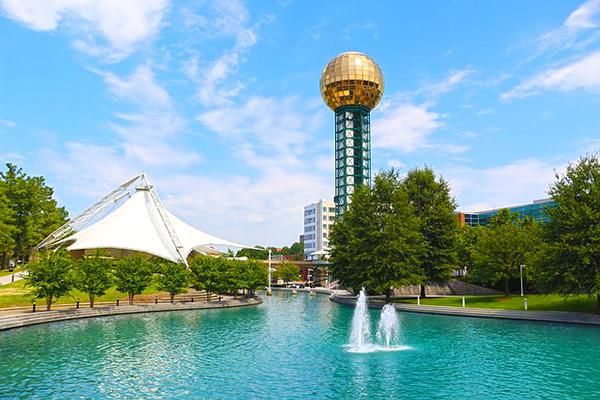 Guide to driving in Knoxville
Driving from Knoxville Airport to the CBD
The Mcghee Tyson Airport is just under fourteen miles from the Knoxville city centre, a drive that will take 15-20 minutes in normal driving conditions. When you leave the terminal, turn left to join the Alcoa Highway (Route 129), and follow this as it winds its way north towards the city. Turn off to the right onto the I-40 then right again onto Henley Street to make your way into the heart of town.
Tips for driving in Knoxville
Whether you're new to driving in Tennessee or new to driving in the US, read our tips on driving in Knoxville so you're prepared to hit the ground running (or driving) as soon as you land.
● Pick up a GPS unit from your rental company if you're concerned about finding your way around Knoxville.
● Most open roads will have speed limits of 65-70mph, but always be on the lookout for signs.
● Know what to do in case of a rental car breakdown.
● Allow extra time for driving in the city, especially during rush hour.
● You won't come across snow and ice in Tennessee, but it may rain, so use your headlights in rain or fog to help you see, and to be seen.
Parking at Mcghee Tyson Airport and in Knoxville
Parking options at Knoxville Airport include short-term, long-term, and economy lots. Short-term spaces are just a few minutes from the terminal on foot, and cost USD$18 per day, while a stall in the economy section takes 15 minutes to walk to and costs USD$10 per day.
Within the city, there are a number of metered parking spaces throughout the downtown area. These will generally cost USD$1.50 per hour, with prices in effect from 8am to 6pm Monday to Saturday in most areas. Always read the posted signs, as busy areas may have metered spots until 10pm. There are also several downtown parking garages if you're looking for a covered space for your hired car.