Situated on the Mississippi River in southwest Tennessee, Memphis is home to over 600,000 residents and famous for its rock n' roll and blues history. It's best to hire a car to experience all that this city has to offer on your own schedule.
Hit up Beale Street to visit iconic music venues, clubs and restaurant that once played host to music legends like Johnny Cash and B.B. King. Stop by Graceland Mansion to see how Elvis Presley lived, or visit Sun Studio where rock n' roll was born. Get messy with some of the best barbecue in the world - your Memphis trip isn't complete without it.
A trip to the United States must include some sort of road trip. Pick up or drop off your rental car in nearby cities such as Chicago, Kansas City, Nashville, St. Louis, or hit the open road and visit America's weirdest roadside attractions. Memphis may be listed as one of the more expensive USA cities to travel, but here are a few tips to help save on your holiday.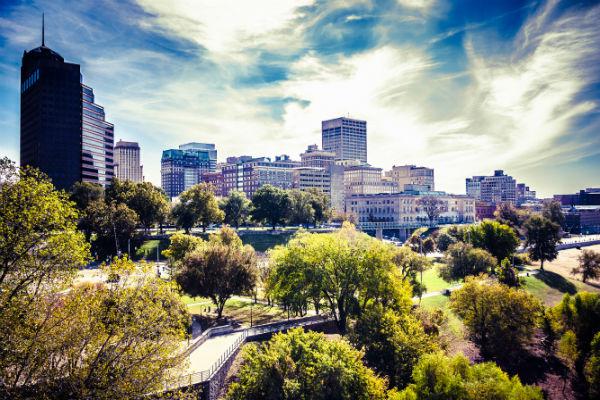 Hiring a rental car in Memphis
For hassle-free car rental in Memphis, use Airport Rentals. Simply type in your desired pick-up location and travel dates and click the search button. In seconds, we present the best car hire rates from multiple international and national brands. Easily compare different types of vehicles that suit your holiday needs. Select a car from Alamo, Avis, Budget, Hertz and more at Memphis Airport. Ride in true American fashion with a convertible or save on petrol with a compact or economy car.
Once you've found the perfect vehicle for your trip, book securely online and pay no additional fees. Plus, enjoy 24/7 customer service should you need it.
Memphis International Airport (MEM)
Memphis Airport is the global hub for FedEx Express and serves around 4 million passengers each year. A civil-military airport, Memphis International is split into 3 connecting concourses which provide amenities like free WiFi, electronic charging stations, free luggage carts and a meditation room.
Each concourse has dining options and shops selling Memphis memorabilia, travel accessories and more. Try the local Memphis-style BBQ at Interstate Bar-B-Que or grab coffee at Starbucks. Head to the Ground Transportation Center on the lower level in B Terminal to pick up your rental car.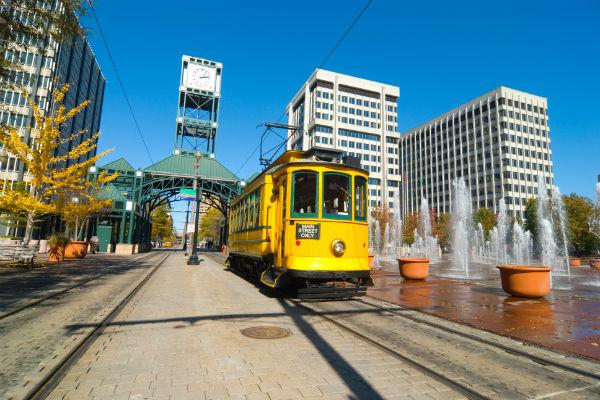 Driving from the airport to the city
Memphis Airport is 18 kilometres southeast from downtown Memphis, the drive taking around 15 minutes with normal traffic. For the fastest route, exit the airport onto Plough Blvd and drive on I-240 N to I-40 W to reach the city.
Driving your rental car in Memphis
Getting around Memphis is easy with a rental car, but take the wrong highway and you may end up in Arkansas. Not to worry, just cross the bridge over the Mississippi and you'll be back in Tennessee in minutes. Here are a few more driving tips for Memphis:
● Drive on the right side of the road and overtake using the left lane.
● Speed limits are 60-70 mph on highways and 30-40 mph in urban areas. Follow posted signs.
● Highways are often multi-laned; make sure to stay in the right lane if your exit is near.
● The driver and front-seat passengers must wear a seatbelt.
● If driving during winter conditions, be cautious of ice and only drive if necessary.
● For more tips check out our USA driving guide.
Parking at the airport and in the city
Memphis Airport offers multiple affordable parking facilities. Choose the economy lot located past the Ground Transportation Center for $6 per day. Park close to the terminals in the long-term lot ($15/day) or short-term lot ($24/day). Each garage allows for 30 minutes of free parking.
Conveniently, downtown Memphis has 40,000 parking spaces including garages and on-street parking. Use 'pay and display' meters to purchase parking tickets for street spaces and adhere to designated parking rules to avoid fines.