Nicknamed Queen City, the town of Charlotte in North Carolina is full of interesting museums, music and arts festivals and beautiful old suburbs ripe for exploring. There are also numerous tourist-centric activities to keep you busy, such as segway and bike excursions, history walks, and ghost tours. If you'd like to experience the city on your own terms, the best way to see it all is by renting a car.
As well as nearby Catawba River and Lake Norman, there are plenty of attractions to experience in Queen City.
Secure a great deal on Charlotte car hire with Airport Rentals
Leave your holiday stress at the door when you pre-book a cheap rental car in Charlotte with Airport Rentals. Find and compare a range of vehicle hire options from an extensive collection of brands with just a few clicks.
Start by selecting your travel dates and hitting 'search'. You'll be given a list of available vehicles at Charlotte Douglas International Airport and the option to narrow down your choices by transmission, car type, and group size. Select a sleek SUV, pile your family into a minivan, or choose a compact car. Once you've chosen your ideal car hire, book securely online with no booking fees and instant confirmation. It's that easy. Plus, enjoy 24/7 customer service access, should you need it.
A quick guide to Charlotte Douglas International Airport
With flights from 154 domestic and international destinations, Charlotte Douglas International Airport is among the busiest transport hubs on the east coast of the United States. One of the few airports in America with a public viewing platform, watch the planes take off while sipping a coffee from one of the cafes, or check your emails with free WiFi. When you're ready to be on your way, pick up the keys to your hired car from the Consolidated Rental Car Facility, which is located in the lobby of the short-term parking building, directly in front of the terminal.
Driving your car hire in Charlotte
Much like many American cities, Charlotte's CBD was built on a grid system, making navigation around the city pretty straightforward. Watch out, however, for one-way streets, Interstate on and off ramps, and windy suburban roads.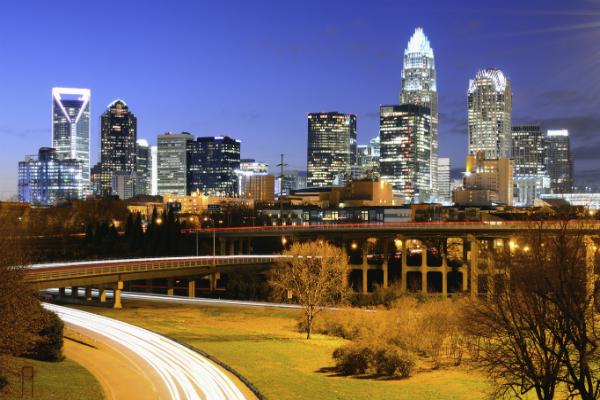 Driving to and from the airport
Charlotte Douglas International Airport is a busy airport, so expect delays and congestion on your way to and from the city. You should allow extra time for these hold ups, but on a good day the 10 mile trip to the CBD will take around 20 minutes. Head onto the I-85, and take a right onto the I-16. Follow the signs to the city centre. If you've planned to pick up your rental car from town, jump on a public bus or hail a taxi.
Tips for driving the location
Take note of these handy tips for driving in Charlotte and North Carolina, and check out our USA driving guide for more information.
● You may turn right on a red at the traffic lights, unless otherwise stated.
● At a four-way stop, every vehicle must stop, and the motorists move on in the order in which they arrive.
● Watch your speed on the highways, and keep a safe distance from the car in front.
● Every vehicle is different - don't forget to familiarise yourself with the settings on your rental car before heading off.
Up for a road trip? To plan your route, visit our guide to USA driving distances.
Where to park - at the airport and in the city
Parking at the Charlotte Douglas International Airport has vastly improved over the past decade, and is now home to two Daily Parking zones ($8 per day), four long-term lots ($7 per day), as well as a short-term car park ($1 per 30 minutes). These are all located a short walk away, just outside the main terminal building.
In Charlotte's CBD, there is plenty of parking. Garage parking starts at around $5 per hour, open-air car lots at around $5 per day, and handy on-street parking throughout the city costs an average of $6 per hour.
Charlotte Douglas Terminal Map
Charlotte Douglas International Airport is an international airport located in Charlotte, North Carolina. In 2009 Charlotte airport was the 9th busiest airport in the United States. In 2010, Charlotte was the 6th busiest airport in the world, based on traffic movements, and in 2013 it was the 23rd busiest airport in the world by passenger traffic.