Tucked into the northwest inlet of Lake Michigan lies the quiet town of Green Bay. Quiet, that is, until game day. Home of the NFL team Green Bay Packers, sports fans will revel in the chance to see a game at the Lambeau Field or be part of the pre and post-game antics around the city. Sports aside, the beautiful water-edged city has museums, galleries, parks and historic shopping districts to wander through, making for a great homely base from which to jump in a rental car and explore the gorgeous countryside.
Planning a road trip? The cities of Milwaukee, Madison or Minneapolis are all under 4 hours' drive away.
Secure a cheap car hire in Green Bay with Airport Rentals
Start your holiday in Green Bay hasslefree by pre-booking your rental car. From sleek SUVs to handy compact cars, you'll find what you're looking for with Airport Rentals.
Simply pop in your travel dates and hit 'search' to get started. All the vehicles available at Green Bay Airport will be presented for easy comparison. The lowest priced rentals will be at the top and if you need to narrow down your search further, you can sort your results by brand, transmission, capacity and more. With Airport Rentals, there are no additional booking fees to worry about, and confirmation is instant.
A brief look at Green Bay Airport
Officially called the Austin Straubel International Airport, Green Bay Airport is the transport hub for Brown County, and the third largest airport in the state of Wisconsin. The airport has 12 gates, 6 on each concourse, making it easy to navigate. Free WiFi is available throughout the terminal, so grab a bite to eat in a cafe and catch up on your emails before you head on your way. Rental car kiosks are located right next to the baggage claim. If you've made arrangements to pick up your rental car from Green Bay, taxis, busses and ride-share services are all available at the airport.
Fly in to Green Bay from major United States such as Chicago, Detroit and Atlanta.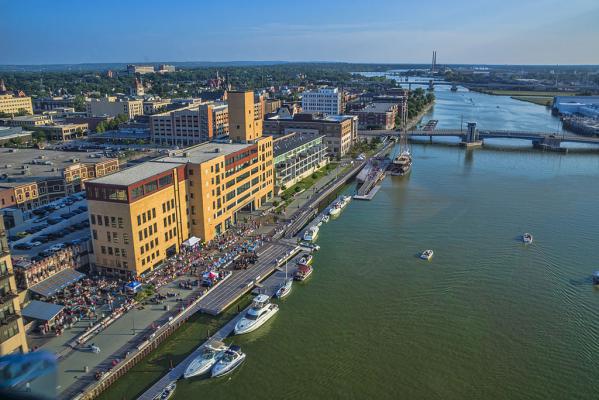 Image: Chris Rand
Driving your car hire in Green Bay
Interstate 43 and U.S. Route 41 intersect in Green Bay, providing easy access to wider Wisconsin.
Driving to and from the airport
Austin Straubel International Airport is just a 20-minute drive from the city's CBD. From the airport, head out onto Airport Drive and follow for 3 miles. Take the WI-32/Oneida Street/Ashland Avenue exit, turn left onto Van Der Perren Way, and then take another left on S Ashland Avenue. Follow the signs into the city.
Tips for driving your rental car in Green Bay
● Visiting from overseas? Remember to keep right.
● Traffic can get incredibly heavy on game day. Avoid the roads around the stadium if possible.
● When driving on the Interstate, keep a safe distance between you and the car in front.
● If driving in the countryside, watch out for animals.
● Check out our guide for driving in the snowy winter months.
Read our USA driving guide for more information.
Where to park your hired car
Both short and long-term parking is available at the Green Bay Airport. Short-term parking begins at USD$1 per half hour, with a daily maximum of USD$16. In the long-term lot, park for USD$1 an hour, with a daily maximum of USD$8.
In Green Bay, parking is convenient and easy to find. Street lots, garages and on-street parking are all available downtown, with starting rates of around USD$0.75 per hour.
Catching a Packer's Game? Parking at the Lambeau Field is reserved for season pass holders, however you can book a spot in the outlying car parks ahead of time. If the stadium car parks are full, on-street parking is available within walking distance. Read more about parking at Lambeau Field.