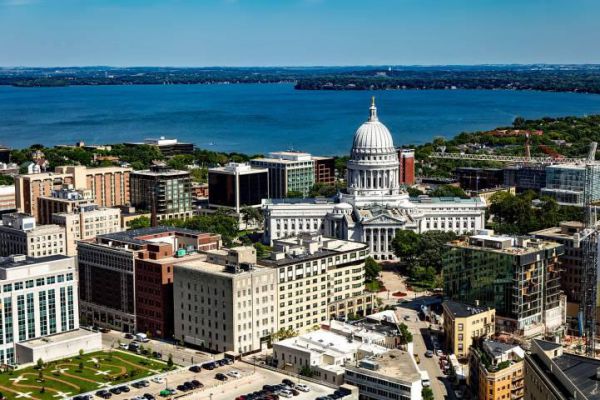 Image: Pixabay
Surrounded by water on all sides, the city of Madison, Wisconsin is the perfect destination for outdoor lovers. Join the locals in the summer as they spend their days sailing, fishing, windsurfing and more. In the winter, try your hand at ice skating, ice hockey or cross-country skiing. Book a rental car to explore the city and then head into the surrounding hills to experience even more.
If physical activities aren't really your thing, never fear! Madison has a vibrant music scene, great shopping opportunities, and a vast array of museums and galleries to peruse. No matter your style or holiday preference, Madison has a little bit of everything to keep you entertained. With regular flights from major United States cities such as Orlando, Denver and Philadelphia, you'll be there in no time.
Secure a cheap car rental deal in Madison with Airport Rentals
Finding the ideal rental car at Madison Airport has never been easier with Airport Rentals. We use powerful search technology to bring together a wide variety of rental options across multiple brands, so you can easily compare them all in one handy place.
To begin your search, simply pop in your travel dates. A list of cars will be generated and presented lowest price first. Filter your results by vehicle size, style, transmission preference and more to narrow down your options. Once you've found what you're looking for, confirmation is instant, booking is secure, and there are no additional fees or costs involved. If you need a hand, our customer service team is available 24/7. The simple process should be complete in a few clicks - it's that easy with Airport Rentals.
A quick look at Dane County Regional Airport
Officially called the Dane County Regional Airport, Madison Airport services the wider Wisconsin area, and is a great airport in which to spend a little extra time. Touch down and relax in one of the delicious restaurants for a meal, or get in some shopping at one of the conveniently located retail stores on the ground floor. Make use of the free WiFi before you head to the rental car kiosks near the baggage claim to pick up your keys.
If you make arrangements to pick up your rental car from the city, taxis and busses are located just outside the terminal, and ride-share companies are able to pick you up from the roadway median between doors 3 and 4.
Driving your car hire in Madison
Interstates 39 and 90 (I-39 and I-90) intersect with the Interstate 94 (I-94), which makes popping over to neighbouring cities such as Milwaukee, Chicago, and Minneapolis an easy weekend away.
Driving to and from the Madison Airport
Madison Airport is located 6 miles northeast of the city, just a 15-minute drive from the CBD. Leaving the airport, drive your rental car onto International Lane and follow south to merge with Packer's Avenue. Continue on Pennsylvania Avenue, then onto E Johnson Street and follow it into the city.
Tips for driving your car hire in Madison
Driving around Madison is pretty straightforward, although it pays to be aware of the extensive bike lane system. Always keep a safe distance away from cyclists to avoid accidents. Other things to remember:
● Are you visiting from overseas? Check out our USA driving guide.
● Speed is measured in miles per hour. Generally speaking the limits in the city are 25 mph, and up to 70 mph on the highways. Watch for signs indicating a speed change.
● Avoid driving at peak hours if you can, as traffic can be heavy in the CBD.
● When driving on the Interstate, keep a safe distance between you and the car in front.
Visiting in winter? Read our guide to driving in winter to help you on your way.
Where to park your rental car
Madison Airport has four parking lots available to you at differing rates. All parking begins at USD$1 per half hour, with daily maximums ranging between USD$6 and USD$16. Note that all lots take payments via cash and credit card, except the Economy Lot which only accepts credit card.
The city of Madison has many garages and lots for you to park your hired car. Rates for these begin at around USD$1 per hour. On-street metered parking is limited in the CBD, however if you drive out a little you'll find spots which cost USD$2 per hour.