Welcome to Packer Country! Explore this proud Wisconsin city with a cheap Green Bay car rental to learn why they bleed green and gold.
The city of Green Bay and its 100,000 residents are located on the arm of Lake Michigan on the east side of central Wisconsin. It is known for its home national football team, the Green Bay Packers. Not only has the team taken home multiple championships, but it is also unique in the sporting world as the town owns it, making the Packers their pride and joy. Visitors can learn all about it in the Hall of Fame at Lambeau Field. Another draw is the idyllic Midwestern hospitality. Enjoy great food, friendly chats and make sure to try the local cheese - Wisconsin is famous for it. After exploring the city, a drive around the countryside in your rental car is a must. Green pastures overlap with local vineyards, and scenic lakeside spots are ideal for a dip or picnic.
For an extended journey, take your rental car to nearby cities such as Madison, Wisconsin's capital city and Milwaukee, the state's largest city with a love for beer and river cruises. And for an unusual experience, visit a "UFO landing" just outside of Green Bay.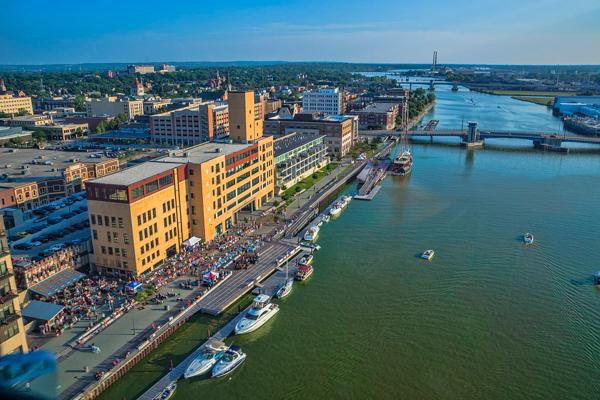 Image: Chris Rand (Own work), CC-BY-SA-4.0, via Wikimedia Commons
Hiring a rental car in Green Bay
Jump in the driver's seat of an affordable Green Bay rental car from Airport Rentals. Book the ideal car hire in minutes with our lightning fast search engine. Simply provide your rental dates, and an inventory of available vehicles in Green Bay will pop up in seconds. Select your favourite car hire supplier at the top of the page or use the preference filters for more options including car style, transmission type and capacity. Also, each rental car offer includes free, exclusive benefits, such as unlimited mileage and roadside assistance.
Upon selecting the right car hire for your trip, choose any add-ons such as a GPS unit or a child seat and complete your booking confidently on our secure site. Our customer service team is standing by 24/7 should you have any questions throughout the process.
Insider Tip: Choose a vehicle with 4WD if you plan on visiting during the wintertime, in case of ice and snow conditions.
City guide
Although Green Bay's population is just over 100,000, it is the third largest city in the state. It received its name from the green tints on the lakeshore during springtime. Its climate includes four distinct seasons with hot, humid summers and extreme winter conditions.
For those flying in or out of Packer Country, pick up or drop off your car hire at Green Bay Airport, located 15 minutes outside the city.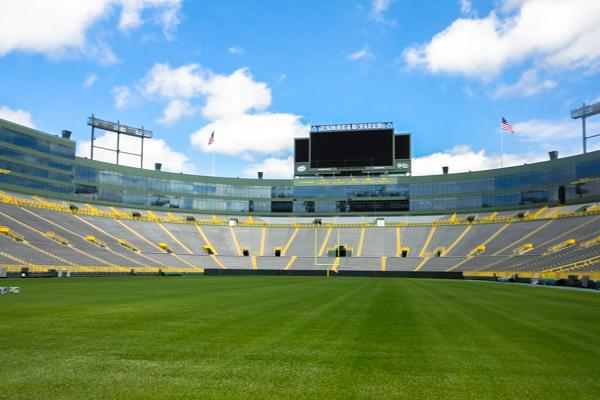 Guide to driving in Green Bay
Getting from Green Bay to the Green Bay Airport in your car hire
From town, head west on Walnut Street and turn left onto S Ashland Avenue. Next, take a right onto Pilgrim Way, then a left to merge onto WI-172. Follow this to arrive at the airport terminal. The journey takes approximately 15 minutes.
Driving tips for Green Bay
Driving around Green Bay is a breeze unless the Packers are in town. Expect long traffic delays on game days and look out for pedestrians ruling the streets.
● The use of mobile phones while driving is illegal in Wisconsin unless it's an emergency.
● All passengers must wear seatbelts.
● The legal blood alcohol limit is 0.08%; choose a ride service if you plan to imbibe.
● Winter hits hard in Wisconsin - drive cautiously and prepare for icy conditions.
If this is your first time in the United States, check out our USA driving guide for more information.
Parking around Green Bay
You will find both metered on-street spaces and all-day garage parking throughout the city. Expect to pay around USD$1 per hour to park your car hire. Meters are enforced on weekdays from 8 am to 6 pm. Please note that during home football games, parking lot prices increase and spaces can be more challenging to find.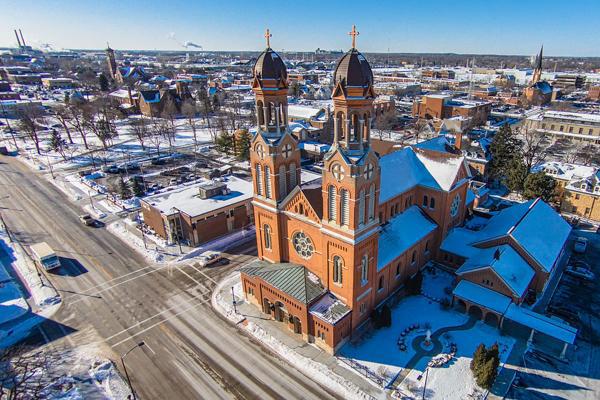 Image: Chris Rand (Own work), CC-BY-SA-4.0, via Wikimedia Commons