Victorian homes line the beautiful streets of Dubuque, where old warehouses have been converted into modern eateries and shops, creating a fabulous juxtaposition of past and present in eastern Iowa. Wander through stunning city parks, enjoy delicious wine tasting tours and visit fantastic local attractions such as the museum and the impressive aquarium when you visit this city on the Mississippi River.
Dubuque is the place where the states of Iowa, Illinois and Wisconsin meet. As such, the region is often referred to as the tri-state area. Being this close to three different states makes Dubuque the perfect place to rent a car and explore the Midwest. The nearby cities of Minneapolis, Madison and Cedar Rapids are all within a few hours' drive and Bloomington, Chicago and Des Moines are just further on and worth the effort.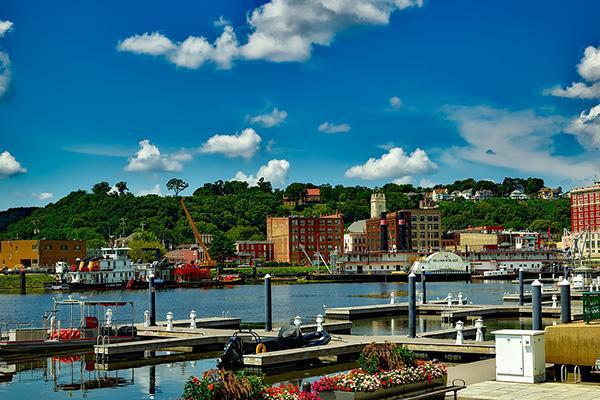 Secure a cheap car hire in Dubuque with Airport Rentals
It has never been easier to book a rental car at Dubuque Airport than with Airport Rentals. By working with a wide range of vehicle suppliers, we're able to bring you the best deals across the board.
It's easy to get started: simply select your travel dates and hit 'search'. All the rental cars available on your chosen dates will be presented to you, so you can see and compare all your options in one handy place. If you're looking for something specific, use the handy filters to sort by capacity, transmission, brand and more. Choose between sleek SUVs, practical minivans and fuel-efficient compacts. Whichever vehicle type you need for your trip to Dubuque, you'll find it at Airport Rentals.
When you've found the ideal rental car, enjoy instant confirmation, no added service fees, and a 24/7 customer assistance team ready to help you at any stage of the booking process.
A quick guide to Dubuque Airport
Dubuque Regional Airport may be small in the grand scheme of United States airports, but it does provide a lovely café and free WiFi. Avis and Hertz rental car desks are both conveniently located within the terminal building, and while Enterprise is located off-site, the company provides transport to and from for maximum convenience.
Fly directly to Dubuque from Chicago O'Hare.
Driving your car hire in Dubuque
Dubuque is serviced by four U.S. Highways and two Interstates, making it easy to pop out to neighbouring cities.
Getting to and from the airport
The Dubuque Regional Airport is located nine miles south of the city, and is a thirteen-minute drive away. From the airport, head onto Aviation Drive, then take a left onto Merlin Lane. Join the US-61 going north, and take the White Street exit into the CBD.
Tips for driving your rental car in Dubuque
It's always a good idea to familiarise yourself with local driving laws before getting behind the wheel of a rental car. Take note of these tips, and visit our USA driving guide for more information.
● Before setting off in your hired car, be sure to check the placement of mirrors and any other controls that may be different from what you're used to.
● Heading along the river? Take it slowly around corners, as sometimes visibility is limited.
● Watch out for one-lane streets in the centre of the city. It's best to double check the flow of traffic before turning at an intersection.
● Some four-lane roads in Iowa may have a minimum speed sign posted, this is to divert slow-moving farm vehicles to other roads.
Where to park your rental car at the airport and in the city
Park your rental car at Dubuque Airport free of charge in the parking zones located just outside the terminal building.
Parking meters, garages and lots are all available in downtown Dubuque. Pay attention to changing prices and time restrictions in parking zones.