In the heart of Iowa lies the state capital of Des Moines, a cultural hub with the most beautiful capitol building for miles. Stretch your legs along the Des Moines River, wander through galleries and museums, catch one of the Broadway shows hosted by Des Moines Performing Arts, and enjoy delicious cuisine at one of the many downtown restaurants. There's something for every kind of adventurer in this tree-lined American city.
The state of Iowa is a joy to experience, and there's no better way to see it all than by renting a car in Des Moines.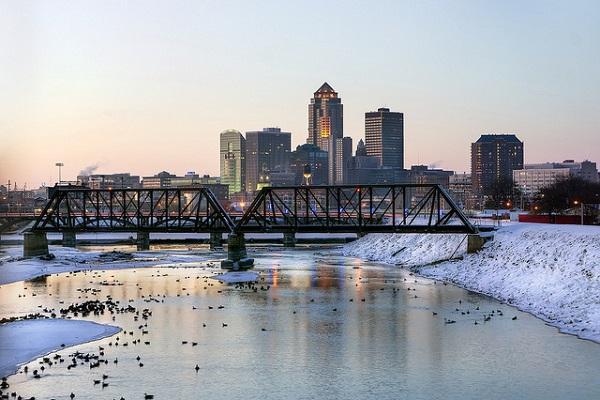 Image: Katie Haugland Bowen
Hire a cheap car rental in Des Moines with Airport Rentals
Use Airport Rentals to find and compare all the vehicle hire options available at Des Moines International Airport in one convenient location.
Whether you're after a family-friendly vehicle or a sleek SUV, quickly and easily find your ideal vehicle with our powerful search engine. Simply type in your travel dates and click 'search' to generate dozens of rental options. Handy filters let you narrow down your choices even further by transmission type, brand and group size. Ready to book? Confirm securely online and pay no booking fees. The whole process takes just a few short minutes, giving you peace of mind and knocking car rental off your Des Moines holiday to-do list.
Quick guide to Des Moines airport
In 2010, a renovation project was completed at the Des Moines International Airport, now providing a fantastic range of facilities for you to enjoy when touching down in Iowa. Fly in from Chicago, Minneapolis and other United States cities, and pause to enjoy a coffee from one of the cafes, catch up on social media with 45 minutes of complimentary WiFi, or get in some pre-holiday shopping at the numerous stores in the terminal. Pick up your rental car keys from the kiosks located by the baggage claim.
Driving your car hire in Des Moines
With plentiful parking, Des Moines is a great place to zip around in your hired car. Do note that there are several bike trails running through the city; always give cyclists plenty of room when passing, and keep an eye out for them as you drive around.
To and from the Des Moines International Airport
The Des Moines International Airport lies 7 miles southwest of the city, with the drive to the CBD taking 20 minutes. Take Cowles Dr to Fleur Dr, and follow until you reach the I-235. Turn right, and then follow the signs to the CBD.
The Heart of Iowa Regional Transit Agency provides a bus service to and from the airport, a great option if you've organised to pick up your rental car from the city.
Tips for driving your car hire in Des Moines
Take note of these handy tips before getting behind the wheel of your rental car. See our USA driving guide for more information.
● On the Interstate, keep to the right lane unless overtaking.
● You may turn right on a red at the traffic lights, unless otherwise stated.
● The blood alcohol level is 0.08 percent, but we suggest not drinking at all if you intend to drive.
● Don't forget to adjust the mirrors and unique settings on your hired car before heading off.
● Take a look at our guide to USA driving distances to get a feel for how long your road trips might take.
Where to park
At Des Moines International Airport there are several parking options available to you. Short-term parking is free for your first 20 minutes, with an additional $1 per 20 minutes thereafter. Long-term parking is available for $13 per day. Both car parks are located just outside the main terminal building.
Garages, parking lots and on-street metered parking are all reasonably priced in downtown Des Moines, beginning at around $1 per hour. Always double check time restrictions before leaving your hired car.