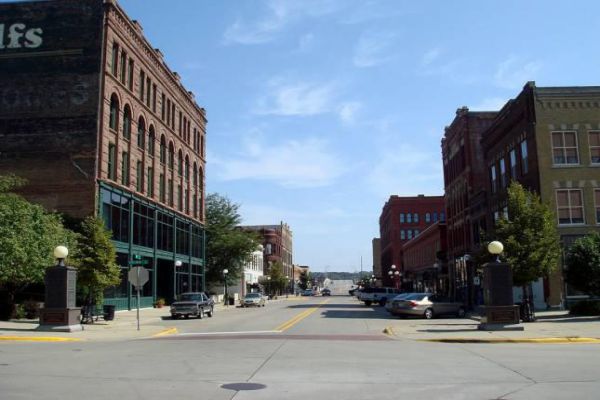 Image: Bobak Ha'Eri
Sioux City is a small hub in the most northwestern corner of Iowa. For such a compact city, it features a large collection of cultural attractions, including the Sergeant Floyd Monument which is a National Historical Landmark. The Missouri River passes through Sioux City and is a major facet of the town's personality, especially as it marks the navigational head - the point at which cargo ships can no longer travel upstream - for the river. Make your way around and see it all when you rent a cheap car in Sioux City.
A rental car doesn't just open up Sioux City, as you can also take it for road trips to nearby destinations such as Sioux Falls, Omaha, and Des Moines.
Find a cheap car hire in Sioux City with Airport Rentals
The process of finding the best deal on car rental in Sioux City is easy with Airport Rentals, as you can conveniently compare the five leading brands in the city and choose the vehicle that offers the best value.
Instead of approaching Enterprise, Hertz, Alamo, Avis, and National separately, use our powerful search engine to compare them all with one quick and easy search. Start by entering your travel dates, then hit 'search cars' to generate a list of available vehicles at Sioux City Airport. Cars are automatically listed with the most affordable at the top of the page, and you can narrow down your results by preference with the handy filter options.
As soon as you've made your decision, book securely online without paying any additional fees. Should you have any questions throughout the process, get in touch at any time via our 24/7 customer service line.
Introducing Sioux City Airport
Sioux City Airport is officially known as the Sioux Gateway Airport. It's also sometimes known as the Colonel Bud Day Field, named after a Sioux City native who is the only person to ever be awarded both the Medal of Honor and the Air Force Cross.
The terminal is small but features basic facilities as well as Marna's Cafe and Gift Shop, which opens two hours prior to each scheduled departure and serves food and drinks. You'll find a row of car rental desks inside the terminal right next to the baggage claim belt.
Aside from private chartered flights, there are just two regular scheduled routes, which go to Chicago O'Hare, and Dallas Fort Worth.
A guide to driving a car hire in Sioux City
Sioux City is reasonably small with a straightforward layout and not too much traffic outside of peak commute times. It is a city on the rise however, so you may come across construction which can slow down your travel times, but you'll quickly learn your way around the detours!
Driving from Sioux Airport to the CBD
It's only 8.7 miles between the airport and the city centre, so this drive should take just 15-20 minutes by rental car. When you leave the terminal, turn right and take Aviation Boulevard to join the I-29, heading north. This highway will take you all the way up past the river and into the city when you turn right onto Nebraska Street.
Tips for driving your rental car in Sioux City
If you've ever driven in any major city, driving in Sioux City will be a walk in the park. Pick up a GPS unit to help you find your way around, and double check your route on Google before you drive to see if there are any current construction projects in your path. For those arriving in winter, be extra careful on the roads and read our tips for driving in winter.
Parking at Sioux City Airport
Sioux City Airport offers plenty of parking right in front of the terminal. Both short- and long-term lots are free for the first 30 minutes, and it's USD$7 maximum per day in the long-term lot and USD$8 maximum per day in the short-term.
Parking in Sioux City
Sioux City offers four parking garages in the downtown area, as well as metered spaces all over the city. A recent study showed that only a third of the city's 3,271 spaces are in use at any one time, so you shouldn't have any issues finding a spot.