Welcome to South Dakota's largest city, nicknamed the 'Best Little City in America.' Grab a cheap rental car and explore Sioux Falls for yourself.
You can't visit the city without a trip to Falls Park where Big Sioux River flows over massive rock faces. Take the SculptureWalk, an exciting exhibit of outdoor sculptures displayed year-round. Attend a summer festival celebrating music, local fare, comics and more. Hit the local waterpark on a hot summer day or journey across the state to visit Native American Reservations in your rental car.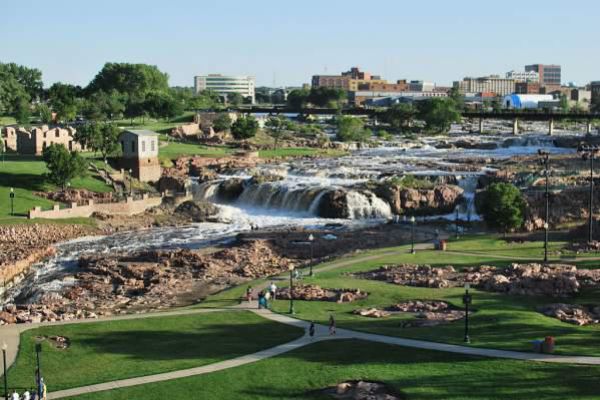 Image: Seabear70
Extend your trip to other nearby cities such as Omaha, Des Moines, and Kansas City or make it a cross country trip to Los Angeles, New York City or Tampa.
Booking a cheap Sioux Falls rental car with Airport Rentals
Hire an affordable rental car in just a few clicks using Airport Rentals. Simply enter your travel details including dates and pick-up location, click 'search' and instantly be presented with a wide selection of deals from top-rated rental car companies such as Alamo, Budget and Hertz. Refine your options using handy preference filters until you find the ideal rental. Hire a petrol-friendly economy car, a fun convertible, or even a minibus to fit the entire extended family. Take advantage of great benefits like unlimited mileage, theft protection and breakdown assistance.
Complete your booking on our secure site with no hidden fees, and enjoy access to helpful customer service available at any hour of the day.
Sioux Falls Regional Airport (FSD)
Sioux Falls Regional Airport, also known as Joe Foss Field, is situated 6 kilometres from the CBD of Sioux Falls and serves over 1 million passengers each year, making it the state's busiest airport. Upon arrival, visitors can grab a bite to eat at SkyDine or The Wildcat Corner. Pick up last minute gifts or forgotten items for your holiday at the FSD Gift Shop. The airport also houses a connecting hotel called AeroStay, convenient for travellers with early morning departures or late night arrivals. WiFi is available upon a pay-per-use plan.
Rental car kiosks are located next to baggage claim on the ground floor. Hail a taxi if you plan to pick up from a depot in downtown Sioux Falls.
Driving from Sioux Falls Regional Airport to the city
The drive from Sioux Falls Regional Airport to the city centre takes around 10 minutes in normal traffic conditions. For the quickest route, turn right onto the 115/N Minnesota Avenue from the airport and follow this south all the way into the CBD.
Driving your rental car in Sioux Falls
Winter conditions can get pretty serious in Sioux Falls. Make sure to read our guide on driving during winter and only drive in these conditions when absolutely necessary. Otherwise, the city is easy to navigate and midwestern folks are happy to help you with directions and tips on the area.
Additional driving tips
● Drive on the right hand side and overtake on the left side.
● Always wear a seatbelt and stay off of your mobile phone.
● Yield to pedestrians and watch out for cyclists sharing the road.
● Speed limits are usually between 60 and 70 mph on highways, and between 30 and 40 mph in urban areas. Follow posted signs.
● Check out our USA guide for more helpful information.
Parking at the airport and Sioux Falls
Find convenient parking within walking distance to the terminal at Sioux Falls Regional Airport. Park in the short-term lot for $1 for the first hour and $2 per additional hour, for a daily maximum of $14. The long-term charges $1 per hour with a daily rate of $8, and the economy lot costs $1 per hour with a daily rate of $7 and a weekly rate of $35.
Locating parking spaces in downtown Sioux Falls is easy with over 1,000 on-street spots and over 2,300 public spaces. Depending on the area, rates are between $.75 to $1 per hour enforced 9am to 5pm Monday through Friday. Enjoy free parking after 5pm and anytime on the weekends.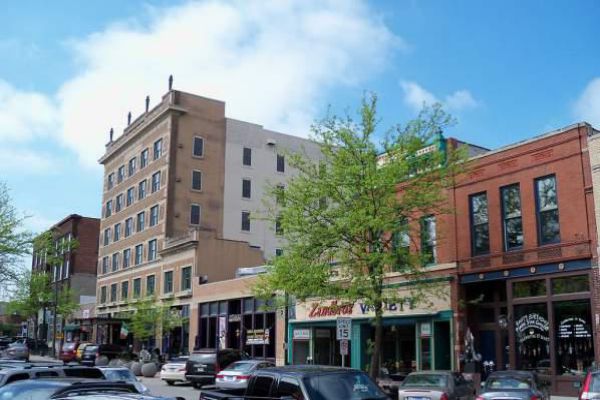 Image: AlexiusHoratius