They say that everything is bigger in Texas, and Dallas - 'The Big D' - is proud to uphold the state's claim to fame. It's a city of 4.6 million people, placing it firmly in The United States' top 10 largest cities, and it comes in at first place in terms of population growth as well. Worldwide, Dallas is known for the eighties television series of the same name, but today, the city is notable for its shopping, history, culture, and more than 12,000 places to eat.
Dallas is by no means a small city, so booking a cheap car rental will help you get from A to B in The Big D.
Image :Robert Hensley
How AirportRentals.com can help you book a cheap car hire in Dallas
There are a dozen car rental companies operating at Dallas Fort Worth Airport, but there's no need to spend a whole afternoon getting vehicle availability and quotes from each one. Airport Rentals takes the legwork out of finding a Dallas rental car by pulling together information on multiple car hire companies so you can compare prices and brands in one place.
Simply enter your travel details into the search function, then scroll through the dozens of vehicles available from all sorts of companies. You can narrow down your search with filters, access phone or email assistance 24/7, and book securely online as soon as you've made your decision. Pay no additional booking fees throughout the process and get it sorted in just a few clicks.
Get to know Dallas Fort Worth Airport
Dallas Fort Worth International Airport is a bustling transport hub, serving a record-breaking 65.6 million passengers in 2016, making it the third busiest airport in the world. The airport is located on a piece of land between Dallas and Fort Worth that's larger than Manhattan, and has recently been named as the best airport in North America for customer satisfaction.
The airport offers everything you would expect from a major airport, including free WiFi, shops, restaurants, and business facilities. Additionally, you can check out the art collection throughout Terminal D and the Skylink stations, or take some time out in the yoga room.
To get to the rental car desks, take the free shuttle bus from the lower level of any terminal. Buses run 24 hours a day.
The closest airports to Dallas Fort Worth include: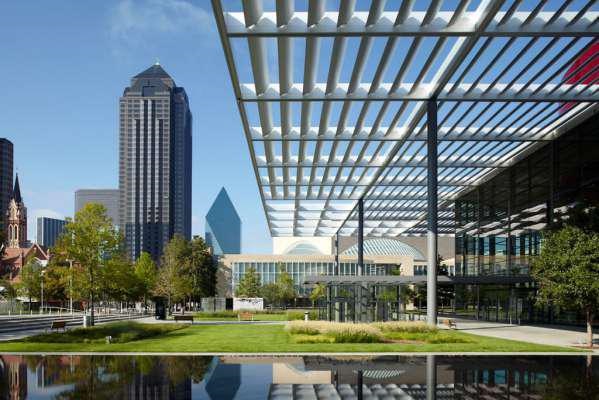 Image:Dallasborn&bred
Driving your car hire in Dallas
With the size of the city and the number of inhabitants, Dallas offers a sprawling road network that can be difficult to navigate. A GPS navigation unit will be a vital addition to your trip to help find your way around, and driving outside of peak hours can make the trip a little easier. The city is known for its 'Wild West' approach to driving, so be prepared for plenty of traffic and some loose interpretations of the road rules.
Driving between the airport and the CBD
The fastest and easiest route between the Dallas Fort Worth Airport and the Dallas CBD is not always the straightest one. Instead, it's best to start off on the International Parkway heading south, follow it as it veers to the left, then turn right onto the State Highway 161. Turn left again on the Interstate 30, then follow it all the way into town. The straighter route along Texas Highway 114 will get you there, but traffic more often than not makes it the slower route. Note that both routes include toll roads.
At a minimum, give yourself an hour to get from the airport to town and vice versa.
Tips for driving your car rental in Dallas
The roads in Dallas are busy, and the locals are known for their aggressive driving styles, so be prepared to pay attention to your surroundings and don't forget to bring your patience. Locals suggest not to slam on the breaks when you approach a yellow light as you may be rear-ended, since it is normal for drivers to run yellow lights, also be sure to double check before pulling out when you have the green light.
New to the USA? Check out our handy guide to driving in America before getting behind the wheel of your hired car.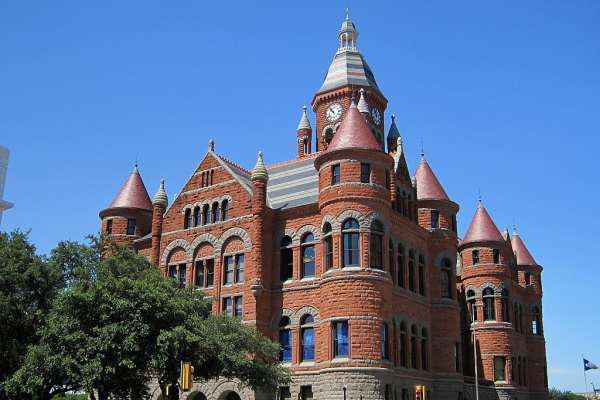 Image:Thomas R Machnitzk
Parking your rental car in Dallas
There are more than 20,000 parking spots available for at the Dallas Fort Worth Airport, all conveniently located in proximity to the five airport terminals, or you can opt for valet parking.
Aim to book a hotel that includes parking in the price of your room so you have somewhere to leave your Dallas car rental when you check in. If you're visiting the downtown area, there are plenty of metered on-street options which are in effect from 7am to 6pm daily - just be sure to read the signage for maximum stays and payment information. There are also numerous parking garages around the city, such as the Bryan Tower Garage on Olive Street.