Nicknamed 'Circle City' for the round park at its core, Indianapolis is a thriving metropolis in the midwest of the United States. This state capital of Indiana has multiple museums to explore, including the Children's Museum, the largest of its kind in the world. It's the perfect city to take your kids on an American adventure they'll never forget.
Discover urban agriculture, taste delicious homemade cuisine, or visit the famous speedway. Indianapolis is a joy to explore and the best way to see it all is by hiring a car.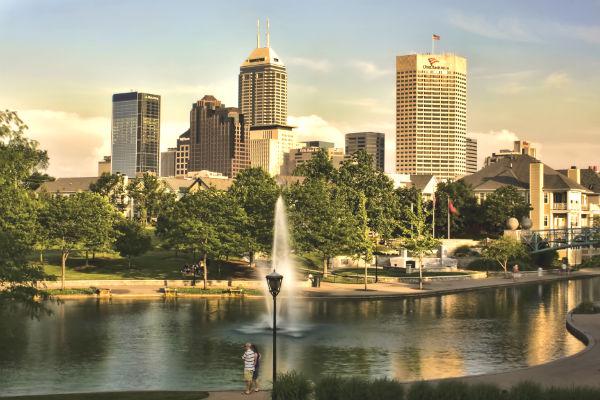 Begin your Indianapolis holiday by booking a car hire with Airport Rentals
Hiring a car in Indianapolis doesn't have to be a hassle. With Airport Rentals, you can book a vehicle in a matter of minutes from your desktop, tablet or mobile. We work with a comprehensive network of brands to bring you the best deals on car rentals and we don't add on any additional fees.
Simply enter a few basic details about your trip and click 'search'. You'll be shown a range of suitable vehicle options, which you can narrow down further with easy-to-use filters. Whether you're after a compact car, a minivan for your family, or a luxury SUV, you won't be short on choices.
Once you've made a decision, book quickly and securely with the added convenience of 24/7 customer service should you need it.
A quick overview of Indianapolis International Airport
Fly into Indianapolis from major American cities such as Orlando, Austin, San Francisco and Dallas, and take a breather before you begin your Indiana adventure. Get in some quick shopping at the multiple stores, take a coffee break in a cafe, or make use of the free WiFi before picking up your car rental keys.
Car rental kiosks are located in the Ground Transportation Center on the first floor of the Terminal Garage, just outside the main airport building.
Driving in Indianapolis
Indianapolis is a planned city, with Monument Circle at its core, making it incredibly easy to get around. It is the second most populous city in the Midwest after Chicago, so it can be quite busy.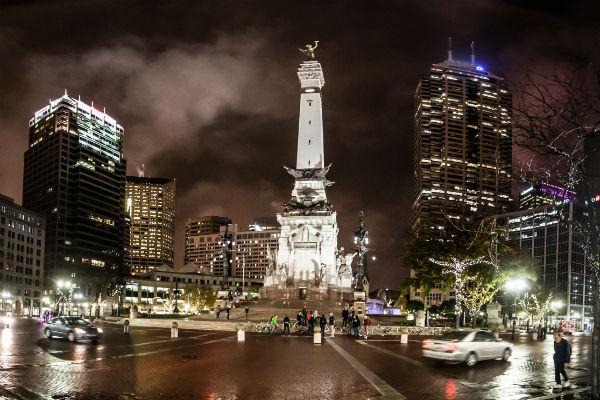 Getting to and from the airport
Indianapolis International Airport is located 15 miles from the city, with the drive to town taking around 20 minutes. To get to the city from the airport, follow Col. H. Weir Cook Memorial Drive, then take the I-70. Follow the signs to get into the CBD. If you have opted to pick up your car hire in the city, a bus service runs between Indianapolis and the airport. Alternatively, hail a taxi or an Uber.
Tips for driving in Indianapolis
Take note of these handy tips before getting behind the wheel, and check out our USA driving guide for more information.
● Motorists drive on the right in all states in America.
● At a four-way stop, motorists move on in the order they arrive in. If two cars arrive at the same time, drivers should give way to the right.
● You may turn right on a red at the traffic lights, unless otherwise stated.
● Speed is measured in miles. Abide by the limits of 20 - 30 mph in the city and 75 mph on the highways. Be aware of changing speed limits.
Use our USA driving distances guide to get a feel for how long your road trips might take.
Where to park
Indianapolis International Airport offers passengers both short and long-term parking options. Short-term parking can be found on the third floor of the Terminal Garage, and costs $2 per half hour for up to a maximum stay of 4 hours. For long-term parking, you can either park on any floor in the Terminal Garage for $18 a day, or a short walk away is the Park & Walk car park, which is $14 per day.
In the city, there are more than 73,000 parks so you won't be short on choice. From garage buildings to parking lots to on-street parking, there's a fantastic range of car parking options in Indianapolis. Prices range from $1 to $8 an hour, and most have a daily maximum of $10 to $24.