Smack dab in the middle of the USA bordering the Missouri River and Iowa is the lively city of Omaha. Named after a Native American tribe, Omaha means "those going against the wind" and the 900,000 locals residing there live up to the moniker.
The city is speckled with public art, museums and a happening riverfront, thanks to the Bob Kerrey Pedestrian Bridge. Travel back in time in the Old Market neighborhood with cobblestone streets, trolleys and horse and carriage rides. Hire a car in Omaha to travel on your own schedule and visit nearby sights like Fort Atkinson State Historical Park.
The USA is an ideal country for road trips. Choose drop-off locations close to Omaha such as Chicago, Denver, Kansas City, and St. Louis or make it a cross country trip to Los Angeles, New York City or Tampa. Enjoy a good fright? Visit some of the spookiest places in the country including a few in Nebraska.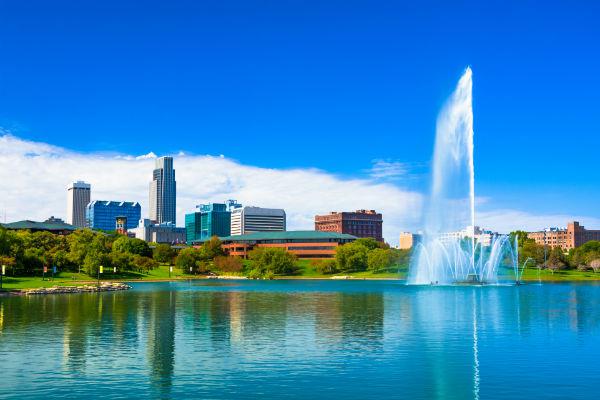 Booking an Omaha rental car
Airport Rentals makes car hire in Omaha easy. With our speedy search engine and secure booking site, your Nebraska road trip will be sorted in minutes. Simply enter your pick-up and drop-off location followed by your travel dates and instantly compare the best deals on rental cars across multiple brands. At Omaha Airport select from Alamo, Avis, Budget or Hertz, all highly rated brands offering car types from economy to luxury and benefits like unlimited mileage, theft protection and breakdown assistance.
Book with us to avoid hidden booking fees and enjoy friendly and helpful customer service at any hour of the day.
Omaha Airport (OMA)
Also known as Eppley Airfield, Omaha Airport is located only 5 kilometres from the city centre and is the largest airport in Nebraska servicing over four million passengers each year. Both the North and South Terminals include food courts with fast food options and cafes. Grab a newspaper or new book from Hudson News and Gifts, or sample gourmet food at Omaha Steaks. Access free WiFi from anywhere in the airport and head to the lower level in the central terminal to find your desired rental car kiosk.
Driving from the airport to the city
Depending on your first stop in Omaha, choose between two routes to the city. The shortest and quickest option is via Abbott Drive which will bring you to the riverfront. Alternatively, head north from the airport and enter the Arthur C Storz Expressway to US-75 S and choose one of many exits toward the city centre.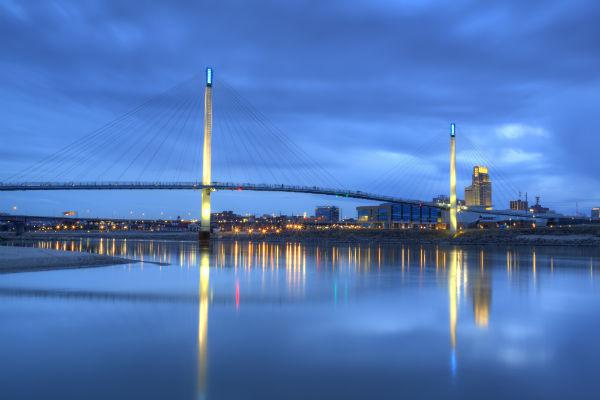 Driving your rental car in Omaha
Midwestern folks are friendly on the road, but if this is your first time driving in the USA, here are a few tips to help you on your way:
● Drive on the right hand side and overtake on the left side.
● Always wear a seatbelt and stay off your mobile phone.
● Speed limits are 60-70 mph on Interstate highways and 30-40 mph in urban areas. Follow posted signs.
● Be extra cautious if driving during winter and avoid icy conditions when possible.
Parking at the airport and in the city
At Omaha Airport, choose a parking garage depending on your terminal. Both North and South have long-term economy lots that include a free shuttle service. Park in the Quick-Park Garage for short-term stay or snag a premier spot for first-level front row parking at a higher daily rate.
Metered, on-street parking is available throughout the city and is free from 9pm to 9am, on Sundays and holidays. For more secure parking, choose one of many garages within the city to park your hired car.