Grab your biggest hat and fanciest outfit, and head on down to Louisville, Kentucky home of the famous two-minute horse race known as the Kentucky Derby. Explore the state's most populous city and its beautiful surroundings with an airport rental car.
If you visit Louisville during the two-week span of the Kentucky Derby, then by all means dive in to the festivities which include parties, parades, fireworks and more. But keep in mind, Louisville is much more than just mint juleps and horse betting.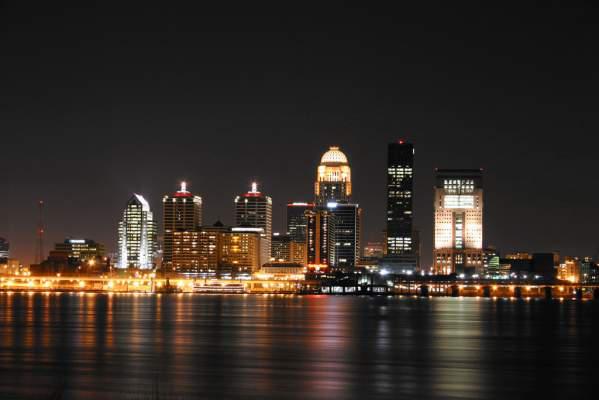 Image: The Pug Father
You'll need a few days to explore this stunning metropolitan city on the bank of the Ohio River. It's full of unique museums, tasty BBQ and a Mega Cavern that includes ziplining, mountain bike tours, a holiday light display and more. You can also take your rental car outside the city to join the Bourbon Trail and learn the history of America's favourite spirit.
Continue your United States tour by visiting nearby cities like Chicago, Kansas City, Nashville, and St. Louis. Head straight south to the Gulf of Mexico for a spring break experience you'll never forget. With Airport Rentals drop-off locations across the country, your road trip options are endless.
Hiring a cheap rental car in Louisville
For hassle-free car rental at Louisville International Airport, use Airport Rentals as your one stop shop.
Simply type in your desired travel dates and click the search button to instantly view the best car hire rates available from multiple international and national brands. Easily compare different types of vehicles that suit your holiday needs and refine your search using handy preference filters. Select a car from top brands like Alamo, Avis, Budget, Hertz and more, and enjoy special benefits from Airport Rentals.
Once you've found the ideal vehicle for your trip, book securely online and pay no additional fees. Plus, enjoy 24/7 customer service should you need it.
Louisville International Airport (SDF)
Louisville International Airport serves over three million passengers each year with its two-concourse terminal, offering a wide variety of shops, dining options and extra services like a meditation room and pet relief area. Grab an on-the-go meal from the Farmers Market or sit down for some margaritas at Chili's Bar & Grill. In true Kentucky style, the airport provides a Bourbon Academy Tasting Room at the Book & Bourbon Southern Kitchen.
Device charging stations are located throughout the terminal and free WiFi is available for up to 20 minutes, with options to pay for longer usage. Airport rental counters are located directly across from baggage claim. If you're picking up downtown Louisville, hop on the local bus or flag down a taxi.
Driving from the airport to the city
Once you collect your rental car, your trip to Louisville CBD will take between 13 to 20 minutes, depending on traffic. For the quickest route, follow signs to merge onto I-65 N,continuing on this until taking the 136B exit onto Brook St. From here, turn left onto Muhammad Ali Blvd and a take a right on 5th St to find yourself in the downtown Louisville area.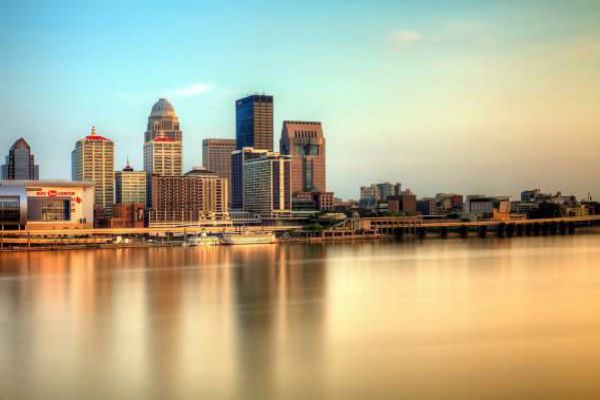 Image: Scott Oves
Driving your rental car in Louisville
New to the USA? Check out our tips for driving safe in your hired car:
● Drive on the right side of the road and overtake using the left lane.
● Speed limits are 60-70 mph on highways and 30-40 mph in urban areas. Follow posted signs.
● Highways are often multi-laned; make sure to stay in the right lane if your exit is near.
● Pedestrians have the right of way.
● If driving during winter, be cautious of ice and only drive if necessary.
● For more tips check out our USA driving guide.
Parking at the airport and in the city
Choose from five parking options at Louisville Airport. For a quick, convenient getaway, use the valet service or park on Level 1 of the garage. Staying longer? Park on the top levels of the garage for a discounted rate. For cheaper options, park at the credit card only lot for $13 per day just east of the terminal or at the Day Surface Lot for $9 per day with a courtesy shuttle included.
Find parking garages throughout the city of Louisville, particularly near the museums, and use them for longer day trips. For short-term parking, use the metered on-street spots that run Monday through Saturday from 7am to 6pm for only $1.75 per hour (free after 6pm and on Sundays).