Vibrant Kansas City straddles the Kansas-Missouri State line in the United States. Visit the City of Fountains and stroll through avenues of shops, listen to buskers on the art-filled streets, dine out at delicious restaurants, visit nearby towns, or catch one of the many annual events. Head to State Line Road and you can stand in two states at once!
Whether you're visiting Kansas City for a holiday, or you're on a United States road trip, the best way to get around to see the sights is by rental car.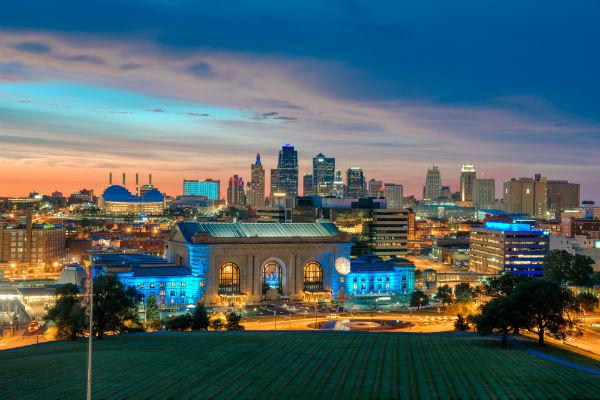 Pre-book a rental car with Airport Rentals
Sorting out a rental car in Kansas City doesn't have to be stressful. At Airport Rentals, we help you find and compare all vehicle options in one spot so you can be booked and ready to hit the road in a matter of minutes.
Pop in a few travel details, hit 'search', and view all the suitable rental car options available. Need something more specific? Use the filters to narrow down your options by car type, transmission, group number or rental company. Our customer service team is ready and waiting for any queries 24/7.
Kansas City may be one of the more expensive US cities but by pre-booking your rental car with Airport Rentals, you'll have money left over for what really matters: your incredible Kansas-Missouri adventure.
Quick guide to Kansas City International Airport
Fly nonstop from American cities such as Albuquerque, Boston, Miami and Seattle into one of three terminals at Kansas City International Airport. No matter which terminal you touch down in, you can enjoy a drink at one of the cafes, get in some duty-free shopping, or make use of the airport's free WiFi. When you're ready to be on your way, hop in the Gray Rental Car Shuttle which stops outside all terminals to escort customers to the vehicle hire car park.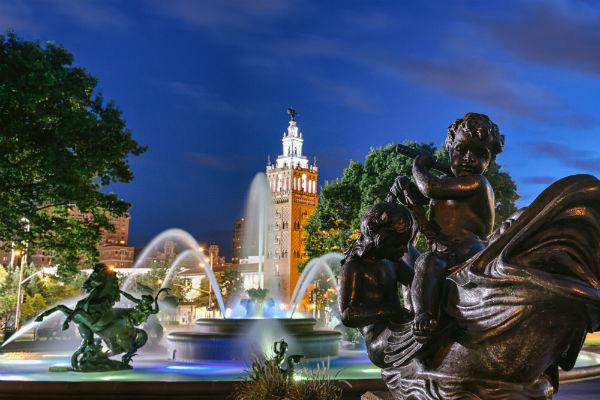 Driving in Kansas City
Generally speaking, getting around in Kansas City is pretty simple. Roads are well signposted, changes in speed are clearly indicated, and the streets are well maintained. Several main Interstate Highways run through Kansas City, so it can get busy at times. Always be on the look out for busses and free-to-ride streetcars.
Getting to and from the airport
The Kansas City International Airport is located 20 miles north of the CBD, with the drive to town taking around 22 minutes. Head out of the airport and turn right on the I-29. Follow the signs and you'll be in the centre of the city in no time. If you have arranged to pick up your rental car from the city, you can catch an airport shuttle bus or hail a taxi from the airport.
Tips for driving in Kansas City
Whenever you're driving somewhere new, it's good to get acquainted with the road rules and have some handy tips up your sleeve.
● In all states in America, motorists drive on the right-hand side.
● You may turn right at a red light, unless signposted otherwise.
● The blood alcohol limit is 0.08 percent, however we suggest not drinking at all if you intend to drive.
● If driving in the countryside, watch out for animals.
● The speed limit in urban areas is 30 mph, and 75 mph on freeways and the Interstate.
● Distances can be a bit misleading on the Interstate. Use our guide to USA driving distances to assist with planning.
Visit our USA driving guide for more information.
Parking info - at airport, in city
At the airport there are 4 different car parking options. Garage Parking is right beneath Terminals B and C, and begins at $1. Circle Parking is around the central loop of the airport, just outside each terminal, and has a 24 hour maximum cost of $15.50. Economy Parking is located a short complimentary bus ride away, and is $7.50 for 24 hours.
In Kansas City, there are around 40,000 parking spaces so you won't be driving your hired car around forever looking for a park. Parking in the CBD starts at around $3 an hour. You can also pre-book a car park with the city's Click and Park system.