When you book an Ithaca car rental, you'll have the opportunity to explore the beautiful Finger Lakes district of New York State. The city itself is perched on the southern tip of the Cayuga Lake, which gives it a gorgeous backdrop throughout the year, as well as a smorgasbord of water-based activities to enjoy. The city is known as a college town as it is home to Cornell University, an Ivy League school with more than 20,000 students on the local campus. Ithaca College and the Tompkins Cortland Community College both also add to the youthful, education-based vibe of the area.
Additionally, the freedom of your own vehicle means you can take road trips out of Ithaca to any number of nearby attractions and destinations. You can take a drive to see Lake Ontario from Rochester, then on to Buffalo to experience Lake Erie. Or if it's the iconic New York City you're looking to discover, the Big Apple is less than five hours' drive away. For something a little more ambitious, consider a one-way road trip across the US all the way to the west coast.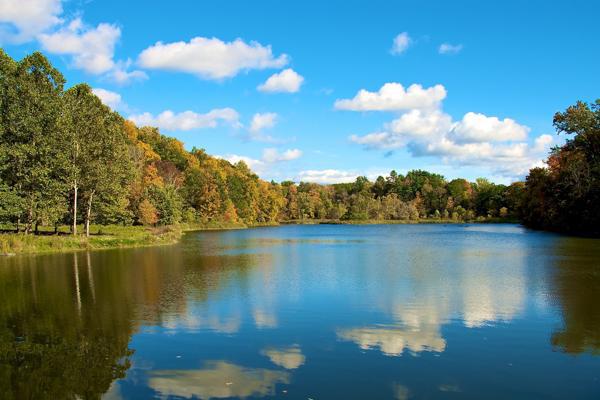 Image: pshutterbug (Own Work), CC-BY-2.0, via Flickr
Booking a car hire in Ithaca with AirportRentals.com
Booking your Ithaca car hire can be the easiest part of planning your trip. With Airport Rentals, one quick and easy search will pull together information on available car rentals from a range of leading hire companies in Ithaca, drastically cutting down the time and effort it would take to gather that information yourself manually.
Simply enter your Ithaca travel dates to generate an up-to-date list of vehicles available at the local depots. The results automatically list the most affordable rentals in Ithaca at the top of the page, all presented with their unique features and any perks of booking. If you're struggling to make a decision, hit the heart icons to create a shortlist, or use the filters to narrow down your results by transmission, car size, or make.
You'll find your perfect car rental in no time, so you can go ahead and finalise your reservation with Airport Rentals at no extra cost. Should you need it, you'll also gain access to our online reservation management system, 24/7 phone and email support, and perks like a free cancellation policy.
Introducing Ithaca
While the year-round population of Ithaca sits at roughly 31,000, this figure doubles during the school year as tens of thousands of students flock to the city's several college campuses. This gives the city two unique personalities: that of the school year and that of the breaks. Naturally, the main difference is the number of people, so the school breaks usually offer a much calmer, quieter town than during the school year.
There are a number of ways to travel to and from the city, including the small terminal at Ithaca Airport. As many as 90,000 passengers pass through its doors every year, flying to and from locations such as Detroit, Philadelphia, and Newark.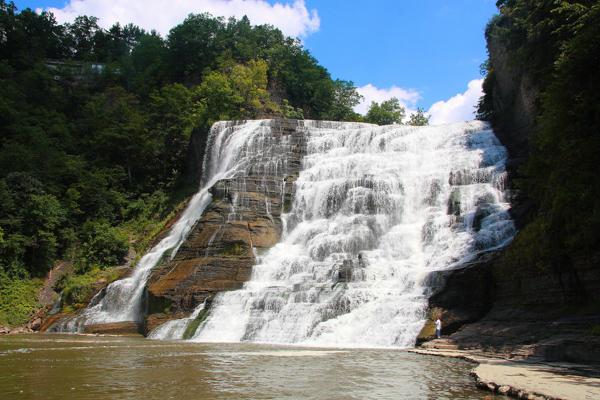 Image: John Menard (Own Work), CC-BY-SA-2.0, via Flickr
Your guide to driving a rental car in Ithaca
Driving from the city to Ithaca Airport
The airport terminal is 5 miles from the city centre, making for a drive that should take no longer than 10 minutes. Leaving the city, take Route 13 north and follow it as it veers to the west away from the lake. Turn left onto Warren Road, then right onto Research Park to reach the terminal.
Tips for driving in Ithaca
Whether it's your first time in Ithaca or your first time in the United States, a few driving tips can help you prepare for your visit.
● You will drive on the right-hand side of the road in the US.
● Ithaca experiences snow and ice on the roads during the colder months, so read our winter driving tips before you arrive.
● Expect more traffic and delays during the school year, especially from 8 am-9 am.
● Note that you are permitted to turn right on a red light provided the road is clear, and it is not otherwise signposted.
● The speed limit in Ithaca is generally 30 miles per hour.
Parking in Ithaca
There are several parking buildings and numerous on-street stalls in Ithaca. You will find a major parking garage on Green Street, and another at the corner of Seneca and Tioga Streets. Note that these buildings are free over weekends and each evening.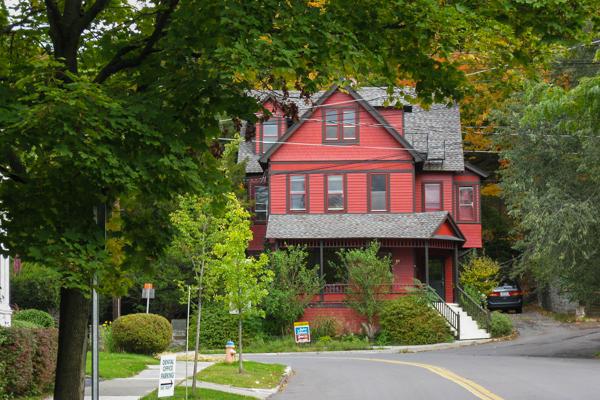 Image: Doug Kerr (Modified), CC-BY-SA-2.0, via Flickr