Explore New England with a cheap rental car from Bradley Airport. Visit Hartford and many fantastic nearby cities with your own set of wheels.
Hartford is Connecticut's picturesque capital and one of the oldest cities in the United States. Visitors can get a tour of the capitol, visit a number of museums such as the Mark Twain House, and enjoy plenty of green space. Stroll along the Connecticut River and make sure to check out the Science Center.
One of the best things about New England is that everything is a short drive away. Plan a trip to Boston via Providence checking out quaint towns and ivy-league universities. Cruise down to New York City for a glimpse of the bright lights or head along the east coast, eating some of the best lobster Portland, Maine has to offer. It's easy to plan a multi-city holiday with an Airport Rentals car.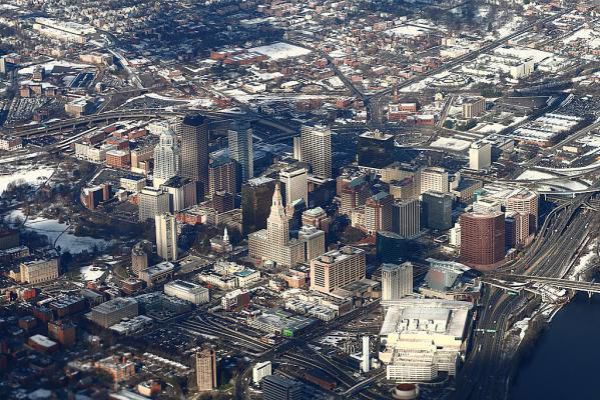 Image: Sage Ross
Hiring a cheap rental car in Bradley
Plan ahead and book a cheap rental car from Airport Rentals for your Hartford holiday. It's easy as 1, 2, 3 to find the right car hire at the right price. Simply type 'Bradley Airport' or 'Hartford' into the search engine, enter your travel dates and sit back as we present numerous deals from top rental car providers. Click on your favourite brand such as Alamo, Hertz and Thrifty or use the 'filter by' buttons to choose a car type, transmission preference and more to narrow your search, saving you even more time. Check out optional add ons like a GPS unit or a child seat, and enjoy free benefits with your rental thanks to Airport Rentals.
Wrap up your booking on our secure site, pay no additional fees and call us with any questions - any time, day or night.
Bradley International Airport (BDL)
Bradley International Airport is New England's second busiest airport, processing over 3 million passengers each year. Visitors can relax in the pay-per-use Escape Lounge, grab a bite to eat at one of the dining outlets, and shop at a number of stores. Hop on the complimentary WiFi to look up reservations or directions, then head to the car rentals hall by the free shuttle service located just outside the arrivals door.
If you are picking up a rental car from downtown Windsor Locks or Hartford, hop on the local bus or taxi to either city.
Driving your car hire in Bradley
Getting from the airport to downtown Bradley
The drive from Bradley International Airport to Hartford takes around 20 minutes. Exit the airport and continue on Bradley International Airport Con then merge onto I-91 S to Hartford. Next, take exit 29A onto Whitehead Highway and take a right onto Main Street to enter the downtown area.
Driving tips for Bradley rental car
Driving on the East Coast is stunning in Autumn, but come winter, drivers need to be prepared for icy conditions. Here are a few more driving tips for the Hartford region:
● New to America? Read our USA driving guide.
● Use of mobile phones is prohibited while driving.
● The drink driving limit is a blood alcohol level of .08%.
● All passengers must wear a seat belt.
● Speed limits are as follow: 25 mph in school zones, 40 mph in urban areas and 65 mph on highways.
● Children under 8 years old must use a child seat.
● Keep change in the car for tolls.
Parking at Bradley International Airport and around town
Choose from a number of parking garages at Bradley International Airport. If you are looking to save money, use the economy lots which charge USD$4 for the first hour and USD$8 for the day. The short-term lot costs USD$3.25 for the first 30 minutes, USD$5.50 for the first hour and USD$30 for the day. The long-term lot has the same hourly rates but charges USD$26 for the day.
Grab a parking spot on the street or in a parking garage in downtown Hartford. Expect to pay around USD$3 per hour in both garages and on-street spaces and be sure to abide by the rules on posted signs.