Great Falls in central Montana is the perfect destination for adventure seekers, nature lovers and history buffs. Pick up a car hire at Great Falls International Airport and experience the incredible unspoiled landscape while exploring magical waterfalls, picturesque mountains, and the iconic Missouri river. Great falls offers visitors plenty of opportunities for outdoor activities, including world-class skiing, hiking, hunting, mountain biking, fishing and much more. While in Great Falls, don't miss the opportunity to delve into the heritage of the region when you visit the C.M. History Museum or the Lewis and Clark Interpretive Centre.
Great Falls is the perfect location as a start or base for your American road trip. With a car hire, visitors can reach the famous Yellowstone and Glacier National parks, just a few hours' drive from the city or explore more of central Montana with a visit to nearby cities like Helena, Billings, and Bozeman. Feeling adventurous? Try a one-way rental and head north to Canada.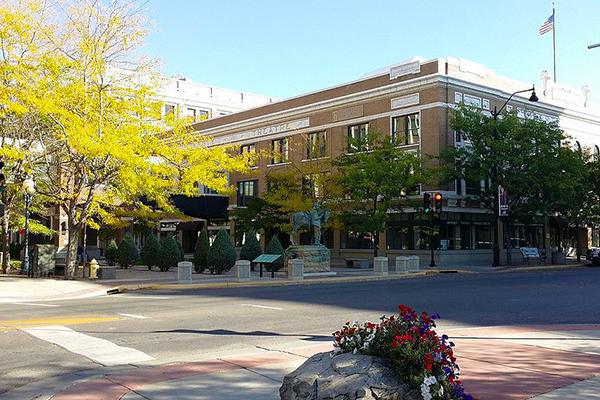 Image: Eric Friedebach, CC BY 3.0, via Wikimedia Commons
Hiring a rental car in Great Falls
Secure your Great Falls car hire reservation in just a few clicks with AirportRentals.com. Simply type your travel dates into our powerful search tool to instantly generate a comprehensive list of available cars at the Great Falls International Airport. With the lowest priced cars at the top of the list, you can easily compare the best deals from multiple companies. Looking for a specific make and model, or prefer automatic over manual transmission? The handy preference filters allow you to refine your options down to the perfect car for your trip.
To complete your reservation and receive instant confirmation, just fill out a quick form and choose any additional extras like a navigation system or booster seat. You never need to worry about hidden fees or charges when you book with Airport Rentals and you can reach the friendly customer service team by phone at any hour of the day.
Great Falls International Airport (GTF)
Great Falls International Airport is conveniently located five miles southwest of downtown Great Falls. The established airlines of Alaska, Allegiant, Delta, and United service the airport and offer regular direct flights to Chicago, Denver, Las Vegas, Minneapolis, Phoenix, Salt Lake City and Seattle.
Travellers will find ample services and amenities, including WiFi throughout the terminal, a restaurant, bar and banquet facilities. Visitors may also purchase locally made products, souvenirs, snacks and beverages at the on-site gift store.
When you are ready to collect your keys and start exploring, make your way to the arrivals area to locate your selected car rental supplier.
Image: Tim Evanson, CC BY-SA 2.0
Driving in Great Falls
Getting from the airport to downtown Great Falls
The drive from the Great Falls International Airport to downtown Great falls should take ten minutes. From the airport, follow Terminal Drive and then merge left onto Interstate 15. Take exit 278 and follow Country Club Boulevard across the bridge. Continue straight onto 10th Avenue and follow this road all the way to the downtown area.
Driving tips for Great Falls
Driving around Great Falls is pleasant and the grid-like street pattern of the city makes navigating your car hire easy.
● You may drive in Montana with a valid drivers licence from your home state or country.
● In the United States, motorists drive on the right side of the road and speed limits are posted in miles per hour. Check out our guide to driving in America for more driving tips for first-time visitors.
● It is compulsory for all occupants in the vehicle to wear a seatbelt.
● Take extra care when driving in winter conditions and remember to give yourself plenty of time to arrive at your destination and keep a safe distance from snow plows and other vehicles.
● Headlights must be used at sunset and sunrise and any time visibility is less than 500 feet.
Parking at the airport and around Great Falls
Great Falls International Airport provides plenty of secure parking options, including hourly, daily and value parking. Parking is free for the first 15 minutes and costs USD$1.00 for each additional half-hour.
Great Falls provides over 2000 public parking spaces including free and metered on-street parking, parking lots, and garages. Parking your rental car is inexpensive costing USD$0.50 per hour, capped at USD$5 per day.