The port town of Bar Harbor is the ultimate gateway to the stunning Mount Desert Island. With a mountain backdrop and the perfect combination of beautiful beaches, interesting shops and delightful eateries, Bar Harbor is the ideal place to rent a car and hit the road.
If you're a lover of the outdoors, the beautiful Acadia National Park is right on your doorstep, as is the towering Cadillac Mountain. Tours throughout Frenchman Bay offer incredible sightings of humpback whales, seals, puffins, and other seabirds. If you'd rather see the sights yourself, drive around the coast in your rental car and visit numerous lighthouses, or take a trip inland to the nearby towns of Ellsworth and Bangor.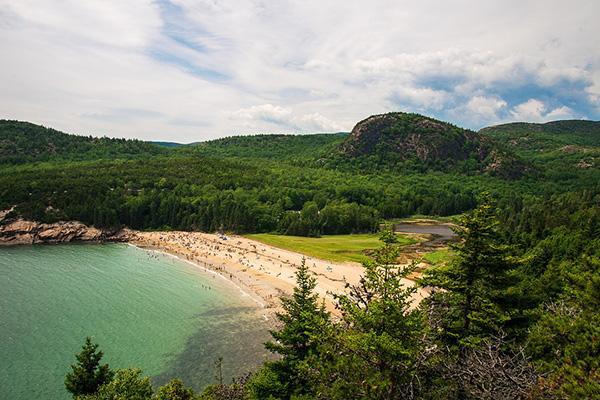 Pre-book a cheap Bar Harbor car hire with Airport Rentals
Book your Bar Harbor car hire with Airport Rentals to enjoy a wide selection of rental vehicles and amazing prices.
We work with Hertz Rent A Car and Enterprise Rent-a-Car within Hancock County Bar Harbor Airport to bring you great vehicle hire options. It's easy to get started: simply select your travel dates and hit 'search'. You will be presented with a comprehensive list of available rental cars, shown the lowest price first. Adjust the easy-to-use filters to narrow down your options even further - sort by car brand, transmission, group size and more to find your perfect car hire. Complete your reservation on our secure site to receive free additional benefits, and enjoy 24/7 customer assistance from our friendly and knowledgeable reservations team.
Please note that Enterprise only operates at Bar Harbor Airport between May 1st and October 21st each year.
A quick overview of Hancock County Bar Harbor Airport
Hancock County Bar Harbor Airport is located between Bar Harbor and Ellsworth, and services Mount Desert Island and eastern Maine. Cape Air and Pen Air fly daily from the city of Boston, and while the airport itself is small, there is food and drink available. Pick up your rental car keys from the kiosks in the terminal.
Please note that there are no rental car suppliers in the city, so you'll need to book a vehicle from the airport.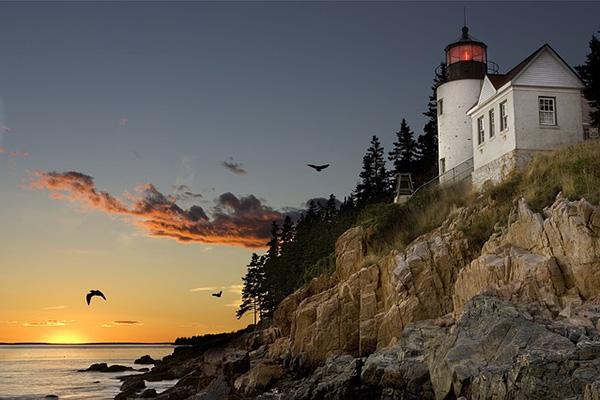 Driving your rental car in Bar Harbor
Getting around in Bar Harbor is relatively easy. The town itself is straightforward to navigate, although some downtown streets are very narrow. Take it slowly and watch for pedestrians, especially when the cruise ships are in port.
Driving to and from the Hancock County Bar Harbor Airport
Hancock County Bar Harbor Airport is located twelve miles northwest in the nearby town of Trenton, just twenty-six minutes' drive from Bar Harbor's CBD. From the airport, head out onto Caruso Drive, and take a right onto Bar Harbor Road. Continue straight onto Eden Street and follow it into the city.
Handy tips for driving your car rental in Bar Harbor
Read our helpful tips before you get behind the wheel in Bar Harbor.
● The city can get busy during the summer months, as tourists flood the area and cruise ships pull into port. Be extra mindful of pedestrians on city streets.
● Bar Harbor hosts long-distance cycle races, watch out for road closures and detours.
● In the winter, weather conditions change frequently so it is important to adjust your speed accordingly and drive defensively. Read more tips in our winter driving guide.
● Remember to always wear your seatbelt and have your licence on you at all times.
New to the United States? Read more tips in our US driving guide.
Where to park your rental car
The Hancock County Bar Harbor Airport provides travellers with free parking for both short and long-term stays. Short-term parking is located right next to the terminal building, while the long-term parking is a short walk away.
Bar Harbor has an extensive parking system, which includes on-street, lot and garage parking throughout the CBD. Parking zones are clearly signposted with their set restrictions and prices. See the Bar Harbor website for a detailed description.