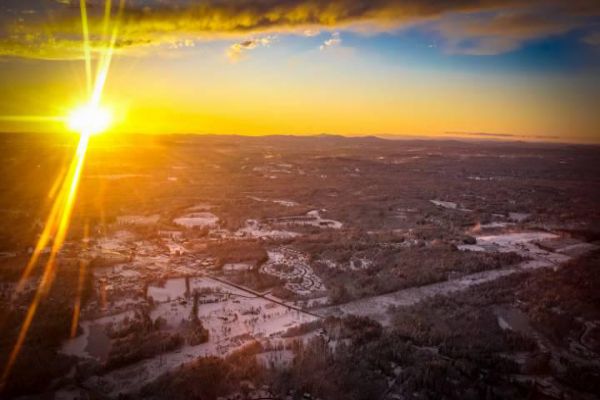 Image: Ted Eytan
Situated along the beautiful Merrimack River, the city of Manchester is the main business hub of the state of New Hampshire. Suits and briefcases aside, the city is has a growing arts community, with a vast array of museums, arts centres, local eateries and riverside cafes. The opera, orchestra and galleries that call Manchester home bring creative energy to this part of New England and make it an exciting place to explore before hitting the road to see the rest of the region.
Rent a car hire at Manchester-Boston Regional Airport and visit the nearby city of Boston for a weekend getaway, or take the 2-hour drive north to the stunning White Mountains. Visit our guide to USA driving distances to get a feel for how long your road trips might take.
Grab a cheap car rental in Manchester with Airport Rentals
Finding an ideal car hire for your visit to Manchester doesn't have to be costly or time consuming. At Airport Rentals, we are committed to getting you the best deal, and it only takes a few minutes of your precious time.
Use our powerful search engine to find and compare a wide variety of rental car options on your selected travel dates. Narrow your results down by car style, transmission type, group size and more to find your ideal vehicle. When you're ready to book, you'll find a simple confirmation process, no hidden or additional costs, and a customer support team on call 24/7. Why would you look anywhere else?
Touching down at Manchester-Boston Regional Airport
More commonly known as Manchester Airport, the Manchester-Boston Regional Airport is one of many United States' airports which sport solar panels. The panels were installed in 2012, and now allow the airport to spend the money they're saving, on facilities within the terminal. Stay a while and enjoy the gift shops, pubs, coffee shops and more, and be sure to check up on your social media with the free WiFi. Ready to head off? The car rental desks are located just outside the terminal.
Fly in directly from United States cities such as Washington, Chicago and Baltimore.
Driving your rental car in Manchester City
Interstate 93 (I-93) runs to the east of Manchester, making it easy to get to the neighbouring city of Boston or north to Vermont. However, the roads can get congested in this highly populated area, so pay close attention to traffic updates.
Driving to and from the Manchester Airport
The easiest way to drive the 9 miles from the airport to Manchester is by heading out on Airport Road which then turns into Brown Avenue. After about 1.6 miles, turn right onto S Beech Street, and follow it straight into the CBD. The trip should take about 15 minutes.
Handy things to remember when driving a car hire in Manchester
Driving around the city is straightforward, as Manchester is built on a grid-system.
● If you're visiting from abroad, remember to keep to the right.
● You may turn right on a red light, unless otherwise sign posted.
● The blood alcohol level is 0.08%, but we suggest not drinking at all if you intend to drive.
● At a fourway stop, motorists move on in the order they arrived at the stop sign. If two cars arrive at the same time, drivers should give way to the right.
● Watch out for animals in the countryside.
● Check out our USA driving guide for more information.
Where to park your rental car
Manchester Airport has short and long-term parking available in garages and open-air lots. Park in the garage for USD$2 per half hour, USD$17 daily or USD$85 weekly. In the lots, you can expect to pay USD$2 per half hour, USD$10 per day, and $USD$70 per week.
The city of Manchester offers garages, lots and on-street parking. Park in one of the inner city lots for around USD$0.75 per hour, or pull into a street park for the same price. Always double check the time restrictions before leaving your hired car.