Although it's Vermont's largest city, Burlington is a relatively small place with a vibrant college town atmosphere. Set on the shores of Lake Champlain, it is a charming place and a centre of activity in the region, surrounded by a network of towns and myriad wonderful natural features from lakes and rivers to mountains and valleys. Snow bunnies flock to Vermont in the winter for its nearby resorts.
With a car rental from Burlington Airport, much of the northeast is well within reach. You could pop across the border to Canada, head east to Bar Harbor or Bangor, or go south towards New York City. Get your United States road trip off to a great start when you begin in friendly Burlington!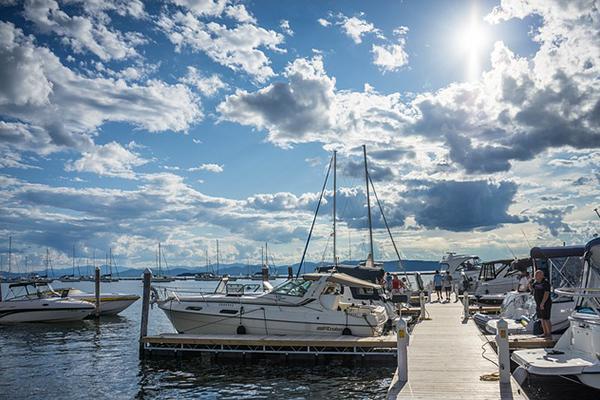 Get the best car rental from Burlington Airport
Tracking down the perfect rental vehicle is quite a task, with so many different suppliers, models and price points spread across the web. Pull all your options together and compare them at leisure with Airport Rentals, the car hire experts.
Input your travel details into the simple search panel and you will be presented with a list of possibilities from which to choose. Narrow down the options - which will likely range from luxury vehicles to compact cars - with handy filters for transmission type, passenger capacity, brand and more. The list has the lowest prices at the top, making it simple to spot your Burlington Airport rental car bargain.
Airport Rentals also has a team answering the phones 24/7 to offer help and advice. One of the friendly and knowledgeable consultants can aid you in finding the vehicle that suits your needs and walk you through the booking process - or just take your booking over the phone.
Guide to Burlington Airport
Burlington International Airport is a joint-use civilian and military facility, just outside of the central city. Several airlines fly from there to various destinations in the United States and Canada including Atlanta, Toronto and Chicago. The two-storey terminal has a Hudson News Gift Shop in both concourses and several casual dining options, as well as free WiFi.
Rental car counters for on-airport suppliers are located on the ground floor, near the baggage claim.
Guide to driving a car hire in Burlington
Driving from the airport to downtown Burlington
The journey from the airport into downtown Burlington is around five kilometres and should take about ten minutes. Depart on Airport Drive and turn left onto White Street. Continue straight until you can join U.S Highway 2/Williston Road (veering right) which soon becomes Main Street and will take you right into the heart of Burlington.
Driving tips for Burlington rental car
Whether you're from out of the country or out of state, you might need to know about these quirks of driving in Burlington and Vermont:
● As with any New England state, driving in Vermont in winter can get dicey. Read our winter road trip tips and stay safe.
● The main highways are Interstate 91 in the east of the state and Interstate 89 in the west. They will get you to where you need to go.
● Fall/Autumn can be a busy month in Vermont, with people visiting to see the foliage. Drive carefully and pay attention to the road - pull over to enjoy the views!
● Look out for large animals like deer on the road.
● The blood alcohol concentration limit for drivers in Vermont is 0.08%. Avoid drinking before driving.
Parking at the airport and around Burlington
The multi-level covered parking garage at Burlington Airport has both long and short term options. Rates are USD$1 for the first hour, USD$2 per hour for the next three hours, and a daily rate of USD$12 after the first four hours. There is also a cell phone lot for those waiting to pick up passengers.
In downtown Burlington there are three public parking garages: Marketplace, Lakeview and College Street. They are free for up to two hours, with small hourly charges after that. On street parking is regulated and charged with parking meters, and is free on Sundays and public holidays.