Bangor in the Highlands region of Maine is all quiet streets and charming downtown, cute boutiques and outdoor recreation. Tucked away at the very northeastern corner of the United States amongst some stunning landscapes, it's not somewhere you visit without meaning to - but this small and character-filled city will offer plenty of reasons to draw you in.
With a cheap rental car from Bangor you can hop across the border into Canada, or head down to Bar Harbor, Portland, Boston and even New York City. It's even possible to head out on a cross-country road trip! The northeast region of the United States is a fantastic place for an unforgettable road trip, with so many incredible, bustling and history-filled cities dotted throughout a beautiful natural landscape replete with lovely, cosy small towns.
Find the best Bangor Airport car rental with Airport Rentals
Get your holiday in laidback Maine off to a great start with Airport Rentals. Our site makes it easy to track down, compare and book the perfect rental car thanks to a simple search panel and handy filters. Enter the details of your trip, hit the search button and be presented with a list of options from a range of suppliers at Bangor Airport, with great low daily rates.
Once you have your list, you can compare the rental car options, filter them by features like transmission type and capacity, and pick the one which suits you and your plans. To help you find a car hire bargain, they are listed with the lowest price at the top by default, but it's easy to sort by personal preference if you have something specific in mind..
Airport Rentals makes the whole process even easier with 24/7 phone support. You can get hold of one of our expert car rental consultants anytime, for help with searching and booking or advice on anything rental related - different models, various rental suppliers, or whether to book on or off airport.
Guide to Bangor Airport
Known officially as Bangor International Airport, Bangor's joint civilian-military airport is located just ten minutes' drive to the west of the city centre. It is served by several airlines with regular flights to and from locations in the eastern US including New York La Guardia and Philadelphia. There is a newsstand and gift store in the domestic terminal, along with a pub and grill style restaurant and a cafe. Free WiFi is available throughout.
Rental car counters for several suppliers can be found in the domestic terminal.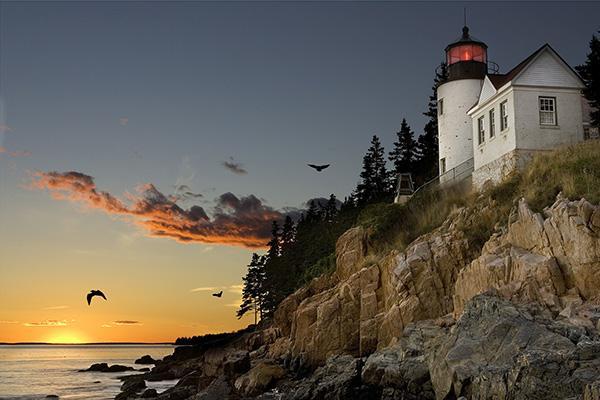 Guide to driving a car hire in Bangor
Getting from the airport to downtown Bangor
It's a quick and easy drive into town from the airport in your rental car. Head out on Godfrey Boulevard and turn right into Union Street. Follow this and you will be in central Bangor within minutes.
Tips for driving a rental car in Bangor
Those new to the United States or new to Maine and the New England region, take note of these tips for driving not just in Bangor but in the state and the northeast US.
● Maine is known for cold, snowy and icy winters. Read up on our winter driving tips and take all the safety precautions if you are heading to Bangor in the colder months.
● A lot of Maine is rural or forested. Keep an eye out for wildlife on the road, especially large animals like moose. Drive slowly so you can stop if you come across one on a dark road.
● Speed limits in Maine are higher than most in New England - on parts of the I-95, you can go 75 miles per hour.Other main freeways carry limits of 70 or 60 mph, and in towns the default limit is 25 mph, or 15 mph in school zones at certain times of day. Take note of the posted signs!
● Maine has some stunning scenic routes. Drivers can easily become distracted, so pull over to enjoy the view and take photos.
● The blood alcohol concentration limit for drivers in Maine is 0.08%. Avoid drinking before driving.
Parking at the airport and around Bangor
Parking areas at the airport are located a short walk from the terminals. There is an hourly parking lot which costs USD$1 per half hour to a daily maximum of USD$17, and a long term lot in which the price is capped at USD$10 per day. During peak times, another lot with shuttle to the terminals is made available. There is also a cell phone parking lot for those waiting to pick up or drop off passengers.
Bangor has plenty of parking garages and on-street meters throughout the downtown area, with affordable hourly or daily rates. There are restrictions during wintertime due to the necessity for snow removal, with parking on the street prohibited some days and no parking allowed overnight. Read signs carefully.