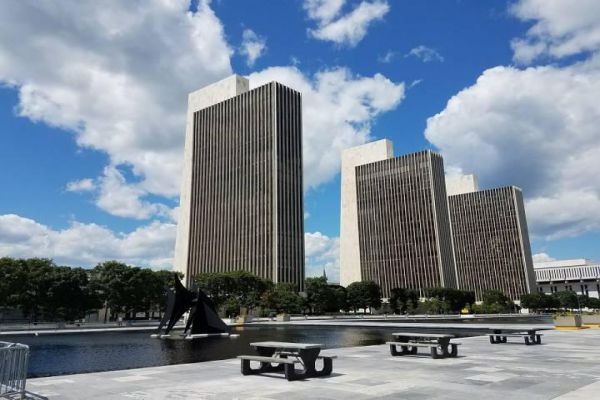 Image: Pixabay
Contrary to popular belief, New York City is not the capital of New York State. It is in fact Albany, a thriving but much smaller city that's roughly 150 miles north of New York City. Thanks to its status as the capital, it's known for its impressive collection of government buildings, as well as a number of museums and parks. Whether you're in town for business or pleasure, a car rental in Albany will help you see as much of it as possible.
A set of wheels will also open up a world of road trip possibilities, so you can visit nearby cities like Syracuse, Manchester, or Boston.
Booking a cheap car hire in Albany with AirportRentals.com
When booking a car rental at Albany Airport, you're sure to get a good deal thanks to the wide variety of leading rental brands on offer. You have eight companies to choose from, including big names like Avis, Hertz, National, Thrifty and Budget, and by comparing the rental options from each one, you'll be able to track down the best deal.
Instead of approaching each brand individually, save yourself the hassle and use Airport Rentals to compare them all with one simple search. Enter your travel dates, hit 'search cars' and scroll through the list of available rentals to view their prices, features and benefits on one conveniently organised page.
You can book securely online as soon as you've found the right vehicle, enjoying instant confirmation and 24/7 customer service access.
Introducing Albany Airport
The Albany International Airport is a busy terminal with roughly 2.4 million passengers passing through its doors every year. It's open 24 hours a day, and sees an average of 55 arrivals and 55 departures every day.
Inside the airport, you'll find all the usual amenities of a busy airport. There are bars, restaurants and snack shops, as well as stores where you can pick up souvenirs and gifts. You will also find a currency exchange desk, ATMs, a business centre, and free WiFi throughout the airport.
Travellers passing through Albany Airport can take one of the regular scheduled routes to or from popular US destinations such as:
● Detroit
A guide to driving in Albany
Albany is a walkable city with numerous options for public transport, which significantly helps to keep the traffic at a minimum and makes it a driver-friendly city for those who do get around by car. Anyone who has driven in a major city will have no problems navigating the roads in Albany.
Driving from Albany Airport to the CBD
Albany Airport is just under 13 miles from the city centre, so this drive will take you roughly 20-30 minutes depending on the traffic. The quickest route is not the straightest, as you'll take a left out of the terminal onto Route 155, then turn right onto the I-87 highway. Follow this then turn left (you'll have to turn right onto the off-ramp) onto the I-90, then take one final turn onto the 787 into town.
Tips for driving your car hire in Albany
The city can get fairly busy during rush hour, so avoid driving at these times if you can to limit stress. Do be sure to invest in a GPS unit as part of your car rental in Albany, as it will help you find your way around with ease. Also note that it gets cold and snowy during the winter months in Albany, so you'll need to increase your following distances, slow down, and follow our other tips for driving in winter in North America.
Parking at Albany Airport
Parking options at Albany Airport include short- and long-term lots. Your first 30 minutes in the short-term area is free, and the long-term lot charges USD$9 per day. There is also a small area in front of the terminal where you can pull in for quick pick ups and drop offs.
Parking in Albany
Downtown Albany features three parking garages, 11 lots, and roughly 2,000 parking meters for on-street spaces, so you'll have plenty of options when looking to find a spot in town. If you get stuck, one of the parking garages - Green-Hudson, Quackenbush, or Riverfront - will usually have space.