At the junction of three rivers, the city of Pittsburgh is a beautiful place to take a holiday. Green hills surround this Pennsylvania city, and its picturesque bridges make for a stunning cityscape. Wander down the riverfront, wine and dine at glorious restaurants, have a drink at a lively bar, or visit one of the many fabulous museums in the city.
Soak in the culture and bustling neighbourhood life of this great American city by renting a car in Pittsburgh. You'll be out exploring the sights and the surrounding area in no time!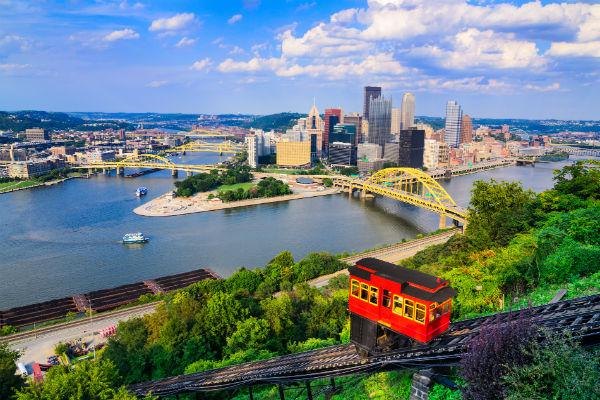 Save time by booking a rental car with Airport Rentals
Pre-book a rental car in Pittsburgh with Airport Rentals and save yourself time and energy. Compare vehicles from a wide range of suppliers in one handy location to find the best deal.
Simply enter a few basic details about your travel plans and hit 'search'. Instantly browse a collection of suitable cars available on your travel dates, which you can then refine by transmission, car type, group size or car brand. Book your car securely online in a matter of minutes. There are no booking fees involved and customer support is available 24/7 should you need it.
A quick guide to Pittsburgh International Airport
Fly to Pittsburgh non-stop from major American cities such as Miami, New Orleans, and San Francisco. Refresh yourself with a coffee in one of the airport cafes, make use of the free terminal-wide WiFi, or get in some last minute shopping before your trip.
Pick up your vehicle hire from the counters just opposite the baggage claim, then head to the lower-level of the parking garage to begin your adventure!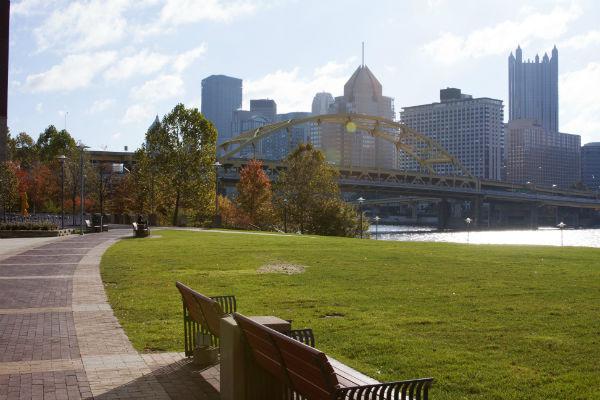 Driving in Pittsburgh
Pittsburgh city spills out around beautiful wide rivers, so the roads don't follow a set layout. Unlike other US cities such as New York and Salt Lake City, Pittsburgh wasn't built on a grid system, so it's best to have a GPS with you. Watch out for the lane changes on Fort Pitt Bridge if you're heading into town.
Getting to and from the airport
Pittsburgh International Airport is located 18 miles northwest of the city, with the drive into town taking around 25 minutes. Head out onto the I-376 and follow the signs straight into the CBD. If you've chosen to pick up your rental car in the city, jump on the 28X Airport Flyer bus or hail a cab.
Tips for driving in Pittsburgh
It's important to be aware of the road rules when you're driving in a new place. Take note of these tips to ensure you're driving safely, and see our USA driving guide for more information.
● In the United States motorists drive on the right-hand side.
● You may turn right at a red light unless otherwise stated.
● Watch out for four-way stops. The vehicle which arrives first has the right of way, and if two arrive at the same time, give way to your right.
● When driving on the Interstate, keep a safe distance between your vehicle and the car in front.
Check out our guide to USA driving distances to get an idea of how far you can get in your hired car.
Where to park
Just outside the main terminal building are the Pittsburgh International Airport parking zones. Short-term parking begins at $1 per hour, with a daily maximum of $24. In the long-term parking zone, rates begin at $3 per hour with a maximum of $14 a day.
Pittsburgh City has handy meters which allow you to pay and top up your parking with your mobile phone. Paying by cash and credit card is still an option, and costs between $0.50 and $4.00 per hour, depending on location. The Pittsburgh Downtown Partnership also have a Reserved Parking Program, which allows you to reserve a car park between the hours of 10:00am and 2:00pm with participating parking garages.