New Orleans - 'The Big Easy' - is a non-stop city, perched on the edge of the Mississippi River in Louisiana. It's a festive place, where everything from eating and drinking to music and scenery is celebrated at all times, and the multicultural locals are known for their positivity and ability to grab life by the horns.
It's a city of more than a million people, with almost as many things to do and see, so pick up a car rental at New Orleans Airport to get out and experience as much of it as possible.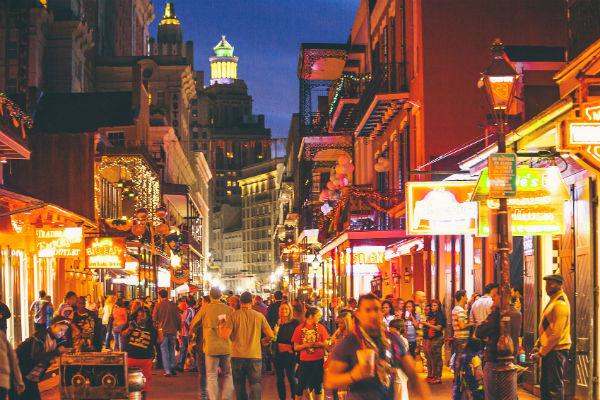 Why use AirportRentals.com to book
Airport Rentals is a car hire comparison site that makes it easy to view all available vehicles from leading rental brands in New Orleans. A quick and easy search for vehicles on your travel dates will present all available cars from brands like Hertz, Dollar, Thrifty, Budget, Ace, Avis and more, making it a simple process to find the best deal on the vehicle most suited to your needs.
You can also securely reserve your car through Airport Rentals without paying any additional booking fees, making it easy to finalise this step of your travel plans.
New Orleans Airport
Officially named the Louis Armstrong New Orleans International Airport (MSY), this transport facility is one of the busiest in the country, serving more than 11 million travellers in 2016 alone. With 11 airlines, 51 national destinations and 8 international destinations, New Orleans Airport is as lively and busy as the city centre. You can expect all the facilities and amenities to be offered at this major hub, such as a post office, shops, currency exchange booths, a police station, and free WiFi.
It's important to note that the New Orleans Lakefront Airport also services the city, so double check your flight information before booking your car rental in New Orleans. This was the original commercial airport for the region until the larger Louis Armstrong Airport took its place, but today still offers some flight services.
Other nearby airports: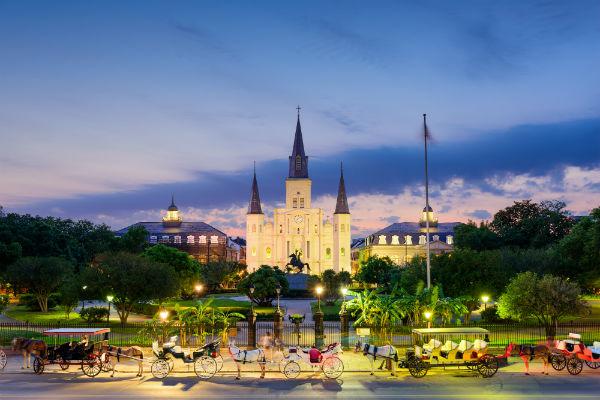 Driving in New Orleans
New Orleans traffic can be a little like New Orleans celebrations - non-stop. The river passing through the city can make navigation tougher than regular gridded cities, and the number of one-way streets can be confusing for first timers. That said, with a little planning and preparation, you can make your way through town with your New Orleans car rental with minimal stress.
Driving to and from the airport
First, you'll need to get between town and the airport. Fortunately, both New Orleans airports are relatively close to the CBD and easy to get to. Departing the Louis Armstrong Airport, take a left onto Airport Road then follow the I-10 all the way into town. This trip typically takes about 30 minutes, but be sure to allow for extra time in case of traffic.
If you're arriving into the New Orleans Lakefront Airport, take two left turns onto Downman then Morrison Road before joining the I-10 and following it into town. This trip will take just 20 minutes in normal traffic conditions.
Tips for driving in New Orleans
Plan your drive before you set out and keep an eye out for one-way streets. Also remember that it's legal to turn right unless there is a 'no right turn' sign below the stoplight.
Be sure to stick to the speed limit, as even though plenty of people will happily nudge over the maximum, New Orleans is known for its speed cameras and a ticket is the last thing you want when you're on vacation.
The central city area is the toughest place to drive, but thanks to its relatively small size and excellent public transport options, you can easily park your rental car and simply explore the CBD by foot. Be aware that streetcars operate on Canal Street, St. Charles, Carrollton, and Loyola avenues, so if you do drive in town you'll need to watch for them and give them the right of way.
Check out our USA driving guide for more useful tips.
Parking in New Orleans
There are more than 3,000 spots available in the short-term parking lot at New Orleans Airport, and a further 2,500 in long-term, so you'll have no problems finding a place for your hired car. There is now also a 'cell phone lot' where you can park for up to an hour as you wait for someone to land and message or call you to come through and pick them up.
Parking within the city can be tough, but the commercial lots around the French Quarter generally manage to offer spots for everybody. If in doubt, arrive before 9am to secure a spot and to make the most of early-bird parking rates (so long as you leave after 3pm). There are plenty of on-street parking options, just make sure to read all parking signs and rules as they are often different from street to street.