For many travellers who wish to visit the beautiful islands in the Gulf of Thailand, Surat Thani acts merely as the gateway to tropical paradise. A Surat Thani Airport car hire will help you explore this region's overlooked treasures of excellent local cuisine, a thriving waterfront area and multiple nearby national parks.
Surat Thani has a unique style, with many Chinese temples dotted throughout the city. The southern flavour Thai food is another main draw, offering an exciting taste bud challenge for those who have a penchant for fiery spices. There are beautiful beach areas a little further outside the city centre in a place called Khanom, which is very close to where most of the ferries leave for the islands.
A Surat Thani rental car also makes it easy to travel around to some of the other hotspots nearby. Phuket and Krabi are two of the more popular tourist destinations in Thailand where you will find a host of activities and white sand beaches. Trang boasts its fair share of beautiful scenery and beaches while being less travelled than Phuket. Or, if you head further south through to Malaysia, you won't want to miss the bustling city of Hat Yai.
While driving in Thailand can be its own sort of fun, make a game of it while playing these entertaining road trip games.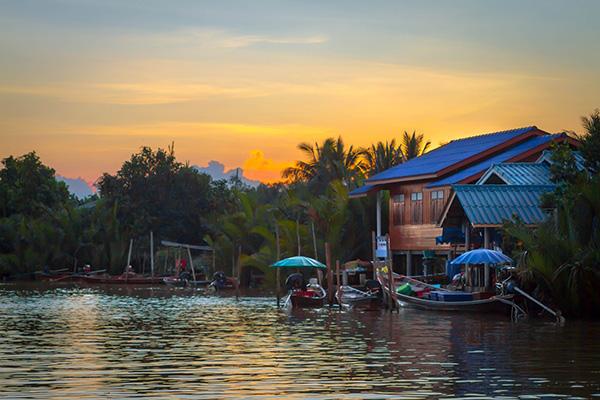 Booking a Surat Thani rental car
Explore more of Thailand by booking your car rental through AirportRentals.com. With our powerful search engine, you can quickly and easily find the perfect hire car for your adventure.
Compare rentals from internationally renowned rental companies such as Avis, Budget, Hertz and Sixt. The choices don't stop there as you can also choose from affordable local Thai rental companies including Chic Car Rent, and Thai Rent A Car.
With all the options on offer, check out our guide on how to pick the perfect rental to help you select the best vehicle available.
Managing your reservation online is easy, however, if you do need any assistance with your booking, know that our friendly team are waiting in the wings to help you 24/7.
Surat Thani International Airport (URT)
The Surat Thani International Airport is a small, but busy airport that caters to nearly two million visitors a year. Located in the south, sitting directly on the Gulf of Thailand, the airport is an ideal jumping off point to the popular tropical islands of Koh Samui, Koh Pha Ngan, and Koh Tao.
Despite its size, Surat Thani Airport sports a range of amenities, including a library that will help pass the time while you await an outbound flight. Everything is located in one large terminal, including both domestic and international services. There are a handful of different dining options to choose from ranging from café to casual dining, many of which will offer access to WiFi. Shopping is limited to a few small duty-free stores and mini-mart style shops. The car hire desks are located inside the terminal, with the car park for the vehicles located immediately outside the entrance of the building.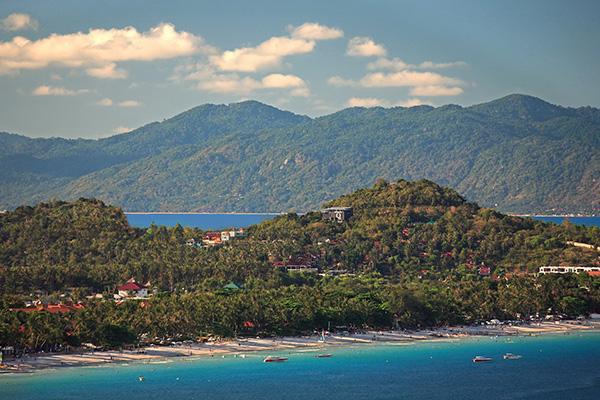 Guide to driving in Surat Thani
If this is your first time driving a car hire in Thailand, read up on the local road rules prior to arrival and always err on the side of caution.
Driving from the Surat Thani International Airport to Surat Thani City Centre
Driving to Surat Thani city centre from the airport will take approximately 30 minutes. Turn left when leaving the airport road and follow Route 417 North to Route 420. You will stay on this road for approximately 15 kilometres until you turn left on Route 401 which will take you directly to the city centre.
Driving tips for your Surat Thani rental car
● Drive on the left-hand side of the road.
● Scooters and motorbikes will overtake on both sides, often preceded by a light beep of their horn to indicate they are overtaking. Stay vigilant and expect motorists to flow between lanes frequently.
● By law, your blood alcohol concentration level can be no higher than 0.05%. Avoid alcohol when driving.
● Check out our recommended list of handy apps to download before you go!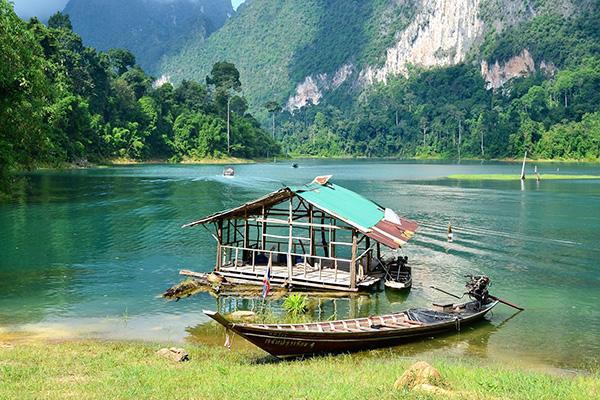 Parking options at the Surat Thani International Airport and Surat Thani city centre
Parking your car hire at the airport couldn't be more simple with designated carports at each of the rental agencies located very close to the terminal.
Within the city centre, check if your hotel or accommodation provides you with a car park. Otherwise, there is plenty of on-street parking available.