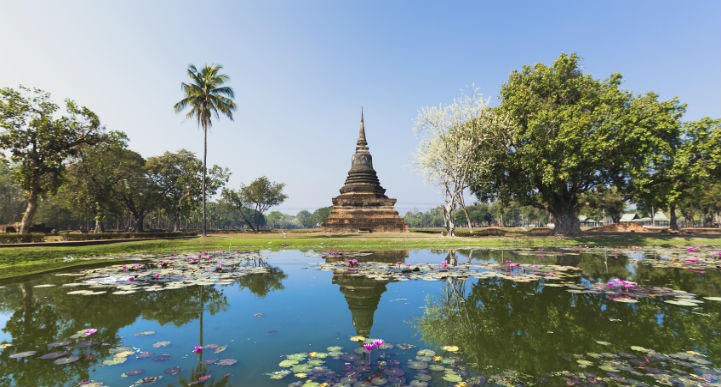 You might be contemplating a trip to Thailand to visit its famed beach resorts. Or perhaps its colourful temples. Or its tropical forests. Or the night markets that light up the night in Bangkok. The fact is, Thailand has a thousand different aspects that could intrigue and excite visitors - discovering which one speaks to you is really a matter of jumping headfirst into all that this wonderful place has to offer.
Booking a Thailand car rental will let you personalise your trip, experiencing this country on your own terms. With the ability to venture beyond your initial destination, you'll be treated to an authentic glimpse of the real Thailand, leaving you with memories that will last a lifetime.
AirportRentals.com - rent a car in Thailand the smart way
After you've flown into the country, sorting out a car hire for your Thailand adventures will be one of the first things to get done and dusted. If you're smart, you will have booked online ahead of time - if you're even smarter, you will have booked using AirportRentals.com which cuts out all that annoying searching through different sites and simply presents you with the best deals from multiple suppliers. They're all in one place, so it's easy to compare and choose.
Booking a car hire in Thailand shouldn't be a difficult process. To begin with, just take a minute to enter a few basic details about your trip into the AirportRentals.com search box. After you've hit the Search button, you'll see a range of deals from different rental suppliers. The cheapest options are at the top by default, but you can reorder the results or even filter them using categories like transmission type, rental brand and vehicle type. Then, when you've discovered the perfect rental for your trip, you can book it in mere minutes without having to leave the site.
Airport rentals around Thailand
Thailand is an incredibly diverse country, so the location you fly into will have a big impact on what kind of experience you'll have, at least initially. Booking a cheap car rental in Thailand can allow you to enjoy some of these destinations to their fullest, and strike out beyond the boundaries of others. Don't get stuck in one spot - make sure you have the freedom to get the absolute best out of your Thailand vacation!
● Phuket car rental - If you're seeking sun, sand, sea and ultimate relaxation, you can't do better than Phuket. For those who haven't been here before, it's easy to think that everywhere on the island (which is so large it really feels like the mainland) is basically the same. But there's the arts and culture of Phuket Town, the natural attractions of Sirinat National Park in the north, the west coast beaches that everyone raves about… With a Phuket car rental, you can experience it all.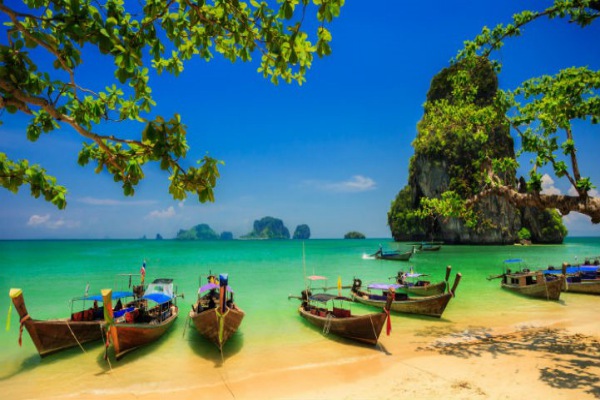 ● Bangkok car rental - Thailand's capital dwarfs every other city in the nation, having grown extremely rapidly in the latter half of the 20th century. This speedy expansion has given Bangkok a somewhat chaotic feel, but that's where the city's beauty can be found. Don't leave without sampling the street food - this is arguably the finest example of street cuisine in the world, offering explosive flavours amidst the noise and heat.
● Chiang Mai car rental - While Bangkok thrives on its bustle, Chiang Mai allows visitors to experience Thailand's calmer side. The city itself has all kinds of fascinating attractions including hundreds of old temples, excellent eateries and all kinds of beautiful gardens. Taking a drive outside the city will land you in the midst of gorgeous Thai countryside, and from there you're within reach of hot springs, rainforests and waterfalls.
● Chiang Rai car rental - Heading into the far north of Thailand to explore the Chiang Rai province will appeal to those who are itching to discover the country's remote corners and hidden gems. This is the most ethnically diverse place in Thailand, and canny travellers who are able to dodge the money grabbing of private villages have the opportunity to get amongst the indigenous hill tribes and glimpse a way of life that has almost left the world.
● Koh Samui car rental - Set like a sparkling gem in the Gulf of Thailand, Koh Samui isn't the most popular island destination in Thailand, but it certainly runs a close second. Most of the island is highly polished resort territory, perfect for those who are here to eat, drink, party and soak up some rays. Getting in the car and heading for the island's southwest can show you a more authentic side of Koh Samui.
● Khon Kaen car rental - Khon Kaen isn't one of the most famous Thai destinations, but those who arrive here will be able to see a side of the country that no other location offers. Khon Kaen lies at the heart of Thailand's northeastern Isaan region, a place where Thai, Laotian and Cambodian influences combine to create an intriguing culture and spectacular food. The isolated nature of Isaan is perfect for visitors seeking the road less travelled.
● Krabi car rental - This is a fantastic beach destination for those with a little bit of adventure in their souls. Krabi's limestone karst formations make this a world-renowned rock climbing destination, scuba divers will find themselves in paradise with top-notch dive sites and clear blue waters, and secluded beaches beckon to those who are keen to take a boat ride to escape the crowds.
Car rental suppliers in Thailand
There's no need to worry about selection when it comes to car rental brands in Thailand. Travellers seeking the reliability of big names in car rental can pick from Avis, Budget, Sixt and National. Don't ignore the lesser known brands though: you might be able to snag an especially good deal with a rental from suppliers such as Chic Car Rent, Bizcar Rental or Thai Rent a Car.
Thailand road rules
Thailand sticks to the left hand side of the road, which will be a bit of a change for most visitors. Most of the time this won't be a big hassle, as long as you remember to take special care when turning at intersections. The legal blood alcohol limit is set at 0.05%, or 0.02% for those who have had their licence for less than five years. Neither of these limits are forgiving, and you could exceed them after having just one drink, so leave the driving to someone else if you've had a drink or two. Speed limits will range between 50 and 60 km/h in built up areas and 90 and 120 km/h on highways. The reality of urban driving is that surrounding traffic will have more to do with how fast you travel than any set speed limit. You can drive in Thailand for six months on an international driver's licence - remember to always keep this in the car with you, as well as your rental documents.
Thailand driving tips
● Unlike many other countries, flashing headlights means "get out of the way" rather than "go ahead" - a crucial difference.
● Motorbikes are common on Thai roads and they often come very close to other traffic, so always keep your arms inside the car and check behind before opening your door.
● If you notice that the road ahead of you is covered in tree branches, there's probably a breakdown ahead.
● Keep a sharp eye out for animals and even people crossing the road - this is especially common on rural roads but even highways aren't exempt from this.
● If you're not overtaking or exciting, stick to the middle lane on highways.