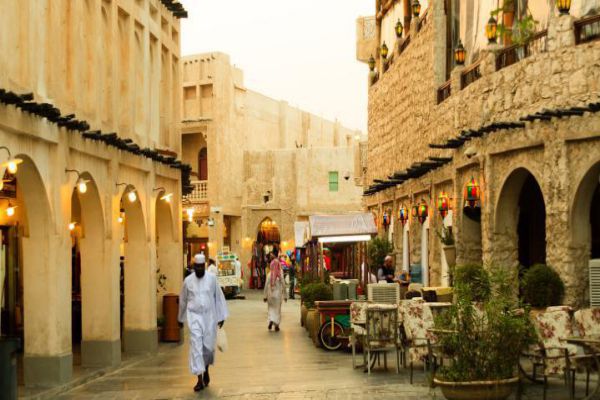 Image: Pixabay
For a unique trip to the desert, head to Qatar in the Middle East. See all the sights with an airport rental car.
Qatar is a peninsula country in the Persian Gulf just north of Saudi Arabia. Home to over 2.5 million residents, it is known for its endless stretches of sand along the gulf and fiery red sunsets over mile-long sand dunes. Doha is Qatar's capital city where modern architecture meets deep-seated tradition. Enjoy the mesmerising skyline from the shore and spend your evenings in delectable restaurants. Wander through souqs (markets) that sell everything and anything including brightly-coloured, handcrafted goods and beautiful jewelry.
Highlights of Qatar include the Souq Waqif, the Museum of Islamic Art and Al Corniche waterfront. Stay in 5-star paradise-like resorts, visit a man-made island and hop in your rental car to explore the peninsula.
Planning to travel to more Middle Eastern countries? Secure an airport rental car in Oman, Kuwait and the United Arab Emirates.
Hire a cheap rental car in Qatar with Airport Rentals
Start planning your Qatar holiday with a car hire from Airport Rentals, rated #1 for car rentals on TrustPilot. Our optimal comparison site allows you to search for top industry deals in one place. Simply type in your destination in Qatar, plus travel dates to generate a list of vehicles from top-rated car rental suppliers. Enjoy access to cheap daily rates and awesome exclusive benefits like free amendments. You can use our handy preference filters to streamline your search and find your ideal car even faster. Cruise Doha's futuristic city in a luxury vehicle or choose a economy car for the savvy traveller.
When you have selected your ideal vehicle, complete your booking securely with instant confirmation. If you have any questions along the way, reach out to our 24-hour customer service team.
Airport rentals around Qatar
Qatar's compact size makes it an easy nation to explore by rental car. You can reserve your vehicle for pick up at a number of Qatar locations. Visit as many cities as possible on your Middle Eastern road trip.
Doha Airport rental car - Flying into Doha is the typical route for most tourists. Land at the massive international airport and head to the Arrivals Hall of the Passenger Terminal Building to begin your adventure.
Downtown Doha car hire - Doha is a dazzling capital city, famous for its waterfront parks and Corniche Promenade. Stroll along the captivating skyline, go shopping at Souq Waqif and head to The Pearl-Qatar, a man-made island lined with yachts and resort-style hotels.
Al Khor rental car - Located in northeastern Qatar, Al Khor offers incredible outdoor attractions such as Al Khor Park which includes a mini golf course and train ride. Visit the Al Khor Museum to learn about pearl-diving and head to Al Thakira to check out the mangroves where flamingos and herons hang out.
Al Wakrah car hire - Head south from Doha to visit the small city of Al Wakrah. What use to be a small fishing and pearling village is now a city with stunning mosques, recreational parks and retail outlets. Hang out along the waterfront to visit the town's souq and tour the city's heritage village.
Highly-recommended rental car suppliers from Airport Rentals
Choose from a variety of trusted rental car providers in Qatar including both domestic and international brands. Top-rated vendors like Avis, Budget and National provide a large selection of vehicles and include unlimited mileage with your car hire. Europcar and Sixt are European brands known for their excellent customer service and affordable deals.
Confirm your selection securely online with Airport Rentals to take advantage of additional benefits, and make any updates or changes to your reservation using our online reservation management system.
Driving laws in Qatar
The minimum age requirement to rent a car in Qatar is 25 years old. Some rental car providers allow 21 year olds to rent with a young driver fee of around QAR 100.
● Drive on the right-hand side, overtake on the left.
● Drinking and driving is illegal in Qatar and not worth the risk.
● Seatbelts are mandatory for those in the front seat, but it is recommended for all passengers to buckle up at all times.
● The national speed limit is 120 km/hr on highways and 60-100 km/h in urban areas.
● Children under 10 years old must sit in the back.
● Use of mobile phones while driving is prohibited.
● Make sure your rental car includes a fire extinguisher and first aid kit.
Tips for driving a rental car in Qatar
Local drivers tend to be chaotic and sometimes aggressive. Drive cautiously and follow our suggested tips to get around safely.
● Qatar is equipped with speed cameras and employs undercover police officers. Stick to the rules of the road to avoid fines.
● Petrol stations are easy to find. Hours vary depending on the location.
● There are no tollways in the country.
● To find parking, try shopping malls for free spaces within cities.
● Expect rush hour traffic in Doha from 7am to 9am and 4pm to 7pm on weekdays.
● If you are travelling long distances, make sure to pack plenty of water in case of a breakdown.