Visit Doha, set in the desert sands of Qatar and alongside the turquoise waters of the Persian Gulf. Rent a car in this Middle Eastern capital city to drive palm tree-lined Al Corniche Street along the coast, and take in the views of Doha's futuristic skyscrapers and clear sparkling waters. Spend a day shopping at one of the city's upscale malls and cap the night off with a traditional Qatari meal.
Head out of the city for a desert road trip to the sand dunes and watch 4x4s bash through the rolling sandy hills. Discover more of Doha in an airport rental car.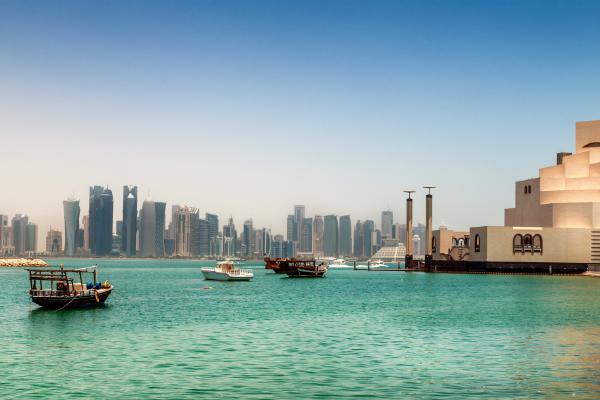 Hiring a cheap rental car in Doha with Airport Rentals
Securing a cheap hired car for your Doha visit is easy with AirportRentals.com. Simply type in your travel details to view our live inventory of cars for rent at Hamad International Airport. Choose from economy cars and vans to SUVs and luxury vehicles. Use the preference filters to narrow search results by car type, rental company, transmission type and more. Be sure to have a look at the extra items page in case you need a handy add-on like a GPS or booster seat. Instantly confirm your reservation on our secure site and make any necessary changes online.
When you book with Airport Rentals, there are no hidden booking fees and our customer service team is available 24 hours a day, 7 days a week.
Hamad International Airport (DOH)
Set on the coast of the Persian Gulf is Hamad International Airport, a busy transport hub which handles up to 50 million passengers per year. Hamad Airport opened for business in April of 2014 and is the first airport in the Middle East to earn the acclaimed designation of a '5-Star Airport' by Skytrax. Palm trees are planted in recycled water and the roof of the airport resembles waves in an ocean, giving the massive terminal an oasis feel. Restaurants, cafes, shops, and duty free stores can be found in the arrival and departure halls. Flights arrive daily from cities in the Middle-East, as well as international cities like Amsterdam, London and Chicago.
Car rental kiosks are found in the Ground Transportation Centre (GTC) located opposite the passenger terminal. Your rental agent will escort you to your chosen rental car located in the adjacent car park.
Guide to driving a car hire in Doha
Please make use of our brief guide to directions, driving and parking in Doha.
Driving from Hamad International Airport to Doha
From Hamad International Airport, exit onto F Ring Road and merge right onto Ras Abu Abboud Expressway for approximately 7.5 kilometres until you arrive in Doha's city center. The drive is about 13.5 kilometres and takes approximately 18 minutes, depending on traffic.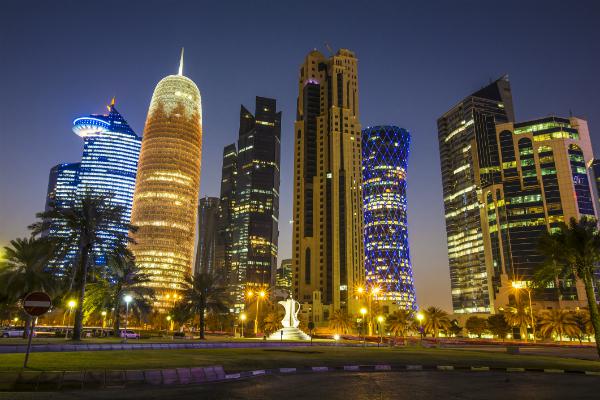 Driving tips for your Doha rental car
● You must possess an International Driver's Permit.
● Never use your cell phone while operating your rental car.
● Traffic in Doha is heavy so stay focused, don't speed and allow others to pass.
Pro-tip: Hire a GPS for your rental car and purchase a paper road map of the area in the event your GPS fails.
For extra preparation, read our tips for driving in foreign countries and rental breakdown tips.
Parking in Doha and at Hamad International Airport
Long-term parking at Hamad Airport is found on the south end of the passenger terminal with free shuttle buses operating between the airport and parking lot. Short-term parking lots are found on either side of the passenger terminal and are connected to the airport via walkways.
Parking in Doha has increased in recent years and you'll find many paid parking lots and metered street parking for your hired car. Be sure to obey parking time limits to avoid costly fines.
Doha Airport Terminal Map
Hamad International airport began passenger operations on 30 April 2014 with ten airlines flying there initially. The Qatari airport currently features one terminal with a second planned for construction if the present passenger growth outnumbers projected figures.