If a holiday in the middle of the Mediterranean Sea sounds like your type of vacation, grab a Luqa rental car and cruise around the Maltese islands visiting UNESCO World Heritage Sites alongside glistening seafoam green waters.
Situated between the coast of Sicily and the North African coast, Malta is a slice of heaven floating in the Mediterranean Sea. This European Union country is home to 450,000 residents dispersed across three islands. Explore ancient temples and historical sites dating back to 4000 B.C. and relax on paradisiacal beaches surrounded by towering cliffs. Sail the azure waters discovering hidden lagoons and archways. Ferry your rental car to Gozo, the second largest island, and visit the Ġgantija Temples and small coastal villages.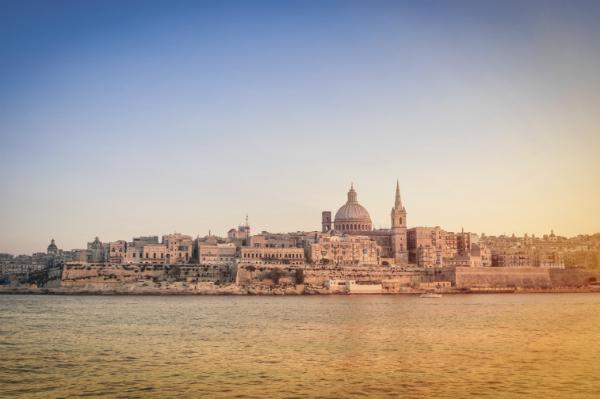 Hiring a car rental in Luqa with Airport Rentals
Start your holiday right with a cheap car hire from Airport Rentals. In just minutes, find a suitable car for your trip to Luqa using our optimal search engine. Simply type in your details to generate a list of car options from highly-rated rental companies, giving you the ability to compare multiple deals on one page. Narrow your search with the preference filters to suit your unique needs and opt for included benefits such as unlimited mileage and breakdown assistance. Book on our secure site and never worry about hidden fees, plus enjoy access to 24-hour customer service should you need it.
Malta International Airport (MLA)
Malta International Airport is the only airport in Malta, serving around 5 million passengers traveling to the three islands. The facility offers an extensive range of shopping and dining options. Choose between fast food joints and sit-down service. Find helpful tourist information at the designated desk in the Welcomers Hall and enjoy free high-speed WiFi and charging stations throughout the terminal.
When you're ready to head to Luqa take a pre-booked shuttle, an express air-conditioned bus or a taxi.
Alternatively, if you arranged to pick up your car hire straight from Malta International Airport make your way to the Welcomers Hall to locate the rental kiosks.
Fly in to Malta from international destinations such as London, Paris, Lisbon, Rome and more.
Guide to driving a rental car in Malta
Use our guide for help on driving tips, navigating and parking for Malta.
Driving from the airport to Luqa
The city of Luqa is a short 5-minute drive from the airport.
Driving tips for your Luqa car hire
Malta is easy to navigate, but beware of poorly maintained roads outside the main city area and be prepared for aggressive drivers. Many locals are willing to break every road rule to save a few minutes. Read on for more driving tips in Malta:
● Drive on the left.
● Don't be overly alarmed when cars are swerving on the road; they're avoiding potholes.
● Be prepared for many roundabouts where most locals don't follow typical roundabout etiquette.
● Vehicles with "Y" plates are public transport vehicles that rule the road.
● Locals rarely use their indicators. Make sure to use your mirrors before changing lanes.
● Keep to the posted speed limits - speed cameras are placed across the island.
For more on Malta driving tips, scroll to the bottom of the Malta car rental page.
Parking options in Luqa and at Malta International Airport
The major areas on the island offer multi-story parking, plus on-street parking although these spots are limited. Make sure to abide by the timed parking zones to avoid fines. Most hotels offer parking options for guests.
With six parking lot options at Malta International Airport, visitors need not worry about finding a spot. The first 10 minutes are free, one hour is €2, and the whole day is €15. Park directly across the from the terminal or at one of the lots only minutes away.
Is this your first time road tripping in a foreign country? Use our helpful guide to help prepare for your trip.