Bintulu was once a small fishing village on the coastline of Borneo and is now a booming industrial town and off-the-beaten-track gem for visitors. This Malaysian city is the perfect starting point for explorations all over Borneo, and in particular, its multitude of spectacular natural wonders. Book your Bintulu Airport car rental as soon as you have your travel dates so you'll be able to visit these amazing spaces. This area offers the most biodiverse territory in South-East Asia, meaning when you visit the Niah National Park, Lambir Hills National Park, and Similajau National Park, you'll spot countless species of flora and fauna, including orangutans, turtles, and limestone caves.
With your own set of wheels, you also have the freedom to visit other cities around the island. Miri, another small but gorgeous coastal village, is less than three hours from Bintulu. Sandakan and Tawau are both located on the northeast coastline, offering incredible one-way road trip adventures from Bintulu to ensure you see as much of the region as possible during your visit.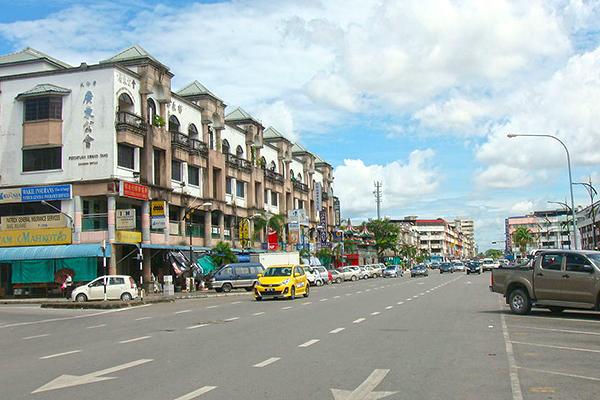 Image (modified): Azreey, CC BY-SA 3.0, from Wikimedia Commons
Booking a car hire at Bintulu Airport with AirportRentals.com
Take the legwork out of booking your Bintulu Airport car hire by bringing together leading brands in one place. A quick search on Airport Rentals will pull together all available rental vehicles from brands operating at the airport, so you can quickly find the perfect rental for your needs.
Get started by entering your Bintulu travel dates and hitting 'search cars', and note that if you're looking for a one-way rental, you'll need to uncheck the 'return to same location' box. The results page is an up-to-date list of vehicles currently available at Bintulu Airport during your travel dates, which present in order with the most affordable at the top of the page. You can also narrow down your results with the filter options to search for something specific, and create a shortlist by hitting the heart icon next to a vehicle.
Book securely online with Airport Rentals at no extra cost to access 24/7 support in case of any issues with your booking, and to manage your reservation online at any time.
Introducing Bintulu Airport
Bintulu Airport (BTU) is a relatively small but modern terminal that handles roughly half a million passengers every year. It offers flights to and from a number of cities around Malaysia, including destinations such as Miri, Kuala Lumpur, Kota Kinabalu, and Kuching.
There are few facilities at Bintulu Airport, including a number of shops and a small cafe. Note that there is currently no WiFi available within the terminal. You will find your car hire desk within the terminal so you can pick up your rental as soon as you land.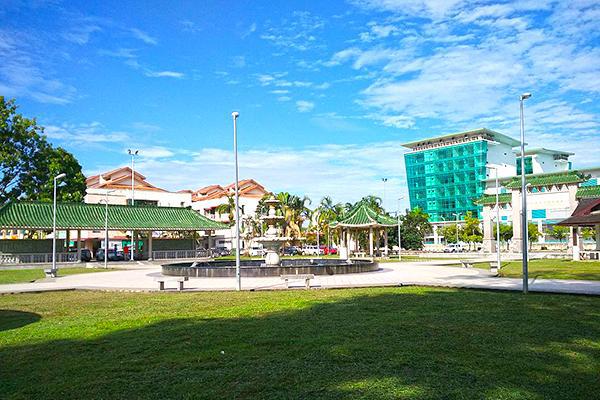 Image (modified): Cerevisae, from Wikimedia Commons
A driving guide to Bintulu
Driving from Bintulu Airport to the CBD
The Bintulu Airport is just over 20 kilometres from the city centre, a drive that should take roughly 30 minutes in normal traffic conditions. After you leave the terminal, turn left onto Jalan Tun Hussien Onn (Route 1), follow this for approximately 15 minutes, then turn left again onto Jalan Sebiew. This road will take you into the heart of town.
Tips for driving a car hire in Borneo and Malaysia
Take some time to learn a little about the local driving laws and culture before you arrive in Bintulu. Here are a few helpful tips to get you started:
● You will drive on the left-hand side of the road in Malaysia.
● Be cautious around people on motorcycles, as they often pass on both sides and drive dangerously.
● Know what to do in advance should your car rental break down.
● Cars will usually drive in the fast lane, whether they are going quickly or not. It is illegal to use the slow lane to pass, but locals do so often.
● Traffic cameras are increasingly common in Malaysia, so don't be tempted to speed or run red lights even if others are doing it.
● Note that the roads will be especially busy around the Chinese Lunar New Year.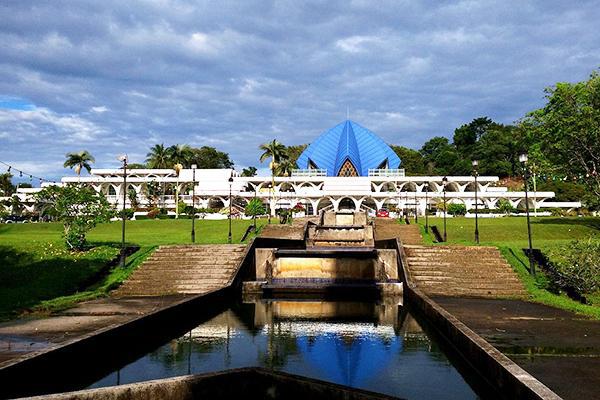 Image: Cerevisae, CC BY-SA 4.0, from Wikimedia Commons
Parking at Bintulu Airport
There is a large parking area directly in front of the terminal where you can park your hired car.
Parking in Bintulu
The parking system in Bintulu uses coupons that are valid for several thousand stalls around the city. You will need to purchase these in advance, and your rental company may be able to include some with your vehicle.