Arts, fashion, business, and trade - Dusseldorf is a fusion of sights and attractions. This wealthy city is at the top of its game and is filled with people who know how to work hard but also make the most of Dusseldorf's many bars and restaurants.
Consistently ranked as one of the most liveable cities in the world, Dusseldorf has much to offer the curious traveller. Pay a visit to the Dusseldorf-Kaiserswerth ruins, head to the top of the Rheinturm tower for 360-degree city views and a meal in the rotating restaurant, or pay a visit in December for one of Germany's famous Christmas markets.
A car rental in Dusseldorf with help you see it all in your own time, and Airport Rentals can help you find just the right set of wheels.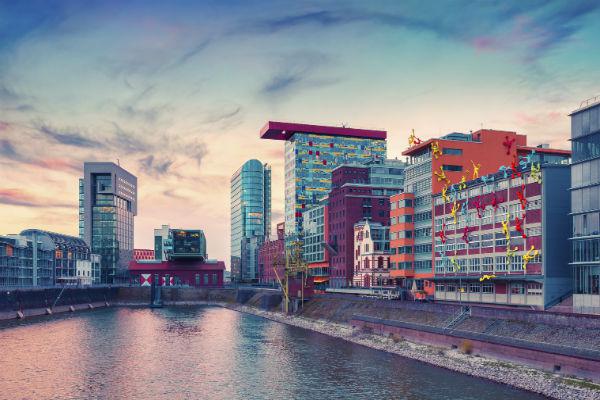 Book your Dusseldorf car hire with AirportRentals.com
There are six different car rental companies in operation at Dusseldorf Airport, including leading brands like Hertz, Budget, and Avis. It takes time and effort to inquire about vehicle options with every single supplier, but if you want the cheapest car rental in Dusseldorf, you'll need to compare them all.
That's where Airport Rentals can help. Simply enter your travel dates and the search function will display all of the available vehicles at Dusseldorf Airport, so you can quickly and easily compare the options to find the best deal.
Once you've made your decision, you can book securely online to lock in your cheap car rental and get on with planning the rest of your trip. Access 24/7 customer service should you need help, and never worry about hidden booking fees.
Introducing Dusseldorf Airport
As many as 20 million people pass through Dusseldorf Airport every year, with almost a 50/50 split on those in town for business and those in town for pleasure.
The airport prides itself on its wide variety of services. There's free WiFi throughout the terminal, as well as 60 shops, 40 bars, cafes, and eateries. You can also book yourself in for a sightseeing flight over the city and surrounds while you're there.
You'll stop off at the rental car centre in the arrivals hall when you land to pick up your keys for your vehicle.
Flights from Dusseldorf Airport head to more than 200 destinations worldwide, including:
● Munich (the most popular destination from Dusseldorf)
● Berlin (third most popular)
● Paris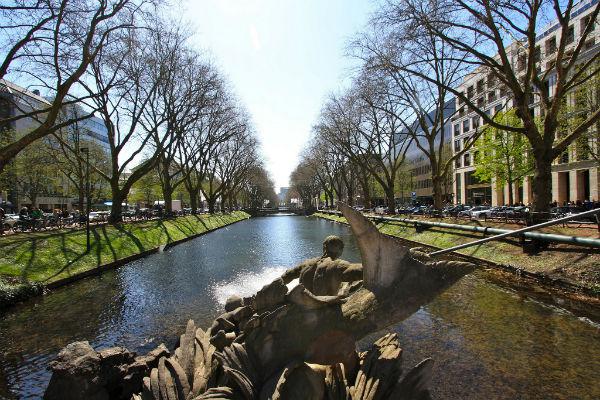 Image: L'amande
A quick guide to driving in Dusseldorf
A car hire is one of the best ways to get around in Dusseldorf as it will help you tick off all of your top destinations. The driving conditions are fairly standard for a big city, so you shouldn't have any problems making your way around in the driver's seat.
Driving from the airport to the city centre
The Dusseldorf Airport is less than 10 kilometres from town, so it takes less than 20 minutes to make the trip. From the airport, turn right onto the A44, then take a left onto B8 (Danziger). This route will turn into B1, which you can follow into the heart of town. Always allow for extra time if you're travelling at peak hours.
Tips for driving in Dusseldorf
Before you set out, ensure your Dusseldorf car rental is fitting with a GPS unit so you can easily find your way around. It will also help to have a look at a map before you leave to familiarise yourself with the city's layout and main routes. If you're nervous about driving in a new place, avoid travel at peak rush hour so you can skip the busiest times of the day. Plus, keep in mind that the autobahn system is excellent, but not without its rules and speed limits, so read more on how to drive on the autobahn before you get started.
Parking at Dusseldorf Airport
There are a total of 20,000 parking spaces at Dusseldorf Airport, of which the largest majority are covered, so there won't be any problems trying to find a spot. Take your pick of the parking lot that best suits your needs, as there are short- and long-term stay options.
Parking in Dusseldorf
Dusseldorf city offers paid parking throughout its main streets, most of which you can stay in for an unlimited amount of time (aside from the shopping area Königsallee). Keep in mind that some areas are umwelt zones, which means that you will need a special green sticker on your rental car to park there, so be sure to ask your car rental company about this when you pick up your vehicle.