In Eastern France on the border of Germany lies a historically-disputed city of blended culture. Hire a Strasbourg rental car to explore this fascinating region.
A de facto capital of the European Union (along with Brussels and Luxembourg) and a key transport hub, Strasbourg holds just as much economic importance as cultural richness. Its stunning city centre (the Grande Ile) is a UNESCO World Heritage site, and the mix of winstubs (Alsatian taverns), Gothic architecture, medieval alleys combine to create that one-of-a-kind Strasbourg charm. In winter, the city's Christmas Markets are a must-do.
After seeing all that Strasbourg has to offer, head deeper into France for further exploration in your rental car. Both Paris and Lyon are about 5 hours away. Alternatively, you can cross Germany's border and head toward Stuttgart or Frankfurt. Switzerland and Luxembourg are also within reach.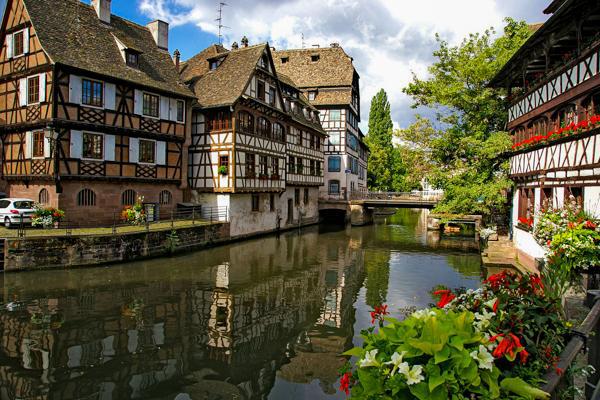 Booking a Strasbourg rental car
Pre-book a car hire at Strasbourg Airport using Airport Rentals. Compare multiple brands with ease and get instant confirmation.
Simply type in your travel dates to generate a list of available vehicles and browse all of your options on one page. Cars are automatically sorted by price, giving you easy access to the cheapest deals. You can also target your search more specifically by using filters for preferences such as brand, style, transmission type and more. Choose between a vast range of vehicles, from affordable compact cars to luxury dream vehicles and everything in between.
Once you've made your final selection, all you have to do is fill out a quick form and tick off any extras, like a child seat. Secure the perfect rental vehicle in just a few strokes on the keyboard.
Strasbourg Airport (SXB)
Strasbourg Airport is a small airport which services much of Western Europe as well as parts of Northern Africa. Despite consisting of only one terminal, the airport is well-equipped with many of the amenities you would find at a larger hub. There are two floors with check-in, and car hire agencies on the ground floor. There are multiple shops to grab some last minute souvenirs or travel necessities before your flight. The dining options are abundant, with two full-service restaurants and one cafe that serves pastries and beverages. Free WiFi access is available throughout the airport.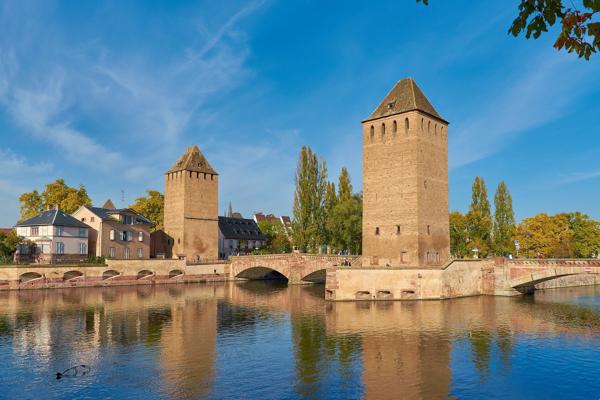 Guide to driving a rental car in Strasbourg
Use our driving and parking tips to make the most out of your Strasbourg rental car.
Driving from the Strasbourg Airport to Strasbourg city centre
The airport is close to the city centre, with the drive taking about 20 minutes dependent on traffic. Leaving the airport of D221, make your first right onto D400. Continue on this road for about 5 minutes until you can take A35/E25 to Rue de la Kaltau. After 13 kilometres on this road, you will take a right onto E52 which leads into Strasbourg city centre.
Driving tips for your Strasbourg rental car
France car hire driving tips
● Driving is on the right-hand side of the road. Overtake on the left.
● Speed limits are 130 kilometres per hour on motorways and 50 km/h in urban areas.
● Seatbelts are compulsory for all occupants of the car. Obey all local road rules - fines can be hefty.
● Prepare to pay tolls when driving on French motorways.
● Child seats are mandatory for children who weigh less than 25 kilograms.
● A hazard triangle must be kept in the vehicle in case of a breakdown.
Parking options at the Strasbourg Airport and Strasbourg city centre
There are five parking lots at Strasbourg Airport which accommodate a variety of short-term and long-term parking options. You can book your spot online in advance, often at a reduced rate. Alternatively, automatic pay stations are available on site.
There is an abundance of parking options in the city centre through a combination of on-street parking, carparks, and 'park and ride' services. On-street parking comprises three zones: red for very short-term parking, orange for short-term, and green zones further outside the centre being for medium-term. Carparks are always the cheaper option compared to on-street parking in the same zone.