The coastal city of Norfolk in Virginia is a navy town, home to the world's largest naval base. However, it's much more than a rowdy city full of sailors - there is a notable arts scene, world-class museums, a fabulous waterfront park venue and many other things to see, do and enjoy. Wander the historic downtown Ghent District, then get in your car hire to see what the wider Norfolk area can offer - like beautiful Virginia Beach.
Finding the right Norfolk rental car opens up many and wonderful US destinations for a self-drive adventure. It's not far up the coast to Washington, Baltimore, Philadelphia and New York, or south to the stately Southern cities of Charleston and Savannah, with Florida beyond. Inland, friendly Midwestern and Southern cities await - and if you are feeling particularly intrepid, you could head out on a cross-country journey.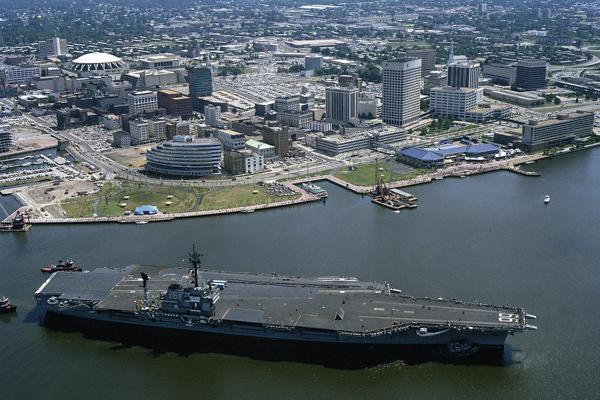 Image: Public Domain via Wikimedia Commons
Find the ideal Norfolk VA car hire
There's no need to spend hours scouring multiple websites to track down a car hire that works for you at an affordable price. Airport Rentals' simple search engine will take your dates and present a list of options from many different suppliers, covering anything you might need: big or small vehicles, long or short-term rentals and more. From there, you can use handy filters to narrow it down according to your preferences and compare the possibilities to find the perfect rental car. Once you know what you want, it's a quick process to book it in on our secure site.
As an international company with strong bulk buying power, we can offer great everyday rates and frequent cheap deals, so you aren't trading cost-effectiveness for the convenience of using Airport Rentals. You will also have over-the-phone access 24/7 to our friendly team of knowledgeable rental consultants who can answer any questions.
A guide to Norfolk
Norfolk was named after the natural harbour on which it sits, and has long served as a strategic military and transportation centre. Land and sea transport companies like Maersk and Norfolk Southern Railways are headquartered there, and it houses the Naval Station Norfolk, the biggest in the world. The climate is humid subtropical, with moderately distinct seasons and hot, humid summers.
Norfolk (ORF) Airport serves the city and region, offering scheduled flights to domestic destinations on a range of airlines. The terminal is open 24/7 and has plenty of dining and shopping options for passengers.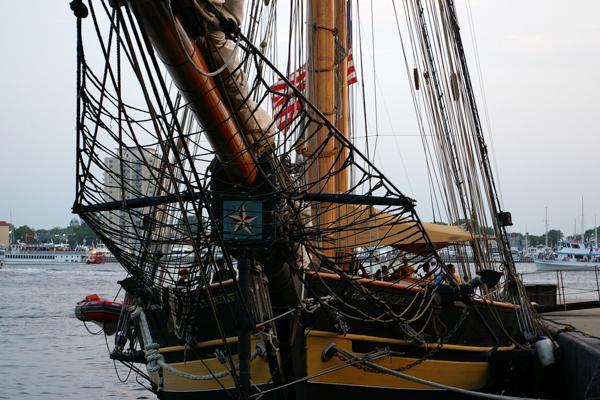 Image: L. Allen Brewer (Own work), CC-BY-2.0, via Flickr
Guide to driving a rental car in Norfolk
Driving from Norfolk to the airport
To get to Norfolk Airport with your rental car, get on the I-264 heading east, and from there, the I-64 W. Take exit 281 onto Miller Store Road, and continue until you can turn right on Azalea Garden Road, then right again on Norview Ave which will take you to the airport.
Norfolk car hire driving tips
● Those driving in the United States for the first time should always remember to stay left!
● Be prepared to come across tolled roads. Our guide to tolls in North America might help you to know what to expect.
● If you are heading into the mountainous regions of Virginia, drive carefully. Use the gearbox to regulate speed where possible, and watch out for wildlife on the road.
● You may encounter snow during the winter months, particularly when heading north. Read our winter driving tips to prepare.
● Drivers and front seat passengers in Virginia must wear seatbelts, and the driver must ensure that all passengers under the age of 18 are wearing a seatbelt or in an age-appropriate child restraint.
Parking in Norfolk
City-operated street parking, garages and lots in Norfolk provide plenty of places to leave your hired car. On-street spaces have time limits and charge USD$0.25 to USD$0.45 per 15 minute period depending on location. Parking lots and garages are spread around the city, with varied rates.
Short-term parking at Norfolk Airport costs USD$1 per half hour up to a maximum daily rate of USD$24, and long-term parking costs the same to a maximum of USD$9 per day.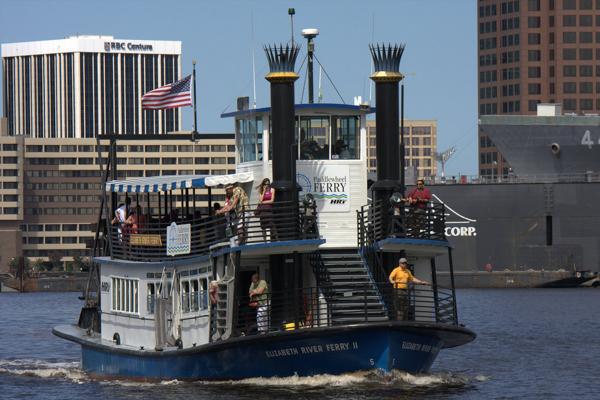 Image: Missy Schmidt (Own work), CC-BY-2.0, via Flickr