Picturesque Savannah is the oldest city in Georgia, established in 1733 on the Savannah River. Hire a car to see every inch of this unique city and surrounding areas.
Fall in love with Savannah's historic downtown district full of parks, fountains and antebellum mansions. Cruise down the Savannah River on a boat cruise, or take a ghost tour through one of America's most haunted cities. There is a lot to see, so give yourself plenty of time!
If you plan to visit other cities with your Savannah rental car, nearby locations include: Atlanta, Charleston, and Jacksonville. Or take a cross country road trip and head all the way to Chicago, Los Angeles or New York City.
The USA is teeming with must-see spots, plan wisely to enjoy as many as you can.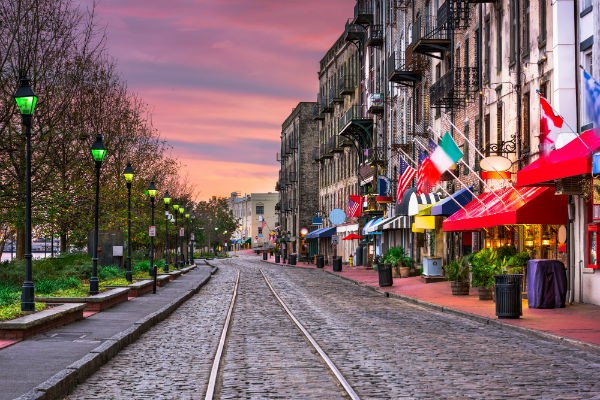 Hiring a rental car in Savannah
To start your southern holiday off on the right foot, book a rental car with Airport Rentals. Use our advanced search engine to quickly and easily compare multiple car hire companies in one handy location. Select filters to narrow your search by group size, transmission type, car hire brand and more.
Relish the warm Georgia weather with a convertible or save on fuel with an economy vehicle. You have plenty of options at your fingertips.
Ready to book? Enjoy secure online confirmation, zero booking fees and 24/7 customer service with Airport Rentals.
Savannah/Hilton Head International Airport (SAV)
The Savannah Airport is the hub for vacationers heading to Hilton Head, South Carolina or charming Savannah serving over 2 million passengers each year. Relax in Savannah Square, a massive hall that resembles the historic district with a window-covered ceiling, and dine at Dewar's Clubhouse or Samuel Adams Toast. Access the airport's free WiFi and hang out in the rest zone complete with rocking chairs.
Need more information about your trip or directional help? Head to the Visitor Information Center located near ground transportation. Rental car kiosks are located on the first level across from baggage claim.
Driving from the airport to the city
Savannah/Hilton Head International Airport is located 16 kilometres northwest of downtown Savannah. For the quickest route to the city, take Gulfstream Road out of the airport to GA-21 S onto I-516 E and exit to W Bay Street. Or jump on the GA-307 S from the airport to US-80 E and reach W Bay Street. Both routes will bring you to the northwest part of the city in around 20 minutes.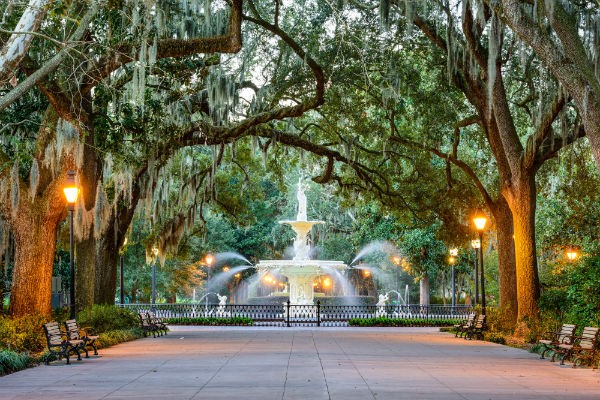 Driving your rental car in Savannah
Down south, it's common for everything to slow down including driving. Here are a few tips for safe driving in Georgia:
● Drive on the right side of the road and overtake in the left lane.
● Speed limits are 60-70 mph on the highways and 30-40 mph in urban areas. Follow posted signs.
● Mobile phone use is prohibited while driving.
● Right turns on red are allowed unless stated otherwise, treat it as a stop sign and only turn if there is no oncoming traffic.
● For more tips, read our USA driving guide.
● Worried you won't have enough time for a big road trip? Check out our distance guide to help plan your route.
Parking at the airport and in the city
Finding parking at Savannah Airport is easy with multiple parking lots located near the terminal. Save time and valet your rental car; or choose between long-term stay, economy, hourly, SAV Value Park, and oversized vehicle car parks. There is a cell phone waiting lot on Aggett Drive if you are waiting to pick up a passenger. Rental car return is located next to the terminal.
On-street parking is limited in downtown Savannah, but there are numerous parking garages offering full day parking passes at affordable rates. If you park your hired car on the street, metered parking is between 7:30am to 5pm, Monday through Friday.