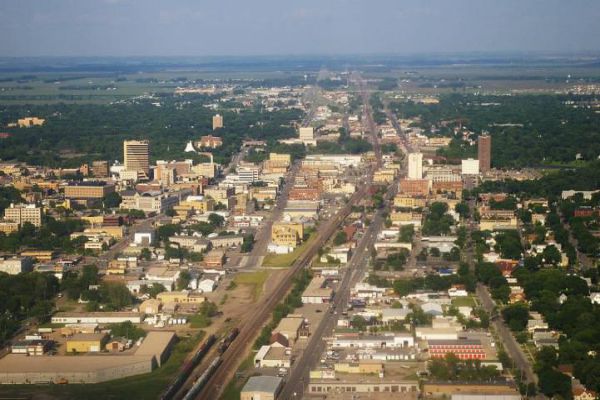 Image: Ron Reiring
Pick up a rental car to discover both city splendours and country living in Fargo, North Dakota. The state's largest city sits on the border of Minnesota and offers visitors an array of fabulous attractions, from historical sites, museums and art galleries to a variety of outdoor recreational activities.
Start with a trip to downtown Fargo where you can indulge in unique Midwestern cuisine, shop at boutique stores, admire the art at the Plains Art Museum and watch a film or show at the historic Fargo Theatre. Don't miss the opportunity to go back in time at the pioneer village Bonanzaville where you will find over 40 historic buildings, artifacts and a host of museums.
Get more out of your rental car with a scenic drive in the stunning surrounding area of Fargo. Check out other popular nearby cities like Grand Forks, Jamestown and Bismarck, or cross the border to visit Minneapolis.
Hiring a cheap rental car in Fargo
Secure your rental car reservation in just a few clicks with AirportRentals.com. Simply type your travel dates into our easy-to-use search tool to instantly generate a comprehensive list of available cars at the Hector International Airport. Easily compare prices and features from top international companies such as Budget, Avis, and Alamo. Use the handy preference filters to refine your search by brand car type, size and more.
To finalise your reservation and receive instant confirmation, just pop a few details into a short form and choose any optional extras such as a booster seat or navigational system. You never need to worry about hidden fees or additional charges when you book your car hire with Airport Rentals.
Enjoy access to our online booking management system where you can easily make changes and updates to your reservation. Prefer to talk to someone? Call us any time of day or night to receive excellent service.
Hector International Airport (FAR)
Hector International Airport is conveniently located 3 miles northwest of Fargo. The joint military-civilian airport is home to four major airlines: Allegiant, American, Delta and United Airlines, which offer regular and seasonal flights to a variety of popular US destinations.
The small airport has a standard selection of traveller services and amenities, including free WiFI throughout the terminal, an ATM on the lower level and a business centre with individual workstations and power outlets. For a bite to eat, travellers can dine at the Skydine and Subway restaurants.
When you are ready to pick up your keys and start exploring Fargo, make your way to the arrivals area where the car rental companies are located.
Driving a car hire in Fargo
Getting from the Hector International Airport to downtown Fargo
The drive from Hector International Airport to downtown Fargo will take 12 minutes. Upon leaving the airport, follow Dakota Drive and then continue onto 8th Avenue. From there, turn right onto University Drive and then take a left onto 1st Avenue. Continue driving along 1st Avenue until you arrive in downtown Fargo.
Driving tips for Fargo rental car
Use our driving tips toward a safe and pleasant driving experience in Fargo.
● You will need a valid driver's licence from your home state or country to drive in North Dakota.
● Visiting from overseas? Drive on the right-hand side of the road.
● Take extra care when driving in winter conditions.
● Keep an eye out for deer on the road especially during November.
● Some traffic lights change to a flashing mode late at night or when traffic volume is light. Flashing red works like a stop sign and flashing yellow means proceed with caution.
Are you from overseas? Use our guide to driving in America for more safety tips and advice on responsible driving.
Parking at the Hector International Airport and around Fargo
Parking is a breeze at the Hector International Airport with three separate parking areas available. Choose from over 200 short-term, 1500 long-term and 300 economy parking spaces. Parking is affordable with rates starting at USD$1 for half an hour.
You will have no trouble finding a parking spot around Fargo with options including on-street metered parking, short-term and daily parking at the parking lots dotted around the city. You may also wish to use the free park-and-ride option.