Located in central North Dakota just a few hours east of Fargo is Bismarck, the state capital and home of the Dakota Zoo. Rent a cheap car to explore some of the areas most popular attractions.
Hop on the Lewis and Clark Riverboat for a scenic ride down the Missouri River and finish the day off with a cold lager at the Laughing Sun Brewing Co. Visit the Former Governor's Mansion for a tour through the late 19th century Victorian-style house and afterwards, head over to the North Dakota State Capitol Building to view the entire city of Bismarck from the 18th floor.
Make the most of your trip to the region and discover more of North Dakota and the surrounding states with your rental car. Take Interstate 94 west to Billings, Montana and be sure to pass through the Enchanted Highway off Exit 72. Along the way, stop in at the Theodore Roosevelt National Park to explore the rugged terrain of the Badlands. Go further and head south through Jackson, Wyoming to Black Hills National Forest near Rapid City, South Dakota. Visiting Bismarck on a long weekend? Have a read through our long weekend tips for some sage road trip advice.
Image: Bobak Ha'Eri, CC BY 3.0, via Wikimedia Commons
Hiring a cheap rental car in Bismarck with Airport Rentals
With Airport Rentals you can compare a variety of rental deals from trusted brands like Avis and Hertz in one convenient location. Simply type in your travel details to view our live inventory of cars for hire at Bismarck Municipal Airport. Sort deals from lowest to highest price, and use the handy preference filters to narrow search results even further. Budget conscience renters can choose from a variety of economy and compact cars while a family of five can choose a van or SUV. After reserving the perfect rental on our secure site, select a handy add-on like a GPS or child seat at our extra items page.
Your booking can be changed or updated anytime using our online reservation management system and should you have any questions along the way, you can contact our dedicated customer service team 24 hours a day, seven days a week.
Bismarck Municipal Airport (BIS)
Bismarck Municipal Airport is a small two-level terminal located three miles southeast of Bismarck. Rebuilt from the ground up in 2005, the airport boasts large floor to ceiling windows for maximum natural light and a well laid out floor plan for easy navigation. The airport supports commercial routes from US cities like Denver, Minneapolis, and Las Vegas. Its Corner Cafe on the first floor offers drinks and snacks for purchase, while the Fly 'N Buy on the second floor sells souvenirs, travel items, alcoholic beverages, and a variety of food items.
Access free WiFi throughout the terminal and charge mobile devices at the convenient charging stations. Collect the keys to your rental at the car rental counters located in the arrivals area near baggage claim.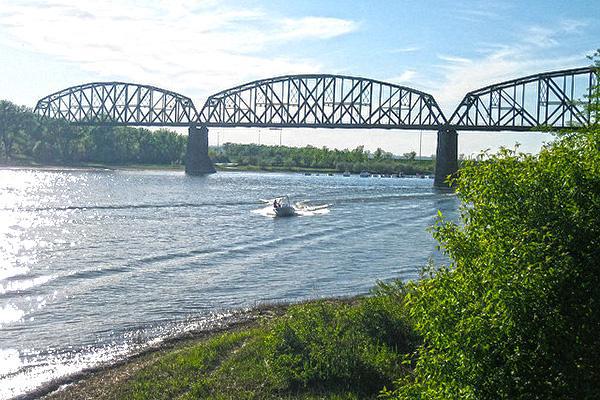 Image: Richie Diesterheft on Flickr, CC BY-SA 2.0
Driving a car hire in Bismarck
Getting from the airport to downtown Bismarck
To access Bismarck's central business district from Bismarck Municipal Airport, exit right onto ND-1804 N before turning left onto East Main Avenue (Interstate 94). The drive should take less than ten minutes depending on traffic and road conditions.
Driving tips for Bismarck rental car
Due to its modest population and geographically small size, driving in Bismarck is rather uncomplicated. As with any northern state though, the winter months can bring on some challenging road conditions. Stay safe and read ahead for some handy driving tips:
● Drive on the right side of the road, overtake on the left.
● Follow the posted speed limits. Speed limit signs are displayed in miles per hour (mph).
● Keep mobile phones and GPS devices in handsfree mode while driving.
● Adjust your speed and keep calm and focused when driving in unfavourable conditions.
● If possible, avoid driving during snow storms.
● Check the local weather forecast and read our winter driving tips for more information.
Parking at Bismarck Municipal Airport and in Bismarck
Bismarck Municipal Airport has parking for short and long-term stays including economy parking in their credit card only lot. For a complete breakdown of rates, visit the airport parking information page.
Parking options in downtown Bismarck are plentiful and fairly priced. City owned parking ramps and surface lots cost USD$1.00/hour with a USD$6.00/day maximum. When parking your rental car in privately owned lots, follow signage to avoid being ticketed. Some businesses validate customer parking so be sure to ask upon arrival. 90 minute on-street parking is enforced Monday through Friday 8am-5pm.