When most people think of New York, the Big Apple comes to mind, but the state has much more to offer than bright lights and tall skyscrapers. Head to Elmira in the southwest and pre-book a car hire to capture the best of the region's countryside.
Arrive in the pleasant town of Elmira to discover fascinating history and enjoy a plethora of leisure activities. There's a reason why Mark Twain chose this place to write many of his novels, and you can see why when you trace his footsteps through town visiting his favourite locations. Spend time at one of the many museums and relax in nearby nature settings. Hop in your car hire for a scenic drive through the Finger Lakes District (especially picturesque during Autumn). Hang out in nearby towns such as Corning, enjoy tasting local wine at one of the county's vineyards, stop by craft breweries and much more thanks to your own set of wheels.
The famous Finger Lakes are only a half-hour drive away offering more outdoor activities, wineries and quaint towns. Stop by Ithaca, Syracuse and even make your way to Buffalo to see Niagara Falls.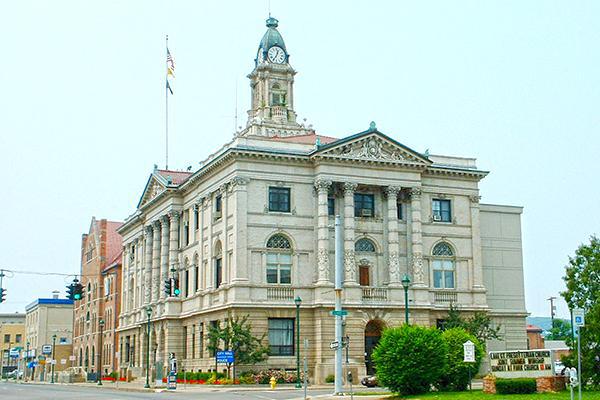 Image (modified): Stilfehler at wikivoyage shared CC BY-SA 1.0, via Wikimedia Commons
Hiring a rental car in Elmira
Don't wait to secure a cheap car hire for your upcoming trip. Airport Rentals is your one-stop shop for rental car comparison. Simply type in your travel dates and let us provide you with an inventory of vehicles from multiple national and international brands at Elmira Airport. Customise your preferred transportation by selecting a favourite car supplier or vehicle type with the click of a button. Find exclusive benefits included with each booking such as theft protection and unlimited mileage. Our 24/7 customer service team is available to answer any questions throughout the process and when you are ready, you can complete your booking by filling out a quick form to receive instant confirmation.
You never have to worry about hidden fees with Airport Rentals and can book confidently on our secure site. Plus, it's easy to make changes and updates using our online reservation system. Don't delay, book today!
Elmira/Corning Regional Airport (ELM)
Situated in between Elmira and Corning in southwest New York, Elmira Regional Airport provides air service to the Southern Tier counties connecting travellers to Syracuse, Binghamton, Detroit and more. The terminal includes a small bar and food kiosk, plus vending machines for after hours. Free WiFi access is available for all guests and rental car agents are located next to baggage claim.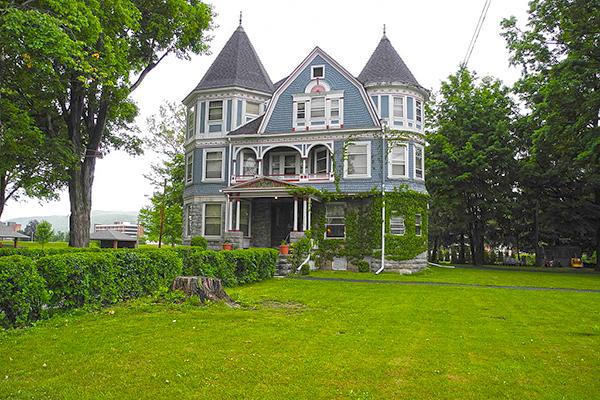 Image (modified): Dmadeo (Own work) CC BY-SA 3.0, via Wikimedia Commons
Driving tips for Elmira
During the school year there are an additional 20,000 university students in the Elmira region. Expect traffic around campus and road blocks during home football games.
Getting from Elmira/Corning Regional Airport to the city centre
Exit the airport taking a left onto Sing Sing Road, then another left onto Kahler Road to reach the interstate. Turn right to merge onto Hwy 17/I-86 E and continue on the highway until taking exit 56 for NY-352 toward Elmira. Keep right to turn on Church Street which will bring you into the city. The drive takes roughly 15 minutes.
New York rules of the road
● Every person in the vehicle must wear a seatbelt at all times.
● Right turns at red lights are allowed unless stated otherwise.
● At a four-way stop, allow the driver first to the intersection to proceed first.
● If you are travelling during the colder months, make sure to check out our winter driving guide.
● Keep change in the car for tolls.
● Are you visiting from overseas? Find out more about the local driving laws and conventions by reading our USA driving guide.
Parking at Elmira/Corning Regional Airport and around town
Choose from short and long-term lots at Elmira Airport. The first 15 minutes are free, but expect to pay USD$1 for the first hour and USD$1 for every additional half-hour in short-term (USD$1 for additional hours in long-term). Park for the day for USD$10 and USD$9 respectively. There is an economy lot charging a few dollars less for the daily maximum and weekly charge, which includes a complimentary shuttle.
Find metered on-street parking spaces in the downtown district of Elmira, plus parking garages scattered throughout the area. Pay as little as USD$0.40 for the first two hours, followed by USD$0.50 for additional hours with a daily maximum of USD$3.25.