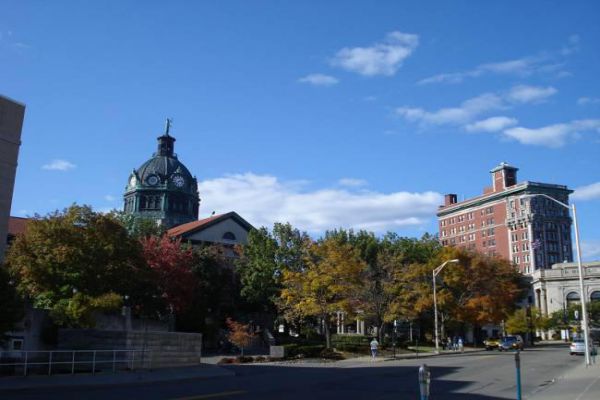 Image: yohey1028
Not far from the border with Pennsylvania lies Binghamton, a small city in New York state that's seen so many innovations and times of prosperity that it has earned itself the nickname of 'The Valley of Opportunity'. It has had boom times with shoes, computers, and cigars, it's where the flight simulator was invented, and it's not far from the birthplace of IBM. These days, the city is more focused on education and technology, and you'll get a feel for this forward-thinking vibe when you hire a cheap rental car in Binghamton and discover the city for yourself.
A car rental can also take you further to nearby cities such as Syracuse, Albany, and Rochester.
Booking a cheap car hire in Binghamton with AirportRentals.com
Whether you're in town for a business conference or a family road trip, finding the best deal on your rental in Binghamton will be much easier with Airport Rentals. The search function pulls together information from all three car rental companies operating at Binghamton Airport - Avis, Hertz, and Budget - and generates a list of all available vehicles during your time in the city.
Simply enter your travel dates, hit 'search' and scroll through this list to find the car that best suits your needs. Each one is presented with features and benefits, and ordered with the most affordable options at the top of the page so you can quickly track down the best deal. You can also use the filter options to narrow down your search so you can find the perfect car rental.
Book immediately and securely without paying additional reservation fees, or get in touch via the 24/7 customer service line should you have any questions.
Introducing Binghamton Airport
Throughout its existence, the Greater Binghamton Airport has been named the Binghamton Regional Airport, the Broome County Airport, and the Field-Broome County Airport. Plus, thanks to the fact that it's found in Johnson City, you may also see it listed as Johnson City Airport.
The terminal opens at 4.30am daily, and includes a host of facilities such as a restaurant, a visitors' centre, free WiFi, an ATM, and a kids' activity centre. You'll find the car rental desks inside the terminal by the baggage claim area.
From Binghamton Airport, travellers can take trips to and from Detroit, Philadelphia, and Newark.
A guide to driving you rental car in Binghamton
Binghamton is a small city and it's an easy place to get around by rental car. Most people rely on their vehicles rather than public transport to commute, which means traffic tends to pick up during rush hour before and after work.
Driving from Binghamton Airport to the CBD
The Binghamton Airport is just over 11 miles from the city centre, so it should take 20-25 minutes to make the trip under normal traffic conditions. When you drive out of the terminal, you'll follow Airport Road to the left, then keep driving until you hit the Southern Tier Expressway. Turn left to join the highway, then turn off shortly afterwards onto Route 11 on the right which will take you into the downtown area.
Tips for driving your car hire in Binghamton
Anyone who has ever driven in a medium or large city will have no problems getting around this small city. A GPS unit will help you find your way around, and avoiding rush hour whenever possible will help keep your drives stress-free. Those visiting during the cooler months will need to prepare for winter driving conditions, as it does get icy and snowy on occasion so extra precautions must be taken.
Parking at Binghamton Airport
There are multiple parking lots at the airport. The short-term area is directly in front of the terminal, long-term just beyond that, and rental parking is to the right of the terminal when you come out of the front doors. There is also a pick-up and drop-off area directly outside the terminal doors. The first 15 minutes are free in the short-term area and USD$1 for the first hour. You'll pay USD$11 per day in the short-term lot, or just USD$8/day if you leave your car rental in the long-term area.
Parking in Binghamton City
The downtown area of Binghamton offers on-street parking and several parking lots. If you park on the street, be sure to read the signs as different areas allow different maximum times. The four lots are found on Hawley Street, Collier Street, State Street and Water Street. Free parking is available on Conklin Street.