Along the mighty river Rhine lies the stunning city of Basel. While the Swiss chocolate might draw you in, it's the architecture and endless art that will keep you in this wondrous city. Galleries, museums and spectacular buildings are scattered throughout Basel, with every turn bringing forth another breathtaking view. Explore the historic city as you wander along its romantic cobblestone streets, and then head to the countryside to discover even more Swiss charm and allure.
Switzerland is one of the most beautiful European countries to drive through. What better way to experience it all than by renting a car in Basel?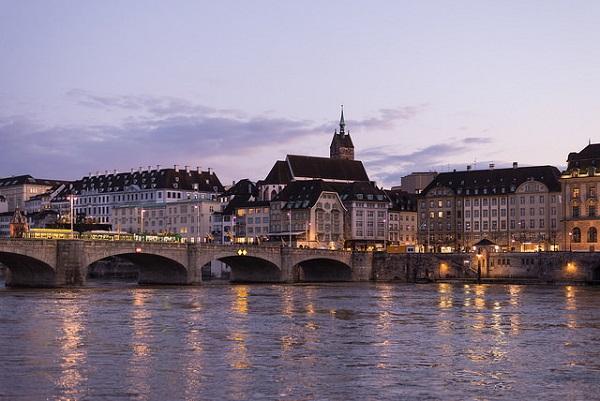 Image: Pavlo Petrenko
Secure a cheap car hire in Basel with Airport Rentals
At Airport Rentals, we make renting a car in Basel as easy as a few clicks. We work with an extensive range of suppliers to bring you the best deals on car rentals at Basel Airport.
Find and compare vehicles at the lowest possible prices and get booked and ready to start your adventure in no time. Simply type in your preferred travel dates to generate a list of available vehicles at Basel Airport and refine your options by personal preference. Choose between economy cars, luxury SUVs and everything in between.
Once you've found your ideal vehicle, confirm securely online in just a few clicks. Enjoy zero booking fees and 24-hour customer service when you book with Airport Rentals.
A quick look at Basel Airport
Officially called the EuroAirport Basel Mulhouse Freiburg, Basel Airport is one of the few airports in the world which is operated by two countries: Switzerland and France. While the airport is located on the French side of the border, the airport is split with Swiss customs, and is used for entry to both countries. Be sure to do your paperwork in the right area and then enjoy the amenities of this fantastic transport facility. Catch up on emails with the airport's free WiFi, and when you're ready to be on your way, pick up your hired car keys from the desks located on the ground floor.
Fly in to Basel from other European hot spots such as Paris, Brussels, Munich and Amsterdam.
Driving in Basel
Driving to and from Basel airport
Basel Airport is located just 6km from Basel city on the French side of the border. From the airport, head east on the Route Douanière de l'Aéroport à Bâle and follow across the border into Switzerland. Continue onto Flughafenstrasse until you reach the centre of town.
Alternatively, if you arrange to pick up your rental car in Basel, buses and taxis are available at the airport.
Tips for driving your car hire in Basel
● In Basel, motorists drive on the right hand side of the road.
● Give way to traffic coming from your right.
● Trams have priority over cars and pedestrians, so don't expect them to stop for you.
● Distance is measured in kilometers, and the inner city speed limit is 50km/h. Rural roads have a speed limit of 80km/h, highways 100km/h and motorways up to 120km/h. Be aware of speed limit changes.
● It is recommended, but not obligatory, to drive with winter tires in the cooler months.
First time driving overseas? Read up on more tips for driving on foreign roads.
Where to park your rental car in Basel
Basel Euroairport offers both short and long-term parking, on both the French and Swiss sides of the airport. Short-term rates begin at 3.80 francs for the first 15-minutes, then increase an additional 1 franc per 15-minutes thereafter. The max you'll pay in one day is 26 francs. Long-term parking has the same starting rates as short-term, however is cheaper the longer you stay; each additional day costs 10 francs.
In the city, there are many car parking zones, garages, and lots for you to park your rental car. Prices are generally around 1.50 francs per hour, however each car park will have slightly different rates.