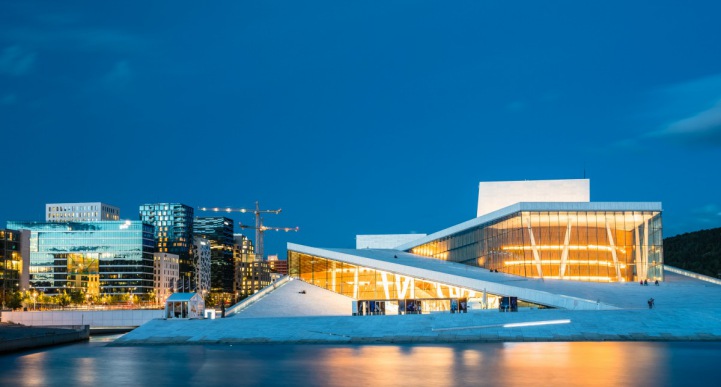 Bold, exciting and packed with architecture, art, music, dining and other urban delights to please all comers and every taste, Oslo is a fantastic city to visit. It's an oasis of cosmopolitan attractions amongst the stunning natural beauty of Norway, contrasting nicely with fjords, mountains, lakes, rivers and coastlines.

With a car hire from Oslo Airport, you will be able to explore both city and nature to your heart's content. Having your own set of wheels opens up a whole heap of opportunities, from the sights in and around the city itself to day trips nearby and longer road trips to discover more of Norway and Scandinavia. Pick up a car hire and begin your Norwegian adventure!
Booking with Airport Rentals
There's no need to spend hours trawling the internet to track down the perfect cheap Oslo car hire. Stay right here, enter your details into the search field: location, dates and driver age and find a package that suits your needs. From there, you'll be presented with a list of the many different vehicles on offer, from a variety of different Oslo car rental suppliers both international brands and local businesses. With all the choices in one place, you can filter them down and pinpoint the rental that's right for you in no time.
Oslo Airport car hire brands
Travelling to Oslo and planning to hit the road? You'll be spoilt for choice. Here are some of the car rental suppliers on offer:
● Hertz Rent A Car has several locations in Oslo, one of these being in the airport terminals. They also offer depots in Sunndalsoera, downtown Oslo, Helsfyr, Oekern, Ryen, Bryn, Brobekk, Alnabru, the Radisson Hotel in Oslo West, and at the city's main railway station.
● Alamo is located at Oslo Airport in the arrivals hall: Oslo Airport, Edvard Munchs veg, 2061 Gardermoen, Norway.
● Budget Car Rental offers supply both at Oslo Airport and downtown at Munkedamsveien 27.
● Sixt Rent a Car also has depots in the airport and in the city centre at Filipstadveien 5.
● Europcar has a counter in the terminal at Oslo Aiport, along with one near the city centre on Dronning Mauds Gate.
● Avis Car Rental is located in Oslo Airport and downtown at Munkedamsveien 27.
● Enterprise Rent-A-Car has supply at Oslo Airport and in Skoyen (Drammensveien 161), west of central Oslo.
● Auto Europe operates in-terminal at Oslo Airport.
Driving in Oslo
Once you have your wheels, you are ready to hit the road in Oslo. Norwegian drivers drive on the right hand side, like the rest of mainland Europe, and you'll find that many cars have manual transmissions, so make sure you specify if you prefer automatic. More things to note include distances measured in kilometres, speeds in kilometres per hour, and most roads besides motorways being limited to 80 kph.

Traffic in Oslo is not considered terrible, but road works such as ongoing tunnel upgrades can cause some jams. Plan to avoid roads near the central city during typical workday rush hours! Trams share the road which have absolute right of way, so keep a lookout for these while on the road in your Oslo rental car.

It's a 40-minute drive between the airport and central Oslo. The E6 will get you most of the way there: exit onto the Ensjoveien and then follow the signs into downtown or whichever part of Oslo you are aiming for.
On the way back to the airport, you may need to fill up your car hire. The closest station for this is Circle K Gardermoen at Fridtjof Nansens veg 14, closely followed by Circle K Hervakrysset at Edvard Griegs veg 49. In Oslo itself and on most of Norway's urban roads, there will be no shortage of places to fill up. Be warned - Norway is one of the most expensive nations in which to buy petrol, so budget for that.
Parking in Oslo
Finding a place to park in any city can be a bit of a bother for car rental travellers, particularly if you don't speak the language - thank goodness for pictographs and a fairly universal numerical system!

In the city centre, on-street parking generally incurs a fee during peak hours - in the "yellow zone" this is NOK 14/hr and in the red zone, NOK 25/hr. Parking on the city's streets can be restricted by time limits posted on signs, which will give a time range (in 24-hour time) under a blue sign with a white P. A blue circle with a red diagonal slash means no parking, and vehicles must not park less than five metres from a crossroads or pedestrian crossing - be aware of this when parking your Oslo car hire.

An Oslo Pass, which any tourists purchase to gain entry to the many attractions of the city, entitles you to park for free at all municipal car parks. Time limits still apply. As with most cities, a range of private parking buildings are also available and charge varying amounts.
Road trips from Oslo
With a cheap Oslo car hire from Airport Rentals, there are some fantastic locations within reach - some day trips, others longer journeys.
● The Hadeland Glassworks (Glassverk) is around an hour from Oslo, perfect for a day's outing. The scenic grounds of this company are an established attraction, with a glass museum, shops, playgrounds, a lake and the opportunity for children and adults to make their own glass creations.
● Lillehammer is a two hour drive in a car hire from Oslo, allowing you to take in some of the countryside along the way. The picturesque town was the scene of the 1994 Winter Olympics, and if you're in Oslo during the snowy months it is particularly pretty. There are many outdoor activities on offer in all seasons.
● It's an easily navigable run along the E18 to Kristiansand, to spend a few days in the capital of Southern Norway. This city is a great spot for families with beaches, attractions and activities galore, in particular the Dyreparken zoo and amusement park.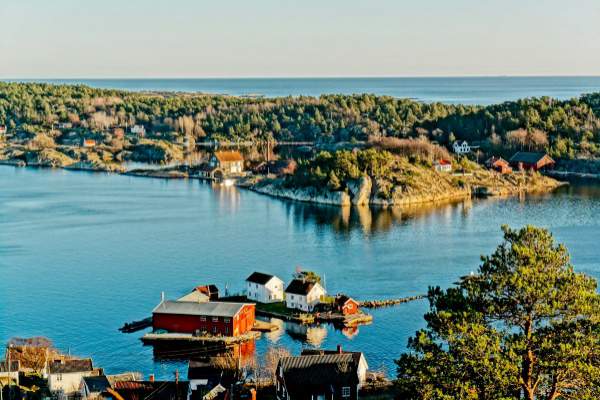 Oslo City Guide
Accomodation
Options for places to stay in Oslo range from basic and cheap to luxurious and expensive. Hostels such as the Anker Hostel in the CBD and the Oslo Youth Hostel in Haraldsheim with lovely wooded surrounds are both great examples of the cheaper end of the scale, while the amazing Grand Hotel on Karl Johan's Gate is the height of Norwegian luxury.

Overall, Oslo accommodation is relatively expensive, just like the majority of Scandinavia. Prices will rise in peak periods which are often determined by events like Nobel Prize Week.
Dining
Foodies will certainly find their place in Oslo. Fresh, local and farm-to-table or forest-to-table ingredients are highlighted, and the fine dining options are some of the best. The northern climate means interesting and different flavours, unique seafood and a fantastic experience for visitors.
For top-of-the-line Oslo dining, Maaemo on Schweigaards gate has three Michelin stars and a culture of innovation that makes for a meal to remember. For traditional Norwegian dishes, try Engebret Cafe which is listed as the city's oldest restaurant with plenty of reindeer on the menu.
On the more affordable end of the scale is a huge range of diverse eateries. Asian cuisines are popular in Norway, with many inexpensive Thai, Japanese and Indian restaurants, and the United Bakeries chain is perfect for simple breakfasts and lunches all over the city. Gronland has great kebab and falafel fast food - and if your budget is very tight, there are lots of supermarkets and parks in which to dine al fresco!
Geography, Culture and People
Oslo was founded in the year 1040 by King Harald III, originally a trading place and upgraded to the capital in 1300. It has previously been known as Christiana and Kristiana, with the original Norwegian name restored in 1925. It's the economical and political centre of Norway, and has long been a shipping and trade hub thanks to a handy position near both Sweden and Denmark at the northernmost end of the Oslofjord.
The primary language in Oslo and throughout Norway is Norwegian, although nearly 90% of Norwegians can speak a decent level of English! Visitors can expect a very egalitarian society and a lot of creativity - the city is home to many varied cultural attractions, from museums and art galleries to music and events which celebrate Norway's history and culture, much of which is based around farming.
Attractions
There is plenty to see and do in bustling Oslo with a rental car! These are just a few of the top attractions in the city.
● Museums abound! Visitors to Oslo enjoy the National Gallery, the Natural History Museum, the Munch Museum and the Norwegian Folk Museum, the Viking Ship Museum and more.
● The Opera House is a striking piece of architecture, rising like part of a shipwreck out of the water. Here you can watch performances by the Norwegian National Opera and Ballet.
● The Royal Palace and Slottsparken parklands are a great place for a walk or a picnic. At the top of the park is the grand palace, and in summer guided tours are available.
● TusenFryd Amusement Park is a 30-minute drive from central Oslo, easily accessible with a rental car. It's the country's largest, and is great for all ages.
Weather
For its very northerly location, Oslo's temperatures and climate are surprisingly moderate. During the winter months - that is, December, January and February - the average temperature hovers just below freezing. In the summer, it's pleasantly warm. July and August have the nicest weather. September can be rainy.