Bergen is an enchanting city, surrounded by mountains on one side and fjords on the other. It's not just natural attractions that bring people here however: Bergen's urbanscape is just as enticing as the natural beauty that surrounds it. In spite of the fact that it's the second largest city in Norway , Bergen still manages to exude a small town charm. At the same time it maintains a fresh, exciting edge thanks to its large student population.
Booking a Bergen car rental gives you the chance not only to make the most of Bergen's many opportunities but to set out and discover all that lies beyond the city. Whether you're just wanting to zip freely around the city, explore Scandinavia, or set out on an epic journey into the far north.
Booking with Airport Rentals
The process of finding and booking a Bergen car hire doesn't have to be fraught with long searches and multiple rental websites. AirportRentals.com gathers together deals from car rental suppliers all over the world and makes it easy for you to find Norway car rental choices, whether that's a Bergen car rental, an Oslo car hire in the capital, a northerly Trondheim car hire, or some other location in this beautiful country.
To find a cheap Bergen car rental, simply start by typing a couple details about your trip into the AirportRentals.com search box and hit the Search button. At that point you'll be able to see a range of rental deals from a number of different car hire suppliers. By default you'll see the cheapest deals at the top, but it's easy to swap this around or even filter by rental brand, vehicle type and more, if you have something more specific in mind. Then when you've picked out the perfect rental for your trip, booking it will only take a couple more minutes, and you'll be all done.
Bergen Airport car hire brands
There's plenty of choice to be had when it comes to the brands you can choose from in and nearby Bergen Airport.
● Alamo is located right by Bergen Airport, at Lonningsvegen 12 Blomsterdalen.
● Budget has a depot in the airport terminal as well as a pickup location downtown at Nygaardsgaten 43.
● Sixt has a rental desk located inside the Bergen Airport terminal as well as a depot near the city centre, at Minde Alle 35, Frydenbø.
● Europcar has two pick up locations, one at Bergen Airport, and the other just south of the city centre at Kanalveien 48.
● Hertz has a rental depot at Bergen Airport as well as a pickup location closer to the city at Kanalveien 48.
● Avis customers can choose between two different pickup points, one on airport and the other located downtown at Nygaardsgaten 43.
● Enterprise has a rental depot directly adjacent to Bergen Airport at Lonningsvegen 12 Blomsterdalen.
Driving in Bergen
Once you've picked up the keys for your Bergen car rental, you're ready to hit the road in Bergen and beyond! In Norway traffic moves on the right hand side of the road, just like all of mainland Europe. One thing to note is that it's very common in Norway to drive manual transmission cars, so if you'd prefer your rental to be an automatic model make sure to specify this during the search/booking process - you can even filter specifically by auto transmission models.
Speeds and distances are measured in kilometres, and your car's speedometer will be set to the same, so if you're used to miles per hour don't forget to take this into account. Downtown Bergen is designed for easy walking rather than easy driving, so it's best to stay away from the centre if you can - parking can also be troublesome.
If you're planning to make the trip from Bergen to Oslo, Norway's cutting edge capital, there are a few different routes you can take (taking between 7 - 8.5 hours) but each have incredible natural vistas in store for roadtrippers. The Hardangervidda route is by far the most popular way to go, with highlights including the mountain plateau of the same name, and the spectacular Vøringsfossen waterfall. Taking the Haukeli route will treat you to stunning views of the Hardangerfjord, while going past Hemsedal gives you the opportunity to stop in at one of Norway's most popular ski centres.
Before returning your rental to Bergen Airport, you'll need to fill up the tank: Circle K Flesland at Flyplassvegen 425 is the nearest option. If you've opted for a city drop off, Circle K Viken at Vikens gate 6 might be a better option.
Parking in Bergen
Parking in Bergen's city centre is an activity to be avoided if at all possible. Parking on the street is almost entirely forbidden - the best option would be to make use of parking buildings. However, a smarter choice for those wanting to explore the centre of Bergen is parking up outside the city, catching public transport in and discovering this pedestrian friendly city on foot.
Road trips from Bergen
Booking a Bergen car hire can be the first step on all kinds of adventures. Whether you've got time for an epic trip across Norway or just looking for day tripping opportunities, setting out from Bergen is a great way to start.
● Those with a bit of time on their hands may want to consider a trip north along the fjords from Bergen to Trondheim. Waterfalls, tunnels and glaciers will all feature on this intrepid journey - consider hiring a 4WD vehicle to give you more options as you head north into Norway's more remote regions.
● If you're keen for a more bite sized taste of the fjords, consider heading north for a half day's drive to see Sognefjord in all its glory - this massive fjord has many different branches - Nærøyfjord is particularly scenic.
● Less than 3 hours to the south is a 17th century manor set amidst mountains, glaciers and waterfalls. Barionet Rosendal is well worth a tour, both for the beauty of its grounds and setting, and the insight into Norwegian life over the last 250 years.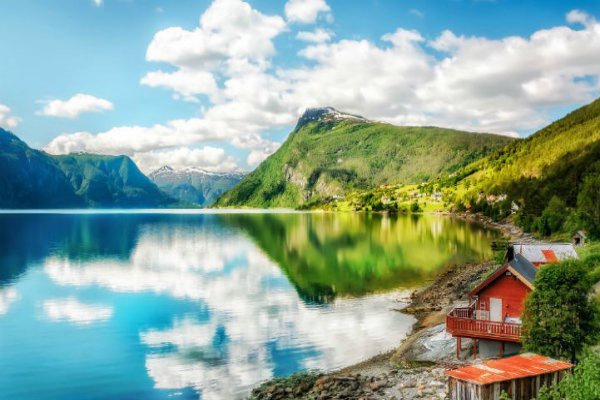 For those who might be using Bergen simply as a stepping off point to discover the rest of the continent, you may want to take a look these European summer road trips for a few fresh ideas - or if you're planning to hit the slopes, see our guide to the top European ski resorts.
Bergen city guide
Accommodation
Like any large city, Bergen has a wide range of accommodation on offer, with some truly impressive high-end options like Thon Hotel Rosenkrantz Bergen and Hotel Park Bergen, while at the more affordable end of the scale you have places like Montana Youth and Family Hostel, the centrally located Marken Gjestehus and the Bergen YMCA Hostel.
Norway is one of the most expensive places in the world to live and visit, and accommodation will reflect that, so it's worth taking this into account when planning your trip.
Dining
Bergen has not traditionally been known for its dining scene, but that's all changed in recent years, with celebrity chefs and top notch restaurants coming to the city along with all kinds of more low key options offering quality ethnic fare at great prices.
Lysverket is one of the more high-profile options for true foodies, specialising in neo-fjordic cuisine created with largely local ingredients. Bookings are essential for this popular spot, so book early if you want to sample the creatively crafted dishes here. If you value authenticity above innovation, To Kokker is nestled inside an old house and serves excellent traditional Norwegian fare, cooked to perfection.
If cheap eats are what you're hungry for, Bergen has all kinds of options available to you. The cosy little Munken Bistro is a well loved restaurant offering a Norwegian spin on Peruvian food which draws in even those who've never tried either cuisine, while Siam Ratree offers reliably tasty Thai dishes and Horn of Africa has Ethiopian and Eritrean dishes for those seeking something a little bit out of the ordinary.
Geography, culture and people
Originally founded as a trading post in the early 11th century, Bergen served as an early Norwegian capital for more than a century. Today the city still boasts beautifully preserved heritage buildings in the Bryggen area, while at the same retaining a youthful vibe thanks to its large student population.
Its coastal location contributes to the city's mild but famously changeable weather, as well as giving visitors the opportunity to drive around or even take boat trips along its fjords. Bergen is also surrounded by mountains, allowing for some epic vistas if you travel just a short way out of the city.
Norwegian is of course the primary language spoken in Bergen, although you'll find that the vast majority of the inhabitants speak conversational English. Visitors craving a bit of culture can pop in to one of the city's museums or historical sites, or even line a trip with a music or cultural festival.
Attractions
There's no shortage of things to see and do in Bergen if you have a car rental. Here are just a handful of the things that you could get up to in Bergen.
● Heading to Bryggen is a must if you're spending any time in Bergen. This wharfside district has been lovingly preserved, and is the perfect spot to head down for a brunch amongst scenic settings.
● If you're in the mood to learn a little about Bergen's history, Det Hanseatiske Museum og Schoetstuene is a great little museum that explores Bergen's early history, particularly connected to the Hanseatic League and the trading opportunities that grew the city into the major centre it is today.
● For the best view of Bergen, take a jaunt to top of Fløyfjell. Those who aren't afraid of a little exercise can hike to the top of the 1047 foot peak, but if you're seeking a more relaxing experience, there's also a tram that heads to the top.
Weather
In spite of how far north Bergen is, the climate is generally fairly mild, with less temperature extremes than nearby Oslo. In the depths of winter the average temperature hovers a little above freezing, but outside of December through February, Bergen's seaside location ensures that things never get too chilly. Visitors should definitely plan for all shades of weather though, as Bergen weather is famously fickle.